Overseas Chinese Town East (OCT East)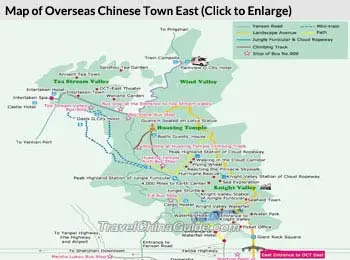 Map of Overseas Chinese Town East
(Click to enlarge)
Overseas Chinese Town East (OCT East) in Yantian District is a large ecological resort brimming with a natural landscape, small towns of western and oriental styles, and entertainment facilities. It has three themed parks: Knight Valley, Tea Stream Valley, and Wind Valley. You can also pay homage to Buddhist statues at Huaxing Temple. There are also wonderful performances played in the resort every day. The most famous ones are Heavenly Zen, a dancing performance revealing the Chinese tea culture, and Roaring Flood, a live-action stunt show.
Knight Valley
Once you enter the Overseas Chinese Town East, Knight Valley is the first park you will arrive in. As its name implies, some facilities there are quite challenging that require visitors to be as brave as a knight to conquer. There are five zones waiting for 'knights' to explore:



Water Park
With an area of 20,067 square meters (24,000 square yards), Water Park in Overseas Chinese Town East contains a lot of interesting aquatic facilities, such as u-shaped slide, wave pool, and indoor drifting. You may see the 3-meter (10-feet) high huge wave and feel the passion of board surfing here. There is also an 6,689-square-meter (8,000-square-yard) indoor court offering different rafting and playing experiences.



Rapids Forest
If you want to travel through primitive forest, you should not miss Rapids Forest in Overseas Chinese Town East. It has the greatest waterfall in China's coastal cities, Knight Valley Waterfall. It is 274 meters (300 yards) wide and has a large vertical drop of 42 meters (138 feet). This district is like a water garden abounding with colorful and blooming parterres and clear streams. Walking on the wooden footpath among the cozy forest and listening to the babbling sound of the stream is most pleasant.



Seafield Village
Seafield Village is an American-style town with wine culture theme. You will find many exquisite houses built of logs and bricks along the road. The red tone of the houses gives the whole town a warm ambiance. There are bronze sculptures dotted along the street, demonstrating the process of making wine from grape-picking to brewing. You can treat yourself to the tastes of delicious cuisines and wine in Self-brewery House, Wine Experience House, and Lakeside Food Court.



Ecological Valley
It is an adventure-themed tourist area, creating a virtual ecological world with a number of thrilling facilities, including Sea Exploration, 4,000 Miles to Earth Center, Wooden Roller Coaster, Hurricane Rescue, and Jungle Shuttle. Tourists will become eco-knights overcoming various challenges while exploring the unknown world of the valley.



Peak Highland
It is the highest point in the Knight Valley and the best place to get a bird's-eye-view of the whole resort. The best viewing point is the Reaching the Pinnacle Skywalk. It is a glass walkway stretching out from the cliff. Although scaring, you will have a wide view with all the surrounding peaks under your foot. You can also have a try of many thrilling facilities on the top of the hill, such as the swirling Flying Wheel and the Walking in the Cloud Corridor between two peaks.
Tea Stream Valley
Tea is the oldest and the most popular drink in China. Its special flavor continues to attract many foreigners. In Tea Stream Valley of Overseas Chinese Town East, you will have close contact with this fragrant plant and further understand the profound tea culture in the Ancient Tea Town and Sanzhou Tea Garden. You can also feel the charm of nature in the Wetland Garden and be relaxed by enjoying the hot spring in Interlaken Town, both near the entrance of the Tea Stream Valley.



Wetland Garden
The first stop in the Tea Stream Valley is the Wetland Garden. A number of insects, butterflies, frogs, and other animals which are favor of wetland environment live in this garden. There are also the botanical garden and flower fields where you can get in touch with plants.



Interlaken Town
Then, you will get to the Interlaken Town, modeled after the architectural features of Switzerland. Besides romantic charm, the Interlaken Parade and shows on the Cuckoo Clock Stage will turn the town into a sea of joy. You can also relax and wash away your tiredness in Interlaken Spa.



Sanzhou Tea Garden
Having viewed many elegant western-style buildings, your next stop, Sanzhou Tea Garden, will take you into the world of tea. Lush green tea fields together with bamboo, wooden bridges, and simple log cabins take you into a typical southern China tea garden. Among an eyeful of greenness, you may find brightly-dressed women picking fine tea leaves in the fields. What a joyful scene!



Ancient Tea Town
There, you may have a chance to watch elegant tea master performing the tea ceremony in a wooden pavilion. Surrounded by lush bamboo groves, it feels like being in movie scenes of Crouching Tiger, Hidden Dragon. In the Ancient Tea Town, you will hear only the sounds of leaves rustling in the wind and gurgling water. It really provides you an idyllic place to enjoy the perfume of tea.
Wind Valley
Besides visiting distinctive towns and natural scenery, you can also play golf in the Wind Valley of Overseas Chinese Town East. There are two high-grade 18-hole golf courses and a natural driving range with 66 hitting bays. You can find a professional coach to guide you and feel the joy of this sport.
Huaxing Temple
Covering an area of 11,706 square meters (14,000 square yards), Huaxing Temple in Overseas Chinese Town East is surrounded by the above three themed zones, just like a lotus seat of Buddha encircled by mountains and rivers. The temple consists of the gorgeous Mahavira Palace, pure Qibao Lotus Pond, dignified Guanyin Seated on Lotus Statue, and Veda Icon.

Mahavira Palace is the core architecture of the temple, worshipping the Three Saints of Buddhism: Vairocana, Manjushri, and Samantabhadra. Behind the palace is the statue of Guanyin Seated on Lotus, which is made of 158-ton gold-like copper with a height of 23.3 meters (76.4 feet). You can find four figures of Guanyin (Bodhisattvas) facing different directions. On the top of the statue is an oval tower-shaped hollow relief of Amitabha Buddha sitting on a lotus.
Performances

Heavenly Zen
It is a great dance performance to show you the development of Chinese tea culture. The tea culture emphasizes the unity of man and nature. People use fire to boil water and then pour the hot water and tea leaves into a teapot to brew the drink. Two natural elements, fire and water, as well as hand-made pottery all play important roles in making tea. Lacking either of them, the flavor would be lame. In this way, tea perfectly embodies this unification. Heavenly Zen explains this idea vividly through dance moves in three chapters named Water, Fire, and Pottery. You will also get a better understanding of the spread history of the tea culture by viewing the show.
| | |
| --- | --- |
| Ticket Price | CNY150 |
| Performing Time | Every 15:00 |
| Location | OCT-East Theater |

Roaring Flood
It is a thrilling live-action stunt performance simulating a roaring flood that destroys villages and boats. The show combines motorboat stunt show, blasting, water skiing, and high-level acrobatics, just like a Hollywood blockbuster performed for your amazement.
Ticket Price
Free
Performing Time
Weekdays: 11:00, 14:30, 16:00
Weekends: 11:00, 13:00, 14:30, 16:00
Location
Knight Valley

There are also many performances you can enjoy while you're staying in the resort. Here is the performance schedule:
Performance
Time
Location
Kiddie Park Stage Show
Weekends and Holidays: 10:30, 11:30, 15:30, 16:30 (No performances from Monday to Friday)
Kiddie Park in Knight Valley
Dynamic Day Street Show
Monday to Friday: 10:30, 15:00, 16:00
Weekends and Holidays: 10:00, 11:00, 15:00, 16:00
Seafield Town in Knight Valley
Squads Parade
Holidays: 15:30
Knight Valley
Music Train
14:30, 16:30
From Theater Train Station to Interlaken Station
Birds Show
11:00 – 11:30, 12:00 – 12:30, 13:00 – 13:30, 14:00 – 14:30, 15:00 – 15:30, 16:00 – 16:30
(Two more shows on holidays during 10:00 – 10:30 and 17:00 – 17:30)
Four-season Botanical Garden in Tea Stream Valley
Ancient Tea Town Show
12:40 – 13:00, 14:10 – 14:30, 15:40 – 16:00
(One more show on weekends during 16:40 – 17:00)
Tea Mountain Platform
13:30 – 14:00, 15:00 – 15:30, 16:10 – 16:40
(One more show on weekends during 12:00 – 12:30)
Ancient Town Opera Stage
The Sound of Music Violin Solo
11:30 – 11:50, 13:30 – 13:50, 14:50 – 15:10
Cuckoo Clock Stage
Puppet Show & Saxophone Solo
12:00 – 14:40, 15:10 – 15:50, 16:40 – 17:20
Concert
12:50 – 13:20, 14:20 – 14:50, 16:10 – 16:40
Conjuring Show
13:50 – 14:00
Clown Performance
14:00 – 14:15, 15:50 – 16:05, 17:20 – 17:35
Swiss Bagpipe Show
13:00 – 17:00
Interlaken Town
How to get to Overseas Chinese Town East

By city bus
Take bus 103, 308, 380B, 387, E26, M437, M438, M520, PJ5, PJ6, PJ9, Tour bus Line 1, Tour Bus Line 8, Sightseeing Bus Line 1, Dameisha Beach Holiday Bus Line 1, Dameisha Beach Holiday Bus Line 1 or Dameisha Holidau Bus Line 2 to Dongbu Huaqiaocheng (Overseas Chinese Town East) Station.
Shenzhen Bus / Metro Search



By through bus of the scenic area:
Bus Lines
Boarding Time and Place
Line 1
8:00 Futian Transport Hub
8:15 Gangsha Bus Stop
8:45 Guomao Bus Stop (Exit B of Guomao Station of Metro Line 1)
9:10 Parking Lot of the Knight Valley
Line 2
7:50 Baoan Duzhidu Hotel
8:15 Overpass Near the North Gate of Shenzhen University
8:40 Gangsha Bus Stop
9:00 Parking Lot of the Knight Valley
Entrance Fee
| | |
| --- | --- |
| Knight Valley | CNY 200 |
| Tea Stream Valley | CNY 180 |
| Combo Ticket of Tea Stream Valley and Heavenly Zen | CNY 250 |
| One-day Combo Ticket of Knight Valley and Tea Stream Valley | CNY 300 |
| Two-day Combo Ticket of Knight Valley and Tea Stream Valley | CNY 350 |
| Water Park | Free for visitors holding any ticket above. |

Tips


Children less than 1.2 meters (3.9 feet) high enjoy free entry to each themed park; children between 1.2 and 1.5 meters (4.9 feet) should pay half of the price to enter the parks;


The ticket price includes the fare of ropeway, mini-train, and funicular. You don't have to pay the extra fee for taking them.
Opening Hours
| | Weekdays | Weekends and Holidays |
| --- | --- | --- |
| Knight Valley | 9:30 – 18:00 | 9:00 – 18:00 |
| Tea Stream Valley | 9:30 – 17:30 | 9:00 – 18:00 |
| Wind Valley | 9:30 – 17:30 | 9:00 – 17:30 |
| Huaxing Temple | 9:30 – 17:30 | 9:00 – 17:30 |

Top 7 Things to Do in Shenzhen

12 Best Places to Visit in Shenzhen
- Last updated on Apr. 12, 2021 -
Questions & Answers on Overseas Chinese Town East
Asked by Jay from THAILAND | Dec. 29, 2019 02:20

Reply
visit Huaxing Temple need to by ticket?
if we would like to visit Huaxing Temple only, need to buy ticket for accesses them park?
Answers (1)
Answered by Ada from CANADA | Dec. 30, 2019 17:33

0

0

Reply
You can visit this temple with free of charge and don't need to buy the entry ticket.
Asked by Jay from THAILAND | Dec. 17, 2019 00:44

Reply
if we would like to do 2 activities for sightseeing in Shenzhen Overseas Chinese Town
which ticket for 2 activities or we need to buy a ticket full day?

1. take a mini-train for sightseeing
2. visit Huaxing Temple
Answers (1)
Answered by Molly from AUSTRALIA | Dec. 19, 2019 18:31

0

0

Reply
You need to buy the combo ticket.
Asked by vic from MALAYSIA | Dec. 15, 2019 22:04

Reply
is it a good idea to visit the tea stream valley in winter
Answers (1)
Answered by Sabrina from NEW ZEALAND | Dec. 18, 2019 19:03

0

0

Reply
It is suitable for travel in December.
Asked by Sharon Blake from UNITED KINGDOM | Dec. 05, 2019 02:58

Reply
Can we visit oct village in one day?
Would we get around OTV in one day and be able to see everything on offer or should we stay over night locally?
Answers (3)
Answered by Shannon from NEW ZEALAND | Dec. 08, 2019 23:25

0

0

Reply
It is very large and you are suggested to spend two days there.
Answered by Sharon from U.K | Dec. 09, 2019 22:06

0

0

Reply
Are there lots of hotels on site or nearby?
Answered by Ben from SINGAPORE | Dec. 10, 2019 17:43

0

0

Reply
Yes, of course, like Z Hotel (Shenzhen Xiangmihu), which is located at oppisite of Donghai City Square, Futian District.