Splendid China - Folk Culture Villages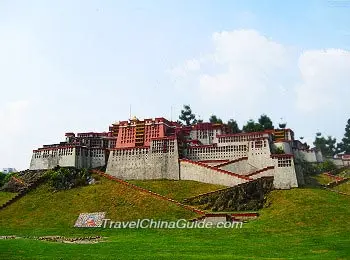 Potala Palace
Splendid China - Folk Culture Villages was formerly two scenic spots in Overseas China Town by Shenzhen Bay, and was integrated as one in 2003. It is the world's largest and most comprehensive miniature park, reproducing nearly 100 famous tourist attractions in China and 25 full-scale ethnic villages. There, one can have a thorough lesson on the 5,000 years of Chinese history and appreciate beautiful landscapes from throughout the country in one day.
Splendid China
If you want to have a thorough view of the major attractions in China, the district of the Splendid China should be your choice. There, you can find 82 detailed miniatures of famous sites from around the country. Most of them are scaled down at a ratio of 1:15. Over 50,000 vivid tiny clay figures are placed around the sites, as if they have been living there for years. Besides the historical and scenic spots, you can find many folk houses here, where folk celebrations, songs, and dances are performed. There is also a business block near the gate of the theme park, following antique styles with workshops of traditional handicrafts and snacks.

Sections of this district can be roughly divided into three kinds: historical relics, natural landscapes, and folk customs, with the most distinctive ones as follows:
Historical Relics
Great Wall, Forbidden City, Terracotta Army, Temple of Heaven, Summer Palace, Shaolin Temple, Potala Palace, Longmen Grottoes, Qufu Confucius Temple…
Natural Landscapes
Li River, Yellow Mountain, Huangguoshu Waterfall, Stone Forest, Seven-Star Cave…
Folk Houses and Customs
Beijing courtyards, earth towers of the Hakkas, Wind and Rain Bridge and Drum Tower of Dong Nationality…
Royal sacrifice ceremony to the God of Heaven, the wedding ceremony of Qing Emperor Guangxu, worshipping ritual in the Confucian Temple, folk wedding and funeral…
Folk Culture Villages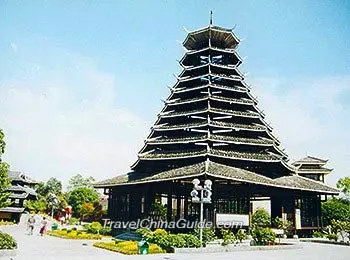 Drum Tower of Dong Nationality
In additional to the largest Han group, there are 55 ethnic minorities in China, distributed throughout many parts of the country. It is almost impossible to admire the architecture, folk activities, and snacks of most minorities during one day's trip. Folk Culture Villages, on the west of Splendid China, will help you achieve this dream. Twenty-five unique villages of 22 minorities have been reproduced there at a ratio of 1:1. There, you can not only view folk houses of ethnic groups but also join their interesting festivals, with the most distinctive ones introduced as follows:

The village of Bouyei, is a wonderful stone world with simple furniture, such as tables, stoves, and basins all made of stones. Dai people mainly inhabit Yunnan Province, where the climate is suitable for growing bamboo. You may call their village 'a bamboo garden' for most parts of their houses, such as girders, tiles, and roofs are made of this green plant. They live in stilt houses supported by wooden stocks. The main living quarters are on the second storey, and the floor is covered with flakes of bamboo. Mongol is generally known as 'a tribe on horseback' because of their nomadic living habits. Mongols live in yurts, which are not only cool in summer but also warm in winter, and easy to set up or dismantle.

No matter which village you are visiting, young boys and girls will warmly welcome your arrival. If you come at the right time, you will be able to join in their unique festivals, such as the Water-splashing Festival of Dai, the Torch Festival of Yi, and the Knife Bar Festival of Lisu.



Performance in Ethnic Villages
Yi Village
13:00, 16:20
Miao Village
14:00, 15:50
Li Village
13:20, 16:30
Uygur Village
10:30, 13:30, 16:15
Zang Village
11:00, 13:00, 16:30
Wa Village
12:20, 14:30
Dai Village
11:30, 16:00
Mosuo Village
13:20, 16:30
Wa Palace
12:00, 13:00, 15:00, 16:00
Performances

Dynasty is at War: It is a spectacular equestrian show with more than 300 equestrian stunt actors reproducing the battle scene of the late Ming Dynasty (1368 – 1644).

Grand Evening Party: It highly condenses the essence of the Chinese traditional folk arts with a brand-new selection of folk legends, dancing, opera, and sports.

Oriental Dress Show: It is a gorgeous dancing show demonstrating 350 different folk costumes.



Schedule
| Performance | Time | Location |
| --- | --- | --- |
| Dynasty is at War | 15:00 (not availavle on Mondays) | Horseback-Fighting Performing Field |
| Oriental Dress Show | 17:00 | Image of China Theater |
| Grand Evening Party | 19:30 from Apr. to Oct.; 19:00 from Nov. to Mar. | Phoenix Square |
How to get to Splendid China - Folk Culture Villages
1. Take metro Line 1 (Luobao Line), and get off at Huaqiaocheng (OCT) Station. Get out from Exit D, and walk east to the destination.
2. Take bus 21, 26, 32, 79, 101, 113, 123, 204, 209, 222, 223, 234, 323, 324, 328, 365, 369, 373, 383, 390, M398, M433, M435, M487, N4, N6, or PJ17 to Jinxiu Zhonghua (Splendid China - Folk Culture Villages).
Shenzhen Bus / Metro Search
Entrance Fee
(including all the performances in the scenic spot)
CNY 200 for adults
CNY 100 for children between 1.2 and 1.5 meters (3.9 and 4.9 feet)
CNY 225 for Entrance Fee + Battery Car + Tour Boat
Free for children under 1.2m.
Opening Hours
10:00 - 21:30
Note: 1. Opeing time is half an hour earlier during weekends and holidays.
2. Jun. - Aug.: 10:00 - 22:30.



Recommended Itinerary
Shenzhen City Tour: 2 Days' Tour to the Splendid China - Folk Culture Village
More Shenzhen Itineraries

Top 7 Things to Do in Shenzhen
- Last modified on Nov. 06, 2019 -
Questions & Answers on Splendid China - Folk Culture Villages
Asked by Eric from MALAYSIA | Nov. 05, 2019 09:15

Reply
Battery Car + Tour Boat at Shenzhen Splendid China
How is the battery car and tour boat ? Transport to travel the park if dont want to walk ?
Answers (1)
Answered by Simon from AUSTRALIA | Nov. 06, 2019 19:44

0

0

Reply
You can buy the combo ticket. The price is CNY250 and it includes day and night ticket, battery car and tour boat.
Asked by Lina from USA | Oct. 14, 2019 12:47

Reply
How long are the shows in the Shenzhen Splendid China villages?
I'm trying to plan to see if I can watch all the shows. Are they like 15-30 mins long?
Answers (2)
Answered by Theodore from NETHERLANDS | Oct. 15, 2019 00:07

0

0

Reply
Dynasty is at War & Grand Evening Party is 25-30 mins. long.
Oriental Dress Show is 60 mins. long.
Answered by Lina from USA | Oct. 15, 2019 10:44

0

0

Reply
What about the performances at the little villages (e.g. Li village, Wei village, etc.)?
Asked by miriam reinfeld from ISRAEL | Sep. 19, 2019 22:32

Reply
Can we buy tickets at the Shenzhen Splendid Park or must we get them in advance?
Answers (1)
Answered by Carol from DENMARK | Sep. 19, 2019 22:40

0

0

Reply
Yes, you can just purchase the tickets when you arriving at the scenic area.
Asked by Dee from UK | Jun. 03, 2019 07:41

Reply
Shenzhen Splendid China Evening shows
From what time do you pay the ticket show prices only and not entrance fee in the evening?
Answers (3)
Answered by Henry from USA | Jun. 03, 2019 20:41

0

0

Reply
The night open hours are from 18:00 to 22:00.
Answered by Falens from INDONESIA | Jul. 13, 2019 15:36

0

0

Reply
Is it mean entrance fee discount 100CNY if we entrance after 6pm? Likes as WOW? Thank you
Answered by Henry from USA | Jul. 15, 2019 00:44

0

0

Reply
But you can only enjoy the performance but cannot visit other attractions.
Asked by Gghifarva from PHILIPPINES | May. 20, 2019 22:37

Reply
How to get to Shenzhen Folk culture villages?
Hi, I am a tourist currently staying at Bantian, longhua. I would like to ask how to get to the folk culture villages by commuting. Thank you
Answers (1)
Answered by Alan from SINGAPORE | May. 23, 2019 01:44

0

0

Reply
Take Metro Line 5 from Bantian to North Railway Station and transfer to Metro Line 4 to Convention and Exhibition Center. Then transfer to Metro line 1 to Overseas Chinese Town. Get out of the Exit D and walk southeast about 600m to the village.