Window of the World, Shenzhen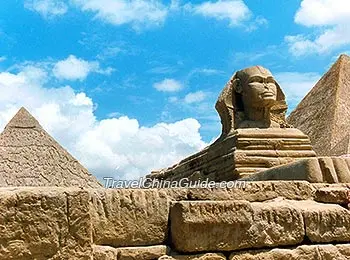 Replica of

Pyramids and Sphinx


Pictures
Shenzhen Window of the World is a fantastic replica park situated at the Overseas Chinese Town. Here you can see vivid replicas of the world's wonders, historical heritages and famous scenic sites. The entire masterpiece is built at ratios of 1:1, 1:5 or 1:15.
Reproductions of World-famous Attractions
Within one day, you can visit many reproductions of famous sites from different countries. For example you can find the Mahamuni Pagoda of Mandalay and the Angkor Wat of Cambodia here. European architectural splendors, such as the Eiffel Tower, the Ancient Athens, the Leaning Tower of Pisa and the Tower of London will carry you back to the cradle of classical European culture. When you tour the miniature Roman Colosseum in Window of the World, you might notice a cruel and bloody scene. Enjoy the picturesque scenery as you take a gondola along the canals of Venice. Mysterious Africa is always full of life and vigor. Here, the Pyramids and the Sphinx are quietly waiting for your visit. After traveling through typical African hamlets, you come to the Oceania. Sydney Opera House, which boasts a unique style, is a landmark not only of Australia but also the whole Oceania. Looking from a distance, it looks like a luminous pearl on the vast expanse of blue sea water. The rumbles of Niagara Falls and the Grand Canyon lead you to the America, a young continent. These two natural wonders are awe-inspiring. Moving on to modern civilization, in the replica of Manhattan you will see rows of towering skyscrapers. No wonder they say the rhythm of life speeds up here.
Special Experience in Window of the World during Festivals
Visiting during a festival time is another way to experience this replica park. Annually the park holds the Cherry Festival and the Indian Cultural Week. During the Cherry Festival, wandering in the cherry garden of Japan and taking a cup of tea will refresh you. Window of the World runs many programs during holiday periods too. In the summer holiday, the International Beer Festival is a big tourist attraction. Probably, the Pop Music Festival is the favorite of young people. This is held on
Chinese National Day
. In December, Santa Claus welcomes New Year's approach. Following this the World Dance and Singing Gala is held during the
Chinese New Year
. Taking part in the entertainment activities complements your travel plan.
Miniature of Notre-Dame

Imitation of

Niagara Waterfall
Adventure Trips in Window of the World
There are a number of adventure trips for you to choose from. For example, test your courage by navigating the Colorado River in the Grand Canyon. In the Archery Field, tourists may follow the ways of North American Indians and learn to hunt prey in the lush woods. Even more exciting is to traverse the primitive tropical forest in a cable car. Skiing in a subtropical city might sound strange, but the Indoor Alpine Ski Run in Shenzhen Window of the World offers you four thousand square meters (about 6,200,012 square feet) of indoor piste to ski.
Window of the World has a lot more to offer. You will have a good day in this miniature world.
How to get to Window of the World
1. Take
Line 1
(Luobao Line) or
Line 2
, get off at Shijie Zhichuang (Window of the World) station and get out from Exit J.
2. Take bus 21, 26, 32, 42, 43, 66, 70, 79, 90, 101, 113, 123, 204, 209, 222, 223, 234, 323, 324, 327, 338, 365, 369, 373, 383, 392, 395, B795, K578, M222, M372, M388, M398, M413, M425, M433, M435, M448, M486, M487, M488, M535, N4, N6, N24, PJ17, Peak Express Line 93, Tour Line 1, or Tour Line 4 to Shijie Zhichuang.
Take bus no.101 or subway line 1 to reach there; If you take a cab from the railway station, the estimated taxi fare is 50RMB.
Take
Subway line 11
to Qianhaiwan to transfer to line 1; If you take a cab from the airport, the estimated taxi fare is 70RMB.
Shenzhen Bus / Subway Search
Entrance Fee
CNY 220;
CNY 110 for children between 1.2 to 1.5 meters (3.9 and 4.9 feet);
Free for children under 1.2 meters.
CNY 100 for Evening Show (after 19:30)
Opening Hours
09:00 to 22:00 on ordinary days;
09:00 to 22:30 on public holidays
Recommended
Time for a Visit
3-4 hours

Top 7 Things to Do in Shenzhen
- Last modified on May. 09, 2019 -
Questions & Answers on Window of the World, Shenzhen
Asked by Falen from INDONESIA | Jul. 13, 2019 15:32

Reply
Entrance fee 100CNY of Shenzhen Window of the World?
What you mean 100 CNY for evening show after 19.30? Is it include Entrance Fee? So we must enter the WOW after 19.30? Thank you
Asked by Normazwin from MALAYSIA | Jul. 13, 2019 05:11

Reply
Inside Shenzhen window of the world ,do they have the halal food for muslim?
Answers (1)
Answered by Bader from USA | Jul. 15, 2019 00:18

0

0

Reply
No, there isn't halal restaurant inside it. You can find halal food around the window of the world, like Xinxilan Halal Restaurant, which is located at No.3, Guangqiao Street, Huaqiao City.
Asked by Annie from PHILIPPINES | Jun. 26, 2019 23:37

Reply
How to get to the Shenzhen window of the world from Guangzhou Railway Station?
Answers (1)
Answered by May from USA | Jun. 27, 2019 18:32

0

0

Reply
You can take high speed train to Shenzhen Railway Station first. It departs from 6:05-22:20 with interval of 15 minutes and costs CNY79.5 with 40 minutes. Then take metro Line 1 from Luohu Station to Window of the World Station with CNY5 with around 40 minutes.
Asked by Gghifarva from PHILIPPINES | May. 20, 2019 22:42

Reply
How to get to the Shenzhen window of the world?
Hi, im currently located at Bantian, Longhua (near Vanke Bilingual School), i would like to know how to get to the window of the world by commuting. Thank you.
Answers (1)
Answered by Jim from NEW ZEALAND | May. 23, 2019 01:35

0

0

Reply
You can take Bus Line 488 from Wuhe Bus Station to the Window of the World. It takes about 1.5 hours.
Asked by Kaizzelle from PHILIPPINES | May. 06, 2019 13:46

Reply
Entrance Fee of Shenzhen Window of the World & how to get there?
Hi How much is the Entrance fee for not locals (not Chinese) and how to go there from macau?
Answers (1)
Answered by Bruce from SINGAPORE | May. 08, 2019 18:04

0

0

Reply
The entrance ticket for an adult is CNY220.

You can take a ferry from Macau Ferry Terminal to Shekou Port. The ferry departs from 9:30 to 21:00 with an interval about 1 hour and takes CNY210 for a single journey. From Shekou port, take Metro Line 2 from Shekou to Window of the World and get out of the Exit H.