Dameisha Beach
Dameisha Beach is located at Mirs Bay, Yantian District, in the east of Shenzhen. It is the longest beach in Shenzhen with a length of 1,800 meters (1,970 yards). Dameisha Beach Park has been built to meet the various needs of visitors. Currently, one can swim or ride a motorboat in the sea, enjoy the sunshine, or drive a vehicle or ride a horse along the beach, stroll along the seaside plank road, or hold a barbecue party there, etc.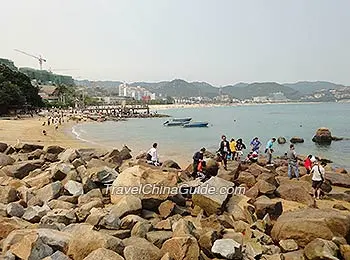 Beautiful Dameisha Beach, Shenzhen
Sun Square was built as a rest area in the center of the Park. There are three different shade sails, made from tensile membranes, in the 13 hectares (32 acres) square. All service facilities are provided. To the west of Sun Square, a smaller Moon Square has been built. Lots of restaurants and shops are in the two squares, providing many local specialties like sea food, squab meat and barbecue food.'Sunlight Corridor' connects the two squares. With azaleas covering above and long stone benches to the side, it's also a good place to rest. In the east of Sun Square stands a Wishing Tower. It's said that your wishes would come true if you pray from the top of the tower.

Listed below are some wonderful activities one can do at Dameisha Beach:

Swim in the Sea and Play on the Beach
On hot days, it's a desirable thing to enjoy oneself at the beach. At Dameisha Beach, you can have fun swimming, horse riding, parasailing and other kinds of water sports.

With hills as background, the beach slopes a little sharply to the water. If you are not a good swimmer, take a swimming ring when you are in the water. At the same time, you must keep in mind that there may be sharks, so swim outside the shark net.

Horses and dune buggies are provided, too. It's very exciting to have a little riding or driving contest with your friends and family. If you want to explore to your heart's content, parasailing is another activity to test your bravery. Remember to equip yourself properly before enjoying flying!

For those who want to indulge themselves in the sea or on the beach, lockers and shower facilities are provided in Sun and Moon Squares. It costs CNY 50 for using a locker. Also, it costs CNY10 to take a cold water shower and CNY16 for a warm water shower. For an extra CNY4 you can get gel and shampoo. Cold water showers are free for children under 1.2 meters (3.6 feet) and warm water ones cost CNY8.
| | |
| --- | --- |
| Dameisha Seaside Resort | Soft Beach of Dameisha |
Barbecue in the Park
200 meters (220 yards) east of the Wishing Tower lies a BBQ area. It's the most popular place on summer nights. If you want to have a relaxed BBQ trip, you can come here without any equipment. All the equipment needed can be hired here, including oven, a bag of charcoal, BBQ forks and some stools. The total cost is CNY120, with an extra bag of charcoal costing CNY25. All kind of food materials can also be bought from the local shops.

Walk along the Seaside Plank Road
After too many energy-consuming games, walking along the Plank Road gives you peaceful enjoyment. The Plank Road in Dameisha Beach is most famous part of the 19.5 km (12 miles) long Eastern Coastal Plank Road. Built in the west of Dameisha Beach, the Plank Road is paved with wood, just like a bridge over the water. There is an opening area along the road, where you can walk straight to the water's edge. At the end of the road is New World Bar, beside which stands the famous Everlasting Love Stone. Being photographed with the stone is a necessity for those lovers who come here.

Travel Tip
There may be plenty of visitors during holidays and on weekends, so it may not be a good choice to come here during these times.
How to Get to Dameisha Beach
1. Take bus 387/ j1/m437/ m465/n21/ Dameisha Holiday Special Line 2/ Tourism Bus of Overseas Chinese Town East/ Airport Line 6 and get off at Haibin Bath One (Haibin Yuchang ①) Station.
2. Take bus b703/ b961 and get off at Haibin Bath (Haibin Yuchang) Station.
3. Take bus 308 and get off at Haibin Bath Three (Haibin Yuchang ③) Station.
Shenzhen Bus / Metro Search
| | |
| --- | --- |
| Admission Fee | Free, but the entertainment activities need to be paid for. |
| Opening Hours | All day |

Recommended Nearby Attractions:
Xiaomeisha Sea World
,
Xiaomeisha Beach

Top 7 Things to Do in Shenzhen

12 Best Places to Visit in Shenzhen
- Last updated on Apr. 15, 2021 -
Questions & Answers on Dameisha Beach
Asked by Tun from MALAYSIA | Sep. 25, 2023 18:45

Reply
how to get to Dameisha Beach from Shangri-La Futian Hotel
Answers (1)
Answered by Olivia | Sep. 26, 2023 02:40

0

0

Reply
First, take subway line 1 from Gouwu Gongyuan to Dajuyuan, then change to line 2 to Yantian Port West, at last take bus no. M520 to Dameisha. It takes about 100 minutes in total and CNY9.
Asked by Niraj from CHINA | May. 01, 2019 01:59

Reply
Is Shenzhen Dameisha Beach Open?
I remember last year in October it was closed bcz there was repair work.
Answers (1)
Answered by Julie from ITALY | May. 05, 2019 18:28

0

0

Reply
Yes, it opens now. But some parts are still under reparation.
Asked by Monde from SOUTH AFRICA | Feb. 12, 2019 19:43

Reply
Is Dameisha Beach open around this time February?
Answers (1)
Answered by Julia from AUSTRALIA | Feb. 14, 2019 18:17

0

0

Reply
Yes, this scenic area open normally. :)
Asked by Kari from PANAMA | Dec. 20, 2018 21:56

Reply
Is it possible to camp in Dameisha or Xiaomeisha beach?
Does anyone know if we can camp there and if there's tents that we can rent? How much and how to proceed? Thanks!
Answers (3)
Answered by Kennedy from USA | Dec. 25, 2018 19:48

0

0

Reply
Yes, it is possible to camp in the designated area in these two scenic area. But I heard that you need to rent the tent and other camping equipment in the scenic area. About the price, different seasons has different prices. You are advised to consult the scenic area staff when you arriving there.
Answered by Kari from PANAMA | Dec. 28, 2018 21:11

0

0

Reply
Thank you so much. I am planning to go in two days. I'd be afraid it'd be too cold. Do you have any idea if the tents provided will be with some kind of camping bags inside?
Answered by Kennedy | Jan. 01, 2019 18:40

0

0

Reply
As I know, there is no kind of camping bags inside. You'd better to prepare some warm clothes in advance.
Asked by Odette from MONGOLIA | Feb. 16, 2017 15:42

Reply
How is the Dameisha Beach in March? I know the temp is always up but can the water be too cold?
If yes. When is the best time?
Answers (1)
Answered by Cheryl from USA | Feb. 18, 2017 21:12

0

0

Reply
Odette, I'm afraid the water might be a little bit cold in March. It is suggested you go there during June~August.