Shenzhen Attractions - Things to Do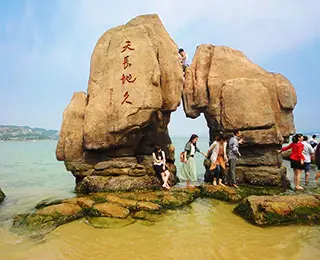 Dameisha Seaside Resort

Splendid China - Folk Culture Villages

Window of the World

Shenzhen Happy Valley

Dameisha Beach

Xiaomeisha Beach

Chung Ying Street

Fairy Lake Botanical Garden

Guanlan Lake Tourist Resort

Meridian View Center

Overseas Chinese Town East

Safari Park

Xiaomeisha Sea World

Xili Lake Holiday Resort

See more about
Top 7 Things to Do in Shenzhen
Shenzhen is a modern financial and commercial metropolis in China; however, it lacks the history and natural beauties which attract visitors to many of the other big cities. In recent years the city has compensated by developing excellent theme parks and man-made scenic spots. These modern facilities have succeeded in drawing in crowds of tourists, eager to check out the contemporary attractions.
Window of the World, a theme-park near to Shenzhen Bay, is one of the highlights of the city. The park displays miniature versions of more than 130 world famous sites, from each of the five continents. Here you are able to visit many of the world's great landmarks in just one day. Of course, since you are in China, you will also want to explore some of China's most well-known sites. Splendid China - China Folk Culture Villages is a special destination built in Shenzhen to introduce you many interesting aspects of China's culture and scenery. The district of the Splendid China features miniature replicas of famous Chinese historical sites and charming natural beauties. China Folk Culture Villages will introduce you to the cultures of the many Chinese ethnic groups. Its highlights include life-sized examples of distinctive buildings from each group, as well as rich ethnic performances.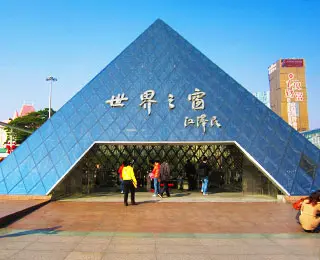 India Taj Mahal in Window of the World
Happy Valley (Happy Kingdom), which is near to the Window of the World, is the largest theme park in the park and consists of nine major projects, including a Spanish Square, Cartoon City, the Adventure Hill, and the Maya Water Park. While at Happy Valley, you can join in the many exciting games and enjoy a variety of excellent performances which cater to both children and adults. Happy Valley is a full service park, providing visitors with everything from sightseeing, entertainment, catering and accommodations, to shopping.
Besides, there are still many tings to do and places to visit in the city. Among of them, the Xianhu Botanical Garden, the Safari Park, Da Meisha and Xiao Meisha Scenic Area (two excellent bathing beaches), and Meridian View Center (also called the window of Shenzhen) are highly recommended. Moreover, Xili Lake Resort endowed with enchanting natural view offers a quiet place for citizens to be away from the hustle and bustle of the city.

Recommended Shenzhen Itineraries:
City Tour
: 2 Days to Vsit Splendid China - Folk Culture Village
More
Shenzhen Itineraries
,
China Tour Packages
- Last modified on Jan. 22, 2019 -
Questions & Answers on Shenzhen Attractions
Asked by TITON | Jul. 22, 2019 05:44

Reply
Hello, I am from Bangladesh & I have multiple entry VISA of China.
I want to go to HK for 1 or 2 days, Do I need HK VISA for that. Please note, I never ever enter HK. If no then what I have to do to go there?
Asked by JC from SINGAPORE | Jan. 19, 2019 08:54

Reply
Short tour in Shenzhen and Zhuhai
Hi
I am going to HK in June.

I would like to plan a short trip of a few days covering attractions in SZ and Zhuhai (includes Chimelong Circus)

Please advise on the number of days and cost in RM
Answers (1)
Answered by Chasen from FINLAND | Jan. 22, 2019 22:57

0

0

Reply
You are advised to spend 3 days in SZ and 2 days in Zhuhai. For the cost, except accommodation, you can prepare CNY500 per day.
Asked by FIEYZAL | May. 20, 2018 23:19

Reply
How to get from Shenzhen Sea World, Shekou to Meilin Mosque in Meilin Road?
Can anyone tell me the direction? By using metro or bus.
Answers (1)
Answered by Rhino from GREECE | May. 23, 2018 20:35

0

0

Reply
Walk to south east about 500m to take subway line 2 from Dong Jiaotou Station to Jingtian Station, transfer here to take subway line 9 to Margin Ridge Station. Then walk out of Exit B and walk to east about 400m, you will get there.
Asked by Hafith from INDONESIA | Sep. 08, 2017 09:29

Reply
Hello... I have china visa for once entry.
If I go to hongkong from shenzhen, can I come back to shenzhen? Because my visa only one entry..
Answers (1)
Answered by Lisa from GERMANY | Sep. 12, 2017 22:25

0

1

Reply
Sorry to tell you that you can't back to SZ in that case; however, you may try to apply for the Visa on Arrival at the border. Then you may get into the city again.
Asked by Roslan from MALAYSIA | Jul. 16, 2017 02:07

Reply
If we are from city of shenzhen,can we go to hong kong and what the best way to go there?
Answers (7)
Answered by Mike from CANADA | Jul. 17, 2017 19:57

1

0

Reply
If you will go to HK airport, you are suggested to take a ferry at Shekou Port to Sky Pier, there are 13 available ferries a day from 7:45 to 20:15, and it takes CNY270 and 30 minutes.
If you will go to the downtown HK, there are 8 available ferries to HK-Macau Ferry Terminal from 7:45 to 18:15, and it takes CNY120 and 1h 10 minutes.
Answered by ROSLAN from MALAYSIA | Jul. 18, 2017 22:18

0

1

Reply
i am malaysia passport holder, do i need to apply visa to hong kong for short trip , then comeback to SZ, tq
Answered by Alice | Jul. 19, 2017 01:00

0

0

Reply
Oh, passport holders are exempt from visa for 90 days in HK, so no visa is needed for a short trip there.
Answered by JULIEL2288 | Jul. 27, 2017 16:22

0

0

Reply
Hi, if we take ferry at Shekou Port to HK Airport Sky Pier, do we need to go thru HK immigration? hopefully not so we can save time, thanks!
Answered by JULIEL2288 | Jul. 27, 2017 16:23

0

0

Reply
is there website to book ferry tickets from SZ to HK Airport? thanks!
Answered by Mary from AUSTRALIA | Jul. 27, 2017 20:53

0

0

Reply
No, you don't need to go through the immigration.
Answered by Ella from CHINA | Jul. 27, 2017 20:56

0

0

Reply
You can book the ferry tickets on the official website of Chu Kong Shipping Enterprises. You can search "CKS" on the internet to find this website.