Shenzhen Facts
Shenzhen Basic Facts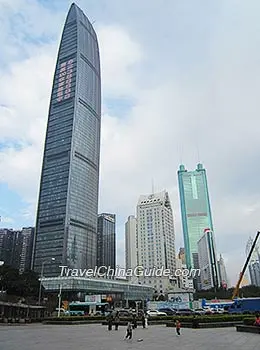 Street View in Shenzhen City

Chinese Name: 深圳 shēn zhèn


Administration Type: Prefecture Level City


Area: 1996.85 sq km (771 sq mi)


City Government: Citizen Center, Fuzhong 3rd Road, Futian District


Resident Population: 13, 026, 600 (2018)


Administrative Divisions: Futian District, Luohu District, Nanshan District, Bao'an District, Longgang District, Yantian District, Longhua District, Pingshan District, Guangming District and Dapeng New Area


Area Code: 0755


Postal Code: 518000


Location: South Coast of Guangdong Province, East Bank of Pearl River Estuary, South China (N22°32′N, 114°03′E)



​ See also: China Population by City: List of 50 Most Populated Cities

Top 8 Shenzhen Facts You Should Know
1: World's Fastest Growing City in the Past 40 Years
This is the most eye-catching Shenzhen fact recognized worldwide. In August of 1980, a special economic zone was set in Shenzhen. In the following nearly 40 years, Shenzhen has grown from a small fishing village into a dynamic international metropolis. In 1979, Shenzhen's GDP was only CNY 197 million, with a per capita GDP of CNY 606. By 2018, Shenzhen's GDP has reached CNY 2.42 trillion, with a per capita GDP of CNY 189,568. The population has also grown from 20,000 in 1979 to 13,026,600 in 2018.

2: The Most Active City of Import and Export in China
As the window of China's reform and opening up policy, Shenzhen became a core port for international export and import trade, which contributes to the fast develop of local economy, and attracts foreign companies to establish commercial cooperation with Shenzhen. In 2018, Shenzhen's total import and export trade reached CNY 3 trillion with a year-on-year increase of 7%. Its international import and export trade has ranked first in China for successive 26 years.

3: China Silicon Valley
A large number of outstanding Chinese IT and technology companies such as Huawei, Tencent, Mindray, Netac, Xunlei, Kingdee, DJI, Han's Laser, BGI and BYD were born in Shenzhen. Meanwhile, Shenzhen is also the largest electronic product distribution center in China and even Asia. Here is an interesting Shenzhen fact: go to Huaqiangbei Electronics Market and you can get all the components needed to assemble a mobile phone or a computer. Therefore Shenzhen is known as the "Silicon Valley of China".


See also Top 8 Shenzhen Electronics Malls

4: Full of Skyscrapers
As an international metropolis, Shenzhen has many skyscrapers. By 2018, Shenzhen had 262 skyscrapers above 150 meters (492 feet), ranking third in the world, behind Hong Kong and New York only. Ping An Financial International Center is located in the commercial district of Futian District, with a total of 118 storeys and a height of 592.5 meters (648 yards). It is the tallest skyscraper in Shenzhen. KingKey 100 Financial Center is 441.8 meters (483 yards) high with 100 storeys. It ranks second highest buildings in Shenzhen. Shenzhen China Resources Headquarters Building looks like a spring bamboo shoot having a height of 392.5 meters (429 yards).


See also Shenzhen Skyline: 10 Highest Buildings in Shenzhen

5: Unique and Abundant Beaches and Theme Parks
Shenzhen is surrounded by mountains and sea, with beautiful scenery, long beaches and islands, sea cliffs and reefs, forming a series of beautiful scenery. It has been rated as "China's Eight Most Beautiful Coast", with Dameisha Beach, Xiaomeisha Beach, Xichong Beach and many others worth exploring. The number of theme parks also ranks top in China, including Splendid China, Window of the World, Happy Valley, and Overseas Chinese Town East.


See also Find the Most Beautiful Shenzhen Beach Destinations

6: Shenzhen Enjoys Developed Transportation System.
Shenzhen enjoys a well-developed land, sea and air transportation systems. Shenzhen Bao'an International Airport is the fourth largest airport in China, which has opened 50 domestic and international air routes. In addition, the airport is reachable by sea and land transport. Shenzhen is the port city with the largest number of land ports in China, connecting it with the world financial center Hong Kong. This also makes Shenzhen a transfer hub from Hong Kong to mainland China. Shenzhen metro has opened a total of 8 lines, ensuring visitors to travel easily in the city.

7: Autumn from November to early January is the Best Time to Travel to Shenzhen.
Autumn from November to early January is advised as the best time to visit Shenzhen. Since Shenzhen has a subtropical climate, it has abundant rainfall and the rainy season is from May to September. From October to April of the next year, precipitation is relatively low and the climate is also pleasant.


See more about Shenzhen Weather

8: The Visa Policy is Friendly.
Shenzhen has adopted 144-hour and 24-hour visa-free transit policies and 5 days visa-on-arrival policy for overseas visitors from most countries and regions, making it easier for foreign tourists to come to Shenzhen for travel or business.



Further Reading:


​ 144-Hour Visa-Free Transit in China

​ Shenzhen 5-Day Visa on Arrival

​ Top 7 Things to do in Shenzhen
- Last updated on Nov. 26, 2020 -
Questions & Answers on Shenzhen Facts
Asked by Costa from USA | Aug. 05, 2019 02:45

Reply
How far is Shenzhen Shekou Port from Futian district hotels by taxi?
Answers (1)
Answered by Cara from USA | Aug. 07, 2019 19:09

0

0

Reply
It takes around 40 minutes with around CNY60-70.
Asked by Costa from USA | Jul. 17, 2019 06:55

Reply
I would like to go Shenzhen from HK for 6 days VOA for Tennis tournament in Oct.
If after 6 days I go to Macau or HK and from there to Guangzhou , I will be able to get a 5 days VOA in Guangzhou ? I have American Passport . Thanks
Answers (2)
Answered by Walter from USA | Jul. 23, 2019 01:14

0

0

Reply
Sorry, you can't.
Answered by Costa from USA | Jul. 23, 2019 07:23

0

0

Reply
Thank you Walter , then what other options I have , I need to visit this 2 cities on 2 separate free visa transit . One for 144 hrs. and other for 72 hrs. Thanks
Asked by Jony from BANGLADESH | Mar. 26, 2019 04:22

Reply
Shenzhen (VOA) Visa for Bangladesh passport holder with HK ID card.
Hi

I am Bangladesh Passport holder and I have HK ID card. Can I apply for on arrival visa in Luohu port?

Thank you
Jony.
Answers (1)
Answered by Penelope from POLAND | Mar. 28, 2019 01:02

0

0

Reply
No, you need to apply for the China Visa in advance.
Asked by Jenny from USA | May. 25, 2018 08:37

Reply
I am supposed to board a Royal Caribbean cruise in Shenzhen.
How do I get there from the Shenzhen airport? Does it require a visa? I'm a USA passport holder. Thanks!

Answers (1)
Answered by Steve from USA | May. 28, 2018 21:50

0

0

Reply
I assume you will board on Shekou wharf, then you can take subway line 11 to Houhai Station and transfer here to subway line 2 to Shekou Port. If you just leave the border from Shenzhen within 24 hours, you don't need a visa.
Asked by suresh from INDIA | Aug. 18, 2017 13:18

Reply
I am going for job in Shenzhen , my company offer per month USD300 for food , Is it Enough for food?
Kindly let me know if i will make my own Indian cooking , can i get Rise, and other cooking needs(Indian cooking materials) over there and what is the cost might me?
Answers (1)
Answered by Terra from FRANCE | Aug. 21, 2017 00:54

0

0

Reply
Yes, it's enough for food. As I know, most Indian cooking materials could be bought in supermarkets. Since you didn't provide your exact address, I can't give you the location of some supermarkets, so you can ask your colleagues for help.