Shenzhen Travel Tips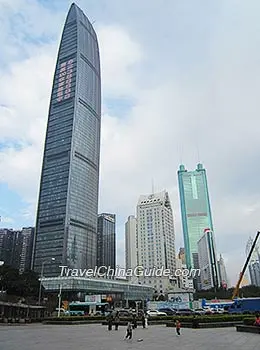 Street View in Shenzhen City
Chinese Name: 深圳市 (shen zhèn shì)
Area: 1,954.84 square kilometers (about 483,051.52 acres)
Resident Population: 10,357,900
Area Code: 0755
Zip Code: 518100
Administrative Division: six districts (Futian, Luohu, Nanshan, Bao'an, Longgang, Yantian)
City Government: Citizen Center, Fuzhong 3th Road, Fuzhong District

Banks: Shenzhen Branch of Bank of China offers currency exchange service.
Address: International Financial Mansion, No.2022, Jianshe Road

Post Office:
Luohu District
Jianshe Road Branch: 3040, Jianshe Road (08:00~20:00)
Aiguo Road Branch: 1033, Aiguo Road (08:00~19:00)
Chunfeng Road Branch: 2016, Chunfeng Road (08:00~19:00)
Lushan Branch: 1/F, Lushan Garden (08:00~19:00)
Donghu Branch: 8, Bibo 1st Street, Aiguo Road (08:00~19:00)
Futian District:
Bagualing Branch: 1, Bagua 1st Road (08:00~18:00)
Shennanzhong Branch: 1/F, No.3, Tongjian Building, 2033, Shennan Zhong Road (09:00~21:30)
Huaqiangbei Branch: 2/F, Building of Modern Window, Huaqiang North Road (09:00~20:00)

Emergency Numbers:
Fire: 119
Police: 110
Ambulance: 120
Traffic: 122

Useful Numbers:
Shenzhen Tourist Bureau: 8200320
Consumer complaints: 12315
Price complaints: 12358
Quality complaints: 12365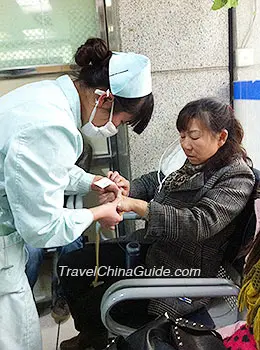 Hospital:
People's Hospital
Address: No.1017, Dongmen North Road
Peking University Shenzhen Hospital
Address: No.1120, Lianhua Lu, Futian District
Second People's Hospital
Address: No.3009, Sungang West Road, Futian District
Children's Hospital
Address: No.7019, Yitian Lu, Futian District



Famous University
Shenzhen University
Address: No.3688, Nanhai Road, Nanshan District



Churches
Catholic Church (St. Anthony's Church )
Address: Zhuzilin, Nonglin Road, Futian District
Bus Route: 21, 26, 54, 101, 113, 123, 204, 209, 301, 320, 370, 383
Christian Church
Address: Meilin Road
Bus Route: 30, 35, 201, 222, 361, 431, 470, 474



Passport holders of 53 countries and regions can enjoy a visa-free stay of 144 hours if they enter from Shenzhen Bao'an Airport and leave from any port in Guangdong for a third country. Besides, Shenzhen 5-day Visa on Arrival provides great convenience for most travelers to explore the city.

Getting to know more tips for travel in China, please visit China Travel Advice.

Nightlife
To experience nightlife in Shenzhen, visitors should check out one of the many bars and clubs. Locals, especially the young, go there to unwind, socialize with friends or just listen to music. This can be very relaxing for them after a busy and stressful workday.
Bars and Clubs
The city has two famous streets noted for their large number of bars and clubs. One street is located in Huaqiao City. The bars on this street are popular with young people. The other street is located in the Sea World Square of Shekou District. There are more than a dozen bars and cafes here, many of them catering to foreign visitors. Below are some recommendations:

True Color Bars
There are three locations in Shenzhen. These bars feature live bands and jazz music.
Guoqi location: the 25th floor of Guoqi Mansion, Shanbu South Road, Futian District. Buses routes 4, 8, 12, 25, 29, 202, 302, 414, 416, 421, 426 and 523 stop here.
Dongyuan location: the 3rd and 4th floor of Dongyuan Mansion, Dongyuan Road, Futian District. Bus routes 7, 8, 14, 23, 24, 29, 30, 33, 352, 353, K302, 548B, 406, 408, 416, 421, 426, 428 and 446 stop here.
Dongmen location: the 4th floor of Gold World Business Center of Dong Men, Jiefang Road, Luohu District. Bus routes 3, 10, 103, 113, 215, 220, 223, 309, 311, 351, 454 and 483 stop here.

Lao Dou Bar
Known for its unique decorative style, this bar has an area for people to sample a variety of red wines.
Address: Jiahua New City, No. 3027 of Shennan Middle Road, Futian District
Hours of operation: 18:30 to 02:00 the next day

Base Bar
This bar has a red and black color scheme and features rock bands.
Shangbu location: No.1019, Shangbu South Road
Serviced by bus routes: 113, 204, 223 and 311
Hours of operation: 19:00 to 02:00 the next day

Nanshan location: the 1st and 2nd floor of the West Seashore, Nanyou Road
Serviced by bus routes: 113 and 328
Hours of operation: 19:30 to 02:00 the next day

Cafés
Starbucks Café
Maoye location: the 2nd floor of Moaye Department Store, Huaqing North Road, Futian District
Wanxiang location: Wanxiang City, Huarun Center, Baoan South Road, Luohu District
Jianingna location: Jianningna Square, Renmin South Road, Luohu District

Ming Tien Coffee Language
Nanshan location: Yihai Square, No.90, Chuangye Road, Nanshan District
Maoyuan location: the 2nd floor of Maoyuan Mansion, Baoan South Road, Luohu District
Zhenxing location: No.73, Zhenxing Middle Road, Futian District

UBC Coffee
Fuhua location: No.146, Fuhua Road, Futian District
Nanshan location: Toa Yuan, Nanshan Street, Nanshan District