Shenzhen 5-Day Visa on Arrival
The Shenzhen 5-day visa on arrival, also known as Shenzhen 5-day VOA, enables tourists from most countries to stay in Shenzhen for up to 5 days without applying for a regular visa. During the 5 days, tourists cannot leave Shenzhen for other mainland Chinese cities.

Note that Shenzhen VOA can neither be extended nor converted. Holders should leave China before it expires. The 5 days start counting from 00:00 the day following the entry date.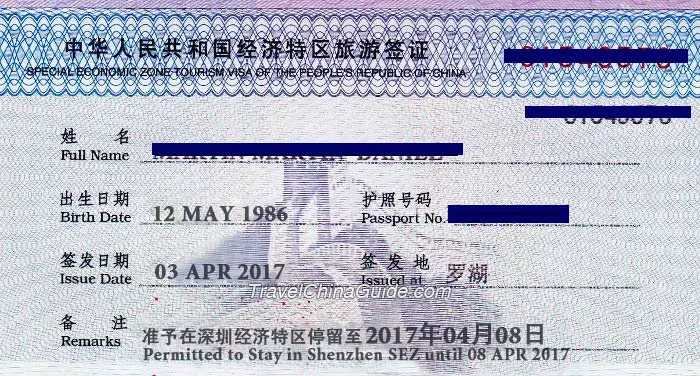 Shenzhen 5-day visa on arrival (Sample)
Do I Need a Visa to Go to Shenzhen?
Foreigners need a visa to go to Shenzhen unless they qualify for the 24-hour visa-free transit or they come from countries that have reached visa waiver agreements with China. The good thing is that citizens of most countries can apply for a Shenzhen visa on arrival.

Can I Get a Visa on Arrival in Shenzhen? - See Who Are Eligible
1. Most European and developed countries are eligible for the five-day VOA, including US, UK, Canada, French, Australia, Germany, Korea, New Zealand, Poland, Romania, Spain, Sweden, and Switzerland.

2. Indonesian and Filipino passport holders can get it only if they have been granted a Chinese visa previously.

3. Citizens from the following countries are ineligible: Afghanistan, Algeria, Bahrain, Cameroon, Egypt, Iran, Iraq, Jordan, Kuwait, Lebanon, Liberia, Libya, Morocco, Oman, Pakistan, Palestine, Qatar, Saudi Arabia, Somalia, Sri Lanka, Sudan, Syria, Turkey, Uganda, and Yemen.



Note: The list is subject to changes. Citizens of countries not mentioned should contact the relevant Chinese embassy or port to ask if they can apply for the Shenzhen visa on arrival.

Can US Citizens Apply for Visa on Arrival in Shenzhen?
Yes. According to the latest news, US citizens can apply for the five-day VOA in Shenzhen.

Where to Get the VOA?
The five-day VOA is available at Luohu (Lo Wu) Port, Shenzhen Airport, Huanggang Port, Shekou Port and Fuyong Port. There is no office at Futian Port although it is only a few hundred meters from Huanggang Port.

| Ports | VOA Office Opening Hours | Phone Number |
| --- | --- | --- |
| Shenzhen Airport | 10:00 - the arrival of the last flight | (0755)82327700 |
| Luohu Port | 7:00 - 23:30 | (0755)82324022 |
| Huanggang Port | 00:00 - 24:00 | (0755)83391060 |
| Shekou Port | 9:00 - 13:00 & 14:30 - 17:00 | (0755)26691202 |
| Fuyong Port | 10:00 - the arrival of the last carrier | (0755)23459289 |
How to Apply for the VOA & How Long Does It Take?
1. Show your valid passport. The five-day VOA is a sticker pasted on the passport like a regular visa. Hence, there must be at least one blank page in the applicant's passport.
2. Complete the application form when you are at the port.
3. The officer will take a photo of you after you hand over your passport and application form.
4. Pay for the VOA (in Chinese RMB); there is a window for currency exchange.

In most cases, people can get the visa within ten minutes.

How Much Does a Shenzhen Visa Cost?
Usually, the fee for a Shenzhen VOA is the same as a regular visa. It is CNY168 for most, but not all countries. For example, UK passport holders need to pay CNY 304. Only China Yuan (CNY) is accepted by the visa-issuing ports.

What Can You Do During the 5 Days?

Recommended Shenzhen Itinerary:
Private Shenzhen City Tour
FAQ about Shenzhen 5-Day Visa on Arrival
1. Can I travel back and forth from HK to Shenzhen daily on this visa or do I need to apply each time?
The 5-day VOA is for single entry only, so you need to apply for it each time.
2. May I apply for Shenzhen VOA beforehand or through a travel agent?
No, you cannot. You cannot use a travel agent and you need to apply for it at the border crossing upon arrival on your own.

Further Reading:
China Visa on Arrival
- Last modified on May. 06, 2019 -
Questions & Answers on Visa on Arrival
Asked by Angelo Borioli from VIETNAM | May. 21, 2019 08:05

Reply
I would like to know if it is possible to get the 5 days visa at the arrival in Shenzhen airport
even on Saturday or Sunday

Answers (1)
Answered by ZUPAN | May. 21, 2019 11:39

0

0

Reply
Yes, it is. Anyway, you should have in mind that the facility for VOA issuing at Shenzhen airport opens at 10:00 in the morning and remains open until the last flight of that day. This is very important detail in order to avoid possible long waiting times at the airport.
Asked by Jan from NETHERLANDS | May. 20, 2019 15:33

Reply
I have a double entry visa for China that I really need for another part of my trip
with documentation to show. Can I get a VOA for Shenzhen?
Answers (1)
Answered by ZUPAN | May. 21, 2019 04:26

0

0

Reply
Yes, you can. Anyway, you will have to explain that to the immigration official because he/she will probably ask you why do you want this type of VOA and not to use one of your available entries and similar. Just be calm, focused and polite when explaining your reasons and there will be no problems at all. Just to empower your application for VOA, especially if you intend to spend a night or more time in Shenzhen, the advice is to make your accommodation booking in advance and to have a confirmation in hard copy ready to be presented to the authorities.
Asked by reece from ENGLAND | May. 19, 2019 23:57

Reply
About Shenzhen Visa on Arrival
Can you get two in a row?
Answers (1)
Answered by ZUPAN | May. 20, 2019 03:05

0

0

Reply
Yes you can, but you have to exit from SZ, of course. I would suggest you to spend at least one overnight in Hong Kong before applying for a new one. Also, it is advisable to have your accommodation booking in hard copy upon your arrival at the border crossing.
Asked by Ann from NEPAL | May. 17, 2019 21:19

Reply
May I know if Nepalese passpoan can get VOA at Li Wo
My friend she and her father is Nepalese and they would like to go Shenzhen for one day only. Are the eligible for the VOA in lo wu??and how much for the fee
Answers (1)
Answered by ZUPAN | May. 18, 2019 03:10

0

0

Reply
No, unfortunately not.
Asked by Shyne Chang from PHILIPPINES | May. 16, 2019 17:45

Reply
I'm a Filipino passport holder, how to apply for Shenzhen VOA?
Planning for a 1day visit in SZ from HK. Also what are the requirements needed? Thanks.
Answers (1)
Answered by James from USA | May. 16, 2019 23:38

0

0

Reply
Filipino passport holders can get it only if they have been granted a Chinese visa previously.