Shenzhen 5-Day Visa on Arrival
The Shenzhen 5-day visa on arrival, also known as Shenzhen 5-day VOA, enables tourists from most countries to stay in Shenzhen for up to 5 days without applying for a regular visa. During the 5 days, tourists cannot leave Shenzhen for other mainland Chinese cities.

Note that Shenzhen VOA can neither be extended nor converted. Holders should leave China before it expires. The 5 days start counting from 00:00 the day following the entry date.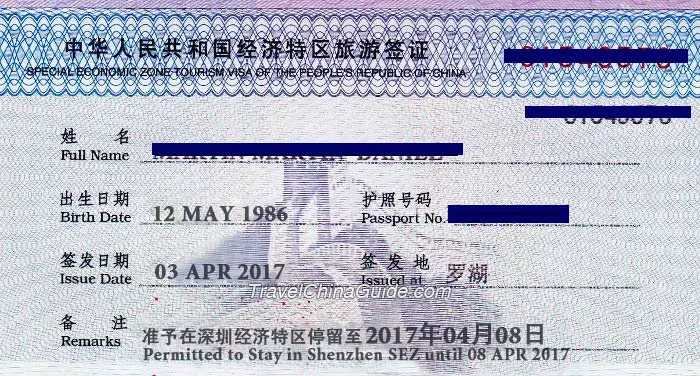 Shenzhen 5-day visa on arrival (Sample)
Do I Need a Visa to Go to Shenzhen?
Foreigners need a visa to go to Shenzhen unless they qualify for the 24-hour visa-free transit or they come from countries that have reached visa waiver agreements with China. The good thing is that citizens of most countries can apply for a Shenzhen visa on arrival.

Can I Get a Visa on Arrival in Shenzhen? - See Who Are Eligible
1. Most European and developed countries are eligible for the five-day VOA, including US, UK, Canada, French, Australia, Germany, Korea, New Zealand, Poland, Romania, Spain, Sweden, and Switzerland.

2. Indonesian and Filipino passport holders can get it only if they have been granted a Chinese visa previously.

3. Citizens from the following countries are ineligible: Afghanistan, Algeria, Bahrain, Cameroon, Egypt, Iran, Iraq, Jordan, Kuwait, Lebanon, Liberia, Libya, Morocco, Oman, Pakistan, Palestine, Qatar, Saudi Arabia, Somalia, Sri Lanka, Sudan, Syria, Turkey, Uganda, and Yemen.



Note: The list is subject to changes. Citizens of countries not mentioned should contact the relevant Chinese embassy or port to ask if they can apply for the Shenzhen visa on arrival.

Can US Citizens Apply for Visa on Arrival in Shenzhen?
Yes. According to the latest news, US citizens can apply for the five-day VOA in Shenzhen.

Where to Get the VOA?
The five-day VOA is available at Luohu (Lo Wu) Port, Shenzhen Airport, Huanggang Port, Shekou Port and Fuyong Port. There is no office at Futian Port although it is only a few hundred meters from Huanggang Port.

| Ports | VOA Office Opening Hours | Phone Number |
| --- | --- | --- |
| Shenzhen Airport | 10:00 - the arrival of the last flight | (0755)82327700 |
| Luohu Port | 7:00 - 23:30 | (0755)82324022 |
| Huanggang Port | 00:00 - 24:00 | (0755)83391060 |
| Shekou Port | 9:00 - 13:00 & 14:30 - 17:00 | (0755)26691202 |
| Fuyong Port | 10:00 - the arrival of the last carrier | (0755)23459289 |
How to Apply for the VOA & How Long Does It Take?
1. Show your valid passport. The five-day VOA is a sticker pasted on the passport like a regular visa. Hence, there must be at least one blank page in the applicant's passport.
2. Complete the application form when you are at the port.
3. The officer will take a photo of you after you hand over your passport and application form.
4. Pay for the VOA (in Chinese RMB); there is a window for currency exchange.

In most cases, people can get the visa within ten minutes.

How Much Does a Shenzhen Visa Cost?
Usually, the fee for a Shenzhen VOA is the same as a regular visa. It is CNY168 for most, but not all countries. For example, UK passport holders need to pay CNY 304. Only China Yuan (CNY) is accepted by the visa-issuing ports.

What Can You Do During the 5 Days?

Recommended Shenzhen Itinerary:
Private Shenzhen City Tour
FAQ about Shenzhen 5-Day Visa on Arrival
1. Can I travel back and forth from HK to Shenzhen daily on this visa or do I need to apply each time?
The 5-day VOA is for single entry only, so you need to apply for it each time.
2. May I apply for Shenzhen VOA beforehand or through a travel agent?
No, you cannot. You cannot use a travel agent and you need to apply for it at the border crossing upon arrival on your own.

Further Reading:
China Visa on Arrival
- Last modified on May. 06, 2019 -
Questions & Answers on Visa on Arrival
Asked by Ibotombi wahengbam from INDIA | Jul. 15, 2019 08:11

Reply
Can Indian who got Chinese visa also travel Hong Kongn Macao?
Asked by Ibotombi wahengbam from INDIA | Jul. 14, 2019 19:54

Reply
Can Indian apply for Chinese visa at third country Mandalay Myanmar?
Asked by Ibotombi wahengbam from INDIA | Jul. 14, 2019 09:02

Reply
Shenzhen 5 day voa for Indian
Can we Indian get 5 day voa at Shenzhen airport?if not so then can we Indian apply for Chinese visa at Chinese embassy at third country Thailand ?
Answers (1)
Answered by ZUPAN | Jul. 14, 2019 16:26

0

0

Reply
Unfortunately, Indian citizens are not eligible for 5 day Shenzhen VOA at the time being. Indian citizens can apply at the Chinese Visa Application Service Center (CVASC) in Bangkok for a tourist (L) visa, but the requirements are quite comprehensive and sometimes tiresome.
Asked by Jordan from INDONESIA | Jul. 12, 2019 10:19

Reply
How Indonesian passport get Shenzhen VOA on sz?
Me, my brother, and my father are going to hong kong on august. From what I found on the internet, Indonesian are not eligible to get VOA. From what I read above, Indonesian passport holder can get VOA if they have been granted Chinese Visa previously and my family has been granted a Chinese visa 6 years ago and now all of us got new passport. Is there any chance for us to get VOA? What do we have to do?
Answers (1)
Answered by ZUPAN | Jul. 12, 2019 12:53

0

0

Reply
You have to bring your old passports along with the new ones with clearly visible Chinese visa that was issued by Chinese embassy or consulate. Like this and with good itinerary (the reason to travel to SZ) accompanied with accommodation booking confirmation, your chances to be granted a VOA are practically certain.
Asked by Louise from ENGLAND | Jul. 12, 2019 10:18

Reply
Can I get a Shenzhen voa at lo wu if I haven't had a China visa before?
Last year I saw people turned away (New Zealand passport) because they had a new passport and their new passport did not have a previous China visa.
Answers (1)
Answered by ZUPAN | Jul. 12, 2019 12:46

0

0

Reply
Of course you can. Having a previous Chinese visa is a requirement for just couple of citizenship like Indonesian and some other. Those people from New Zealand that were turned away probably didn't tell you the whole reason for such a decision by Chinese immigration authorities. Of course, arriving with brand new passports and not having the old one, really can be sometimes problematic because such an occurrence rises a suspicion that they are trying to hide something by bringing new passports. In reality, just an over a year old passport is just fine, without bringing an old one. Don't worry, you will get this VOA at Lo Wu / Luohu border crossing. Just keep in mind that the price for UK citizens is 304 CNY.