Shenzhen 5-Day Visa on Arrival
The Shenzhen 5-day visa on arrival, also known as Shenzhen 5-day VOA, enables tourists from most countries to stay in Shenzhen for up to 5 days without applying for a regular visa. During the 5 days, tourists cannot leave Shenzhen for other mainland Chinese cities.

Note that Shenzhen VOA can neither be extended nor converted. Holders should leave China before it expires. The 5 days start counting from 00:00 the day following the entry date.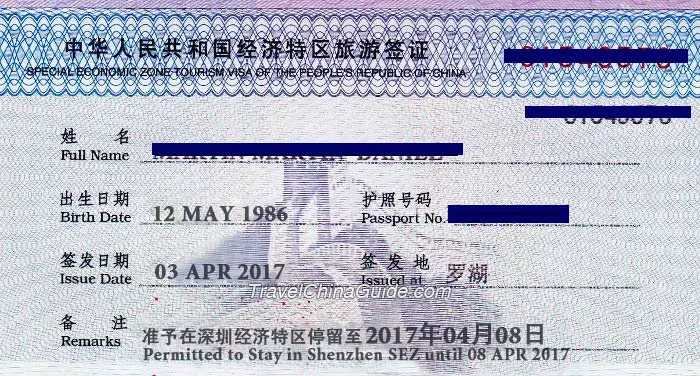 Shenzhen 5-day visa on arrival (Sample)
Do I Need a Visa to Go to Shenzhen?
Foreigners need a visa to go to Shenzhen unless they qualify for the 24-hour visa-free transit or they come from countries that have reached visa waiver agreements with China. The good thing is that citizens of most countries can apply for a Shenzhen visa on arrival.

Can I Get a Visa on Arrival in Shenzhen? - See Who Are Eligible
1. Most European and developed countries are eligible for the five-day VOA, including US, UK, Canada, French, Australia, Germany, Korea, New Zealand, Poland, Romania, Spain, Sweden, and Switzerland.

2. Indonesian and Filipino passport holders can get it only if they have been granted a Chinese visa previously.

3. Citizens from the following countries are ineligible: Afghanistan, Algeria, Bahrain, Cameroon, Egypt, Iran, Iraq, Jordan, Kuwait, Lebanon, Liberia, Libya, Morocco, Oman, Pakistan, Palestine, Qatar, Saudi Arabia, Somalia, Sri Lanka, Sudan, Syria, Turkey, Uganda, and Yemen.



Note: The list is subject to changes. Citizens of countries not mentioned should contact the relevant Chinese embassy or port to ask if they can apply for the Shenzhen visa on arrival.

Can US Citizens Apply for Visa on Arrival in Shenzhen?
Yes. According to the latest news, US citizens can apply for the five-day VOA in Shenzhen.

Where to Get the VOA?
The five-day VOA is available at Luohu (Lo Wu) Port, Shenzhen Airport, Huanggang Port, Shekou Port and Fuyong Port. There is no office at Futian Port although it is only a few hundred meters from Huanggang Port.

| Ports | VOA Office Opening Hours | Phone Number |
| --- | --- | --- |
| Shenzhen Airport | 10:00 - the arrival of the last flight | (0755)82327700 |
| Luohu Port | 7:00 - 23:30 | (0755)82324022 |
| Huanggang Port | 00:00 - 24:00 | (0755)83391060 |
| Shekou Port | 9:00 - 13:00 & 14:30 - 17:00 | (0755)26691202 |
| Fuyong Port | 10:00 - the arrival of the last carrier | (0755)23459289 |
How to Apply for the VOA & How Long Does It Take?
1. Show your valid passport. The five-day VOA is a sticker pasted on the passport like a regular visa. Hence, there must be at least one blank page in the applicant's passport.
2. Complete the application form when you are at the port.
3. The officer will take a photo of you after you hand over your passport and application form.
4. Pay for the VOA (in Chinese RMB); there is a window for currency exchange.

In most cases, people can get the visa within ten minutes.

How Much Does a Shenzhen Visa Cost?
Usually, the fee for a Shenzhen VOA is the same as a regular visa. It is CNY168 for most, but not all countries. For example, UK passport holders need to pay CNY 304. Only China Yuan (CNY) is accepted by the visa-issuing ports.

What Can You Do During the 5 Days?

Recommended Shenzhen Itinerary:
Private Shenzhen City Tour
FAQ about Shenzhen 5-Day Visa on Arrival
1. Can I travel back and forth from HK to Shenzhen daily on this visa or do I need to apply each time?
The 5-day VOA is for single entry only, so you need to apply for it each time.
2. May I apply for Shenzhen VOA beforehand or through a travel agent?
No, you cannot. You cannot use a travel agent and you need to apply for it at the border crossing upon arrival on your own.

Further Reading:
China Visa on Arrival
- Last modified on Sep. 10, 2019 -
Questions & Answers on Visa on Arrival
Asked by Roel from THE NETHERLANDS | Sep. 21, 2019 02:50

Reply
Where to go with VOA
Hi there, what are the limits of traveling after getting a VOA? Can we visit Dongguan or Dapeng? We first only plan 2 days in SHZ, but looking at extending it to the full 5 days because SHZ is a really nice place :)
Answers (1)
Answered by ZUPAN | Sep. 21, 2019 06:35

0

0

Reply
The best way to see the limits of Shenzhen Special Economic Zone, in reality Shenzhen city is to insert the word Shenzhen in google search engine. After that, among the results, usually on the right side of the screen, will be a small map of Shenzhen. Just press on the map and when it enlarges you will see the boundaries marked with red line. You will also see that Dapeng is within the city boundaries, but Dongguan is, unfortunately, outside of the are allowed for a legal visit.
Asked by Egi from MONGOLIA | Sep. 20, 2019 00:53

Reply
VOA fof german citizen
does german citizen need to apply for voa when landing in shenzhen, the guest arriving from HK stays in Shenzhen 2 days then leave to Seoul
Answers (1)
Answered by ZUPAN | Sep. 20, 2019 08:52

0

0

Reply
Do I understand you properly that the German citizen will arrive from Hong Kong to Shenzhen and after that take a flight to Seoul after 2 days?

If I'm right, the best option for him is to go to Lo Wu / Luohu border crossing by train and after he obtains 5 day Shenzhen VOA, he will proceed by metro to the center of Shenzhen. He has to obtain a VOA at the mentioned border crossing and the price is 168 CNY, payable in Chinese cash. Although they accept some credit cards, by far the best option is to obtain this or a bit higher amount of Chinese cash at one of many Hong Kong money changers.

Another important detail is that he has to take a direct, nonstop flight from Shenzhen to Seoul. It is not allowed to have any additional landing within mainland China!
Asked by Jasmine from FRANCE | Sep. 18, 2019 02:27

Reply
VOA available in ShenZhen train station
Hello, is it possible to get a VoA in Shenzhen train station(ShenZhen Bei, or Fu Tian)? It seemed like they are only available in port or airport. I plan on going there from Hong kong. Also, do you know how much is a VoA for a French national? Thanks a lot!
Answers (2)
Answered by ZUPAN | Sep. 18, 2019 12:19

0

0

Reply
Shenzhen VOA is not available at train stations. You best option is to take a train from Hong Kong to Lo Wu border crossing where you will cross into mainland China to Luohu border crossing on foot. After you apply and obtain your Shenzhen VOA, you will just proceed by metro to the center of Shenzhen city. This is always the best border crossing for those willing to obtain a Shenzhen VOA. The price for this VOA for French citizens is 168 CNY. It is advisable to have that amount in Chinese cash. You can easily obtain it at many Hong Kong money changers.
Answered by Jasmine from FRANCE | Sep. 19, 2019 07:41

0

0

Reply
Thanks a lot for your prompt answer, it is very helpful and professional !
Asked by Sukirti from INDIA | Sep. 17, 2019 01:14

Reply
Indian Passport & HKID Holder living in HK, eligible for VOA?
Hi, I am Indian Passport Holder, currently working in Hong Kong and have a valid HKID. Am I eligible for Shenzhen VOA? If not, how do I travel to Shenzhen for a one day conference?
Answers (1)
Answered by ZUPAN | Sep. 17, 2019 12:54

0

0

Reply
Unfortunately, Indian citizens are not eligible for Shenzhen VOA at the time being. If I were you and having in mind that you are a resident of Hong Kong, you are almost certainly eligible for long term, multiple entry Chinese visa by the Office of the Commissioner. This is by far the most practical way to travel to mainland China, including Shenzhen.
Asked by Paula from SPAIN | Sep. 16, 2019 04:53

Reply
Hey, Is it possible to go to Hong Kong from Shenzhen with the VOA, and then leave China from HK?
Answers (3)
Answered by ZUPAN | Sep. 16, 2019 14:00

0

0

Reply
Yes, you are allowed to leave Shenzhen to Hong Kong with your Shenzhen VOA and you can use all the means of transport and all the border crossings. My favorite option is to take a high speed train from Shenzhen to Hong Kong West Kowloon railway station. After you have reached Hong Kong you can proceed wherever you want.

I assume that you will apply for a Shenzhen VOA by traveling from Hong Kong to Shenzhen. If this is the case, the most recommended border crossing is Lo Wu / Luohu border crossing.
Answered by Paula from SPAIN | Sep. 16, 2019 22:32

0

0

Reply
Thank you.

In fact I'm going to enter to Shenzhen through Shenzhen Bao' international's airport. Then I'm gonna come back to my country through Hong Kong.

So to get the VOA, which documents I have to show? They will required me a return flight or something? Because my return flight won't be from Shenzhen.

Thank you,
Answered by ZUPAN | Sep. 17, 2019 13:04

0

0

Reply
Paula, it's never safe to rely on obtaining a Shenzhen VOA on arrival. Visas are by definition something that can be granted, but also denied for no reason. Exactly for this reason, many airline companies are reluctant to take those passengers to Shenzhen that state that they will be flying and obtain VOA upon arrival. In reality, it is airlines that make the greatest obstacle for such an option. As always, I suggest you to rely on 144 hour visa free transit. Of course, I assume that you plan to arrive in Shenzhen by direct flight from a foreign country!

To be allowed to enjoy this option, you will have to book a ferry ticket from Shenzhen Shekou port to Hong Kong through CKS - Chu Kong Passenger Transport company website. Please, keep in mind that this ferry has to have its departure at least 24 hours and 1 minute distant from your scheduled arrival by plane to Shenzhen. You will print out an e-confirmation that you will receive on your email and you will use this e-confirmation as a proof that you will be traveling to Hong Kong. This option is well known and is definitely safe and you should definitely use it. Like this you will be able to travel to Shenzhen with peace of mind, to enjoy your stay and later to travel to Hong Kong using the above mentioned ferry. This option is also absolutely free from any charge.

Make yourself a favor and accept this advice, you will be definitely happy and also you are allowed to travel throughout the Guangdong province and not only to stay within Shenzhen city limits when you use this 144 hour visa free transit option.