Shenzhen 5-Day Visa on Arrival
The Shenzhen 5-day visa on arrival, also known as a Shenzhen 5-day VOA or Shenzhen Special Economic Zone Tourism Visa, enables tourists from most countries, including Australia and Canada to stay in Shenzhen for 5 days without applying for a regular visa. During the 5 days, foreign tourists eligible for the VOA cannot leave the Shenzhen urban area and countryside. The five-day VOA is a sticker pasted on the passport like a regular visa. Hence, there must be at least one blank page in the applicant's passport.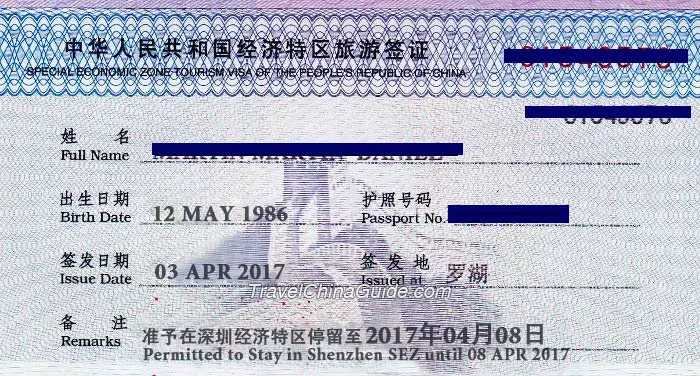 Shenzhen 5-day visa on arrival (Sample)
Note that Shenzhen VOA only allows tourists to travel in Shenzhen for up to 5 days. It can neither be extended nor converted. VOA holders should leave China before it expires. The 5 days start counting from 00:00 the day following the entry date.
Who Is Eligible for the Five-Day VOA?
1. Most European and developed countries are eligible for the five-day VOA, including Australia, Canada, Germany, Korea, New Zealand, Poland, Romania, Spain, Sweden, Switzerland, and the UK.
2. As of July 2017, French and US citizens qualify for the five-day VOA.
3. Indonesian and Filipino passport holders can get it only if they have been granted a Chinese visa previously.
4. As of this writing, citizens from the following countries are ineligible: Afghanistan, Algeria, Bahrain, Cameroon, Egypt, India, Iran, Iraq, Jordan, Kuwait, Lebanon, Liberia, Libya, Morocco, Oman, Pakistan, Palestine, Qatar, Saudi Arabia, Somalia, Sri Lanka, Sudan, Syria, the United Arab Emirates, Turkey, Uganda, and Yemen.

Note: The list is subject to changes. Citizens of countries not mentioned should contact the relevant Chinese embassy or port to ask if they can apply for the Shenzhen visa on arrival.
Where to Get the VOA?
The single entry five-day VOA is always available at Luohu (Lo Wu) Port. It is available intermittently at Huanggang Port, Shekou Port and Fuyong Port. There is no office at Futian Port although it is only a few hundred meters from Huanggang Port.
| Ports | Opening Hours | Phone Number |
| --- | --- | --- |
| Luohu Port | 7:00 - 23:30 | (0755)82324022 |
| Huanggang Port | 00:00 - 24:00 | (0755)83391060 |
| Shekou Port | 9:00 - 13:00 & 14:30 - 17:00 | (0755)26691202 |
| Fuyong Port | 10:00 - the arrival of the last carrier | (0755)23459289 |
How to Apply for the VOA & How Long Does It Take?
1. Show your valid passport;
2. Complete the application form when you are at the port;
3. The officer will take a photo of you after you hand over your passport and application form;
4. Pay for the VOA (in Chinese RMB); there is a window for currency exchange.
Most days, except
public holidays and festivals
, people can get the visa within ten minutes if only few people are waiting. However, the first days after the
Chinese New Year
, it may take several hours and there are usually long queues.
How Much Does a Shenzhen Visa Cost?
Usually, the application fee for a Shenzhen VOA is the same as a regular visa. It is RMB168/person for most, but not all countries. For example, UK passport holders need to pay CNY 304. Only China Yuan (CNY) is accepted by the visa-issuing ports.

What Can You Do During the 5 Days?
As one of the special economic zones in China, Shenzhen attracts a large number of people from all over the world. Visiting
Splendid China - Folk Culture Villages
will provide tourists an opportunity to appreciate the charm of Chinese culture.
Happy Valley
and
Window of the World
are the perfect places to relax and be entertained.
Dameisha Beach
and
Xiaomeisha Beach
will not disappoint people for the fascinating coastline scenery. Besides, tourists can taste the delicious morning tea and
Cantonese cuisine
in Shenzhen. Business people can engage in some commercial activities and make a short business trip within the 5 days.

Recommended Shenzhen Itinerary:
Private Shenzhen City Tour
FAQ about Shenzhen 5-Day Visa on Arrival
1. Can I travel back and forth from HK to Shenzhen daily on this visa or do I need to apply each time?
The 5-day VOA is for single entry only, so you need to apply for it each time.

2. May I apply for Shenzhen VOA beforehand or through a travel agent?
No, you cannot. You need to apply for it at the border crossing upon arrival.
- Last modified on Nov. 21, 2018 -
Questions & Answers on Visa on Arrival
Asked by Sebastian from SWEDEN | Nov. 21, 2018 23:19

Reply
Can i enter with this VOA to Shenzhen if i have spent 5 days in Shanghai on a transit visa?
So I will fly from Taipei to Shanghai, then shanghai to Hong Kong where i will stay for a couple of days. I was thinking about going to Shenzhen from Hong Kong on one of this VOA visa but i don't know if i am eligible if i have used a (144 hour) transit visa in Shanghai. I am from Sweden and have a Swedish passport.
Asked by Ahmed from SUDAN | Nov. 20, 2018 05:43

Reply
Hello dear my friend holding UK passport but he born in Iraq , can he get VOA visa 5 days
thanks a lot , this way very good way for help
Answers (1)
Answered by Bailey from AUSTRALIA | Nov. 21, 2018 00:17

0

0

Reply
Yes, don't worry. He can get VOA visa 5 days.
Asked by Hee Tin Lim from NEW ZEALAND | Nov. 19, 2018 11:55

Reply
Malaysian passport holder and travel from NZ to Hainan Haikou. Transit Shenzhen airport 2hrs.
Am I eligible for the 5 day VOA Visa? Thanks
Answers (1)
Answered by Freeman from SINGAPORE | Nov. 20, 2018 00:50

0

0

Reply
No, the VOA visa is always available four ports: Luohu, Huanggang, Shekou and Fuyong.
Asked by Stanley Armando from INDONESIA | Nov. 15, 2018 20:52

Reply
Is there any Metro station near by from Shenzhen Fuyong Port ?
I'm planning to visit SZ from Macau Taipa by ferry. So I just wonder if there's a subway station near by for me to heading to Futian area. Thank you for your kindly help and assistance 😊🙏
Answers (2)
Answered by Wilson from USA | Nov. 18, 2018 19:12

0

0

Reply
The Hourui metro station of metro line 1 is the closest for you to Futian District. You can first take the bus m419 at port bus stop to Hourui metro station. Then take the metro line 2 and get off at Convention and Exhibition Center. Then transfer to the metro line 4 and get off at Fumin. Then take the metro line 7 and get off at Shixia metro station.
Answered by Stanley Armando from INDONESIA | Nov. 19, 2018 01:12

0

0

Reply
Okay😊. Thank you for your help and have a nice day 😃