Shenzhen Shopping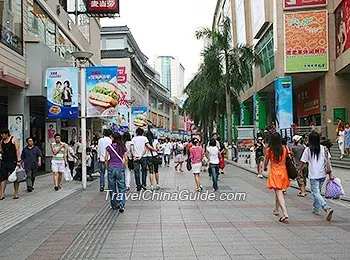 Dongmen Pedestrian Street
Shenzhen is a new-born city with not too many special souvenirs for visitors to take home. But don't be disappointed. As a gathering center of electronic products in China even the whole Asia, it is rich in electronic applications. Also, as a fast developing metropolis, it has a good selection of shopping malls, where everything from basic commodities to high-quality brands can be found. Below is the detailed information about Shenzhen shopping to tell you what to buy and where to buy.

What to Buy – Electronic Products
Shenzhen is known as China Silion Valley, where many outstanding Chinese IT enterprises are born and developed, such as Tencent and Huawei. Therefore, Shenzhen has a very rich variety of electronic products. The electronic products are not only of high quality, but also of novel style.

In addition to electrical appliances, fashionable clothing, jewelry and seafood are some of the best choices for shopping in Shenzhen.

Where to Buy
It is no wonder that Huaqiangbei Electronics Market is the No.1 Shenzhen shopping center for electrical products while Dongmen is the No.1 Shenzhen shopping center for daily goods. Other shopping zones like Nanshan, Renmin Nan and Shen Nan Zhong respectively have their own characteristics. Apart from these, the Chung Ying Street located in Yantian District attracts lots of visitors since it is a tax-free street.

Top Electronic Markets

SEG Electronics Marketplace
SEG Electronics Marketplace is located at the intersection of Shennan Middle Road and Huaqiang North Road, in Huaqiangbei of Futian District, operating a wide range of products covering electronic components, computer machines and accessories, computer peripheral products and other categories, close to hundreds of thousands of varieties.



Huaqiang Electronic Plaza
It is also located in Huaqiangbei. Huaqiang Electronic Plaza is the largest comprehensive electronic professional trading market with the most complete product categories in China. It specializes in electronics, security, computers, communication equipment, digital products, LED and other products. Huaqiang Electronic Plaza is especially famous for second-hand products trading market.



Yuanwang Digital City
Yuanwang Digital City is located in the core area of Huaqiang north of Shenzhen. It has more than 60% of mobile phone purchasing customers in China. It is the world's largest "one-stop" mobile phone and digital product purchasing center.


Read more: Top 8 Shenzhen Electronics Malls

Shopping Malls
Shenzhen has many shopping malls. For example, The Mixc and Dongmen Market in Luohu District, Uni Walk in Bao'an District, Luohu Commercial City, COCO Park and Yitian Holiday Plaza in Nanshan District and so on. These shopping malls have an elegant environment and a complete range of brands, which can meet the different shopping requirements of customers.


Read more: Top10 Shenzhen Shopping Malls

Clothes Markets
Shenzhen Dongmen Baima Clothing Market, gathers more than 500 well-known clothing brands at home and abroad. It is mainly engaged in wholesaling, providing men's clothing, women's clothing, export clothing and so on.


Huaqiangbei Women World collects all sorts of female supplies, including cosmetics, hairdressing article, and all sorts of famous and excellent brand female clothing. It is the shopping paradise of females, and commodity here are affordable.

Century Plaza in Shenzhen mainly sells foreign trade high-end fashion clothes. The clothing wholesale shops have reached 5,000, which makes it the leading center of Shenzhen fashion. The products are exported to Europe, America, the Middle East, Japan, Korea, Hong Kong, Macau and Taiwan.

Supermarkets
Supermarkets are also one of the best choices for shopping. Supermarkets in Shenzhen are distributed in various districts. For example, it has Walmart, Carrefour, trust-mart, Tesco, Hualian, vanguard and so on. The daily necessities you need can be found here.

Bookstores
If you like reading in your spare time, Shenzhen Book City is your best choice, which has 14 chain stores, distributed in various districts of Shenzhen. And it will offer help to foreign buyers to find what they want.

Shenzhen Shopping Tips

1. Credit card, WeChat Payment and Alipay are the most popular payment methods in Shenzhen.


2. When you buy something in the clothes market, you can bargain with the merchants.



You May Like:
8 Major Cities in China for Enthusiastic Shoppers​
- Last updated on Jan. 31, 2021 -
Questions & Answers on Shopping in Shenzhen
Asked by Tambe Fidelis Egbe from CAMEROON | Jan. 27, 2021 00:17

Reply
Which is the best market to buy good electronics and solar energy components in shenzhen?
Answers (1)
Answered by Alexis | Jan. 31, 2021 17:48

0

0

Reply
You can go to the following markets:
1. SEG Electronic Market: North Huaqiang Road
2. Longhua Electronic Market: Longhua Tianhong, Longguan Avenue, Longhua District

Hope helpful!
Asked by Rassoul from IRAN | Aug. 09, 2019 06:23

Reply
Where can I buy air Conditioner in Shenzhen?
Answers (1)
Answered by Julie from CANADA | Aug. 12, 2019 19:15

0

0

Reply
You can have a look at Shundian Home Materials Market, which is located at North Huaqiang Road, Futian District.
Asked by Navamani from INDIA | Jul. 30, 2019 22:19

Reply
Where can I buy groceries and vegetable in shenzhen?
Answers (1)
Answered by Meckney from USA | Aug. 04, 2019 20:23

0

0

Reply
Where do you live? Basically, you can buy these stuff at any nearby supermarket.
Asked by Vicky from GREECE | Jun. 07, 2019 12:21

Reply
Which is the best market to buy brand sport shoes (like Adidas) in good prices in Shenzhen?
Thank you!
Answers (1)
Answered by Freda from USA | Jun. 11, 2019 00:24

0

0

Reply
If you want to buy famous sports brand shoes, I don't think there will be huge price difference in different markets, except they are on sale. You can go to some big malls to buy shoes, such as Yitian Holiday Mall, which is located in Huaqiao Village.
Asked by Richard from NIGERIA | May. 01, 2019 13:46

Reply
where can I buy computers and electronics in Shenzhen?
Answers (1)
Answered by Paul from SINGAPORE | May. 05, 2019 22:52

0

0

Reply
You can go to No. 3014, Huaqiang North Road, Futian District, where located the largest electronics market. Metro Line 7/2 can take you to there.