Shenzhen Shopping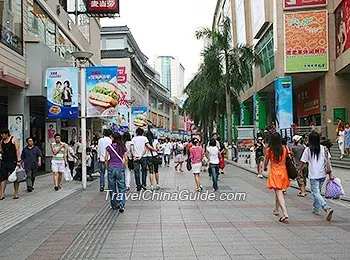 Dongmen Pedestrian Street
Shenzhen was one of the first Chinese cities to open its doors to the outside world. Influenced by its rich neighbor-Hong Kong, it is certain that Shenzhen is a prosperous metropolis. Even so, there are not too many special souvenirs for visitors to take home. But don't be disappointed, as the city will redeem its visitors in other ways. As a fast developing metropolis, it has a good selection of department stores and shopping centers, where everything from basic commodities to high-quality brands can be found. Actually, this is an ideal destination for those who are addicted to shopping. Electrical appliances, fashionable and reasonable clothing, jewelry and seafood are some of the best choices for you to buy there.

Where to Buy
It is easy for you to find a place to do some shopping since Shenzhen is divided distinctly into several zones of shopping centers. It is no wonder that Dongmen Pedestrian Street is the No.1 shopping center of the city. Various kinds of shops, restaurants and cinemas are open here. In Hua Qiang Bei you will find numerous electrical products. The famous Women's World, which is an ideal place for purchasing clothing, is also located here. Other shopping zones like Nanshan, Renmin Nan and Shen Nan Zhong respectively have their own characteristics. Apart from these, the Chinese and English Street located in Yantian District attracts lots of visitors since it is under the domination of both Shenzhen and Hong Kong. What's more, this is also a tax-free street.

Department Stores
Rainbow Department Store
Having several branches in Shenzhen, it is favored by most of the locals. High quality and good service means that it is the best choice for your shopping.
Dongmen branch: No.17, Xinyuan Road, Luohu District
Fumin branch: Xinghe Mingju, Fumin Road, Futian District
Baoan branch: No.34-2, Qinjin 1st Road, Baoan District
Maoye Department Store
Having several branches in Shenzhen as well as one in Zhuhai, Maoye Department Store receives high praise from local consumers. A number of world famous brands are available here, such as Chanel, SK-II and some other high quality cosmetics.
Huaqiangbei branch: No.2005-2006, Huaqing North Road
Heping branch: No.39, Heping Road
Dongmen branch: No.2047, Dongmen Middle Road
Shennan branch: No.1018, Shennan Middle Road

Super Market
Ole Super Market
This market is recommended as it serves lots of imported products and has a comfortable environment. Of course, the price of these goods is little higher.
Address: B48 of Wanxiang City, No.1881, Baoan South Road
Wal-Mart Square
Huaqiao branch: Huaqiao City, Nanshan District
Fuxing branch: D, E and F1-2 of Fuxing Mansion, Fuxing Road, Futian District
Metro
Address: Ground Floor, Building 2, No.4008, Bao'an North Road, Luohu District
- Last modified on Jan. 18, 2019 -
Questions & Answers on Shopping in Shenzhen
Asked by andrea from AUSTRALIA | Jan. 16, 2019 21:06

Reply
Where can i buy clothes in Shenzhen? is there a place where i can bargains and get a good deal?
Answers (2)
Answered by Sophie from UNITED KINGDOM | Jan. 17, 2019 18:31

0

0

Reply
You are advised to go to Haiyan Fashion Clothes Wholesale Market.
It is located at No.3002, Jiabin Road, Luohu District. There are many shops that sell clothes with good quality and reasonable prices.
Answered by Andrea from AUSTRALIA | Jan. 18, 2019 06:24

0

0

Reply
So they sell wholesale quantities?
Asked by H Rhodes from HONG KONG | Jan. 06, 2019 22:27

Reply
Hello, I am looking to buy furniture (dinning table, sofa, chairs, bed frame) in Shenzhen
Is there are particular shopping mall in the city that specializes in furniture, specifically custom made?

Thank you!
Answers (1)
Answered by Liliana from NEW ZEALAND | Jan. 09, 2019 23:47

0

0

Reply
B & Q Home Furniture Market is a nice choice. It has several branches in the city. One is located at No. 4008, North Bao'an Road. You can go and see. :)
Asked by Sandra LEE from USA | Nov. 13, 2018 14:03

Reply
I have layover 10 hours in Shenzhen and planning to do some shopping there.
What else can I do? Any suggestions?
Answers (1)
Answered by Vincent from UNITED KINGDOM | Nov. 13, 2018 23:35

0

0

Reply
To be honest, there is no good shopping mall near the airport and you are advised to go shopping at the duty-free shops and take a rest at the coffee shop to kill the time.
Asked by Yong from MALAYSIA | Nov. 08, 2018 20:49

Reply
Where is the best place / most happening place to celebrate X'mas in Shenzhen 2018?
Answers (1)
Answered by Adolph from USA | Nov. 11, 2018 18:23

0

0

Reply
OCT East or Happy Valley is recommended to you.
Asked by Yong from MALAYSIA | Nov. 08, 2018 00:10

Reply
May I know where is the best place to buy cheaper tea leaves in Shenzhen?
Answers (1)
Answered by Bahia from USA | Nov. 08, 2018 18:42

0

0

Reply
You can take a look at the second floor of Dexing Mansion near the Luohu Railway Station.