Shenzhen Bao'an International Airport
Airport Code: SZX

Location: Situated on the east bank of the Zhujiang River estuary, Shenzhen Bao'an International Airport is about 20 miles (32 kilometers) from downtown.

Bao'an Airport Transfer

Service

Brief Intro: As China's fifth largest airport with a yearly passenger volume of about 40 million, Shenzhen Airport now operates over 150 domestic air routes connecting around 100 cities, including Beijing, Shanghai, Hangzhou, Xi'an, Zhangjiajie, Guilin and Sanya. There are 21 international air routes leading to Macau, Taipei, Singapore, Kuala Lumpur, Bangkok, Ho Chi Minh, Seoul, Osaka and Tokyo. Currently, only one terminal building – T3 is in service.

Passport holders of 53 countries and regions can be granted a visa-free stay of up to 144 hours when taking an international transfer via Bao'an Airport.
Read details about
144-Hour Visa-Free Transit
.

Shenzhen Flights
(flight search & ticket booking)

Note: Passengers who for domestic flights are suggested to arrive at the airport at least 2 hours ahead of the flight time. The boarding gates will be closed 15 minutes before departure. The boarding time of China Southern Airlines, Air China, Shenzhen Airlines, Kunming Airlines and Chongqing Airlines is 30 minutes before departure, and other airlines are 40-45 minutes before departure.
Air Navigation Cities
(listed in alphabetical order)

Domestic Cities: Beijing, Bijie, Baotou, Changchun, Changsha, Changde, Chengdu, Chongqing, Changzhou, Chizhou, Dandong, Dali, Dalian, Dadong, Fuzhou, Fuyang, Ganzhou, Guilin, Guiyang, Guangyuan, Harbin, Haikou, Hangzhou, Hefei, Huangshan, Hohhot, Handan, Jinan, Jinjiang, Jingdezhen, Kunming, Kiamusze, Kashgar, Lhasa, Lijiang, Liuzhou, Luoyang, Lanzhou, Linyi, Lianyungang, Mianyang, Ningbo, Nanchong, Nanchang, Nanjing, Nanning, Nanyang, Nantong, Panzhihua, Qingdao, Qinhuangdao, Quzhou, Sanya, Shanghai, Shenyang, Shijiazhuang, Taiyuan, Tianjin, Tsitsihar, Urumchi, Wenzhou, Wuyishan, Wuhan, Wuxi, Weifang, Xiamen, Xi'an, Xining, Xuzhou, Yancheng, Yantai, Yichang, Yibin, Yinchuan, Yiwu, Yichun, Zhengzhou, Zhangjiajie, Zunyi, Zhangjiakou and Zhoushan.

International Cities: Taipei, Kaohsiung, Taichung, Osaka, Seoul, Kuala Lumpur, Sabah, Bangkok, Singapore, Bali, Phuket, Ho Chi Minh, Cheju, Tokyo, Dubai, Sydney, Los Angeles, Frankfurt, Djakarta, Seattle and Siem Reap.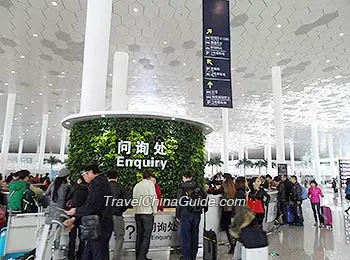 Enquiry Counter
Terminal Building
The terminal building (T3), covering about 111 acres (450,000 square meters), has a main hall and two side halls. The main hall, with four layers above ground and two layers underground, contains check-in counters, security check, luggage services, and waiting halls. The side halls contain international flights waiting halls, arrivals halls, and restaurants. The south section of the main hall is connected to the Ground Transportation Center, with airport shuttle buses, subway line 11, city buses (including bus no. M416) and taxi. Passengers can also take long-distance buses to Guangdong and cross-border coaches to Hong Kong and Macau.



Terminal Layout


4F: Check-in Counters, Domestic Departure Hall, Luggage Packing, Left Luggage & Lost and Found;


3F: Inspection & Quarantine, Exit Frontier Inspection for International Flights, and Waiting Hall;


2F: Arrival Hall for Domestic Flights & Luggage Claim of Domestic Flights;


1F: Inspection & Quarantine, and Entry Frontier Inspection for International Flights, Luggage Claim & Arrival of International Flights, and Waiting Hall.
| | |
| --- | --- |
| Information Board | Direction Board |

Check-in Areas for Airlines


Note: All the check-in Areas are on the fourth floor of T3.



Area A: Domestic flights of Southern Airlines;


Area B: 1 to 12 counters for China Southern Airlines domestic flights; 13 to 24 counters for group passengers of Hainan, Spring, Sichuan, Xiamen, Chengdu Airlines, and West Air;


Area C: Hainan, Sichuan, Xiamen, Chengdu Airlines, and West Air;


Area D & E: International flights of Shenzhen Airlines, China Southern Airlines, Air China, China Airlines, Uni Air, Air Asia, Tiger Airways, Silk Air, Korean Air, Asiana Airlines.


Area F: China Eastern, Shanghai, Hebei, Juneyao Airline, Shangdong, Tibet Airlines, and Okay Airways,


Area G & H: Domestic flights of Shenzhen Airlines and Air China.

Airport Transportation
All long-distance buses for Hong Kong, Macau and nearby cities like Guangzhou, Zhongshan and Huizhou can be taken from the Ground Traffic Center. Ferries to Hong Kong and Macau are available from Fuyong Port, to which shuttle buses from T3 are frequently scheduled. Passengers who want to take the
Subway Line 11
(Airport Line) can get off at Airport Metro Station and walk to T3 in 3 minutes.

Shuttle buses to Shenzhen downtown area

Airport Transport to Nearby Cities in Guangdong

Airport Transport to Hong Kong / Macau
Service & Facilities

Inquiries: In front of Check-in Areas from A to H, Departure Hall
Hotline: +86 0755 - 23456789

Lost and Found Office
Location: Departure Hall on Fourth Floor (behind Check-in Area A)
Hotline: +86 0755 - 23452663
Service Hours: 05:30 - 22:30

Baggage Packing: Gate no.2 & 6, 4F, Departure Hall.

Left Luggage Service
Location: Departure Hall on Fourth Floor (behind Check-in Area A)
Hotline: +86 0755 - 23457066
Service Hours: 05:20 - 22:30
| Luggage Size | Fare (within 24 hours) |
| --- | --- |
| 20*40*55 (cm) | CNY 15 |
| 40*60*100 (cm) | CNY 25 |
| Over 40*60*100 (cm) | CNY 35 |
| Oversized Luggage | CNY 50 |
| Valuable Belongings | CNY 50 |

Notes:
1. Laptops, mobile phones and jewels are regarded as valuable belongings.
2. If storage duration is over 24 hours, further time is charged by the day.
3. Passengers can store their luggage as long as they want, but the fee will be accumulated.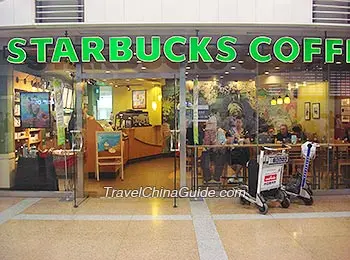 Business Center: It provides the services of fax, copying & printing, mail receiving & sending and ticket booking.
Location: Departure Hall on Fourth Floor (behind Check-in Area A)
Hotline: +86 0755 - 23457903
Service Hours: 05:30 - 22:30



Post Office: It supplies express delivery, parcel or letter mailing, remittance, money exchange, sale of books & newspaper, sale of public telephone IC card, IP card and prepaid cell phone card.
Location: Departure Hall on Fourth Floor (behind Check-in Area A)
Hotline: +86 0755-23457903
Service Hours: 05:30 - 22:30



Currency Exchange Service
Excellent Exchange: 2F;
Travelex: Arrival Hall, 1F;
YunForex: Arrival Hall & 1F, Ground Transportation Center; 2F



Children's Playground: Boarding Gate no.25, 3F
Children's Playground

Nursing Rooms: Boarding Gate no.13 of Restricted Area A; Boarding Gate no.7 of Restricted Area B



Special Passage
Unaccompanied children from age 5 to 11 (inclusive), unaccompanied seniors over 70, and disabled people can use the special passage. These passengers need to apply for this service at the inquiry desks.



Prayer Room: International Departure Hall, near Boarding Gate no.1



Medical Center: Between Luggage Claim Desk 2 and 3 on 2F



Trolley and Battery Car Service: The trolleys and baby carriages are available on 3F. The battery cars, costing CNY15 per person, operate in the Departure Hall on 3F and the Arrival Hall on 2F.



Public Telephones & Internet: Free Wi-Fi connection within the airport. Public telephones can be used for three-minute local calls for free.



Parking: The parking lot is located in the Ground Traffic Center, and there are 4700 parking spaces. The charge is CNY10 for the first hour, and CNY1.5 for every 30 minutes thereafter. The maximum fee is CNY60 within 24 hours. It is free within 15 minutes.



Useful Numbers
Fuyong Port: +86 0755 - 23455300 / 23455388
Airport Subway: +86 0755 - 88960600
Airport Bus Station: +86 0755 – 23453501

Bao'an Airport (SZX) - Hong Kong International Airport (HKIA) Link
This link, a special service operated between the two airports, ensures a better and faster service for transfer passengers. Passengers can check in for their Hong Kong flights in SZX. Special buses are provided to take passengers directly to HKIA. The rest area at SZX is located at Gate F, 2F, Ground Transportation Center (GTC) so that passengers can easily catch the bus.
Currently, 13 airlines offer this transfer service:
SZX: Air China (CA), China Eastern (MU), Shanghai Airlines (FM), Xiamen Airlines (MF), Shandong Airlines (SC), Hainan Airlines (HU), Sichuan Airlines (3U), Eagle Airlines (8C) and East Star Airlines (EU)
HKIA: Hong Kong Airlines (HX) Hong Kong Express (UO), China Airlines (CI), and Mandarin Airlines (AE)

Advanced check-in counters:
At SZX: Service Counter No.9, 2H of Arrival Hall; Service Counter No.C-212 of Ground Transportation Center
At HKIA: Check-in counters A17 and A18 of T1

Transportation
Currently, two kinds of buses are available. One is the business bus which can sit 7 people. The advantage lies that passenger do not need to get off for entry/exit procedures. Besides, it is faster with a total duration of 75 minutes. The fare is CNY220 per person.
Departure Time: From Shenzhen: 10:15—21:15 hourly
From Hong Kong: 07:20—20:00 hourly
Hotline: +86 0755 - 2345 6733 (Shenzhen) / +86 0852 - 2261 2636 (Hong Kong)
The other is the shuttle bus. Passengers should get on bus 15 minutes ahead. Hereunder is the detailed information:
Destination
To Hong Kong
From Hong Kong
Departure Time
Frequency
(minutes)
Ticket Fare
(CNY)
Departure Time
Frequency
(minutes)
Ticket Fare
(HKD)
HKIA
08:00-20:20
15-20
180
07:40-19:45
60
180
Prince Edward, Mong Kok
08:00-22:30
15-30
130
05:30, 07:30-20:00
30
130
Tuen Mun
08:15, 13:30, 14:30, 19:30
--
Grand Century Place
08:00-11:45
15-20
14:30-19:30
30-60
Olympian City
14:05-20:05
60
Harbour City, Tsim Sha Tsui
08:00-18:20
07:10-19:40
30
Kowloon Tong
07:50-19:50
60
Tai Wai
08:00-20:20
07:30-19:45
30-60
New Town Plaza, Shatin
07:20-19:35
30-60
Nina Tower
13:15-20:00
60
Tsuen Wan
07:45-19:15
30-60
Macau Ferry Terminal in Sheung Wan
08:00-21:40
15-20
130
08:15, 13:30, 14:30, 19:30
--
Central
--
--
--
Wanchai
--
--
--
Time Square, Causeway Bay
08:00-20:40
14:30-19:30
30-60
130
Ocean Park
08:00-11:45
15-20
150
17:15-18:45
30
Disneyland
08:00-12:30
13:15, 15:15, 17:15, 19:15
--
Ngong Ping 360 (Tung Chung)
16:45, 18:45
--
Ma An Shan
--
--
--
07:00, 08:30
90
- Last modified on Mar. 05, 2019 -
Questions & Answers on Shenzhen Bao\an International Airport
Asked by Ross from USA | Mar. 20, 2019 11:02

Reply
Wheelchair service at Shenzhen Bao'an Airport
I will be arriving with an 80 year old who will need a wheelchair from the landing gate to transportation. Is this service available?
Thanks.
Asked by daniel anderson from UNITED KINGDOM | Mar. 19, 2019 12:23

Reply
We have a Layover of 6 hours at Shenzhen International and want to know if we can leave the airport?
We want to check into the Hyatt House Bao'an Airport and get a few hours sleep.. does anyone know if this is possible and if it is easy as we have 3 young children with us. we hold UK passports
Asked by Shahid from UK | Mar. 19, 2019 04:13

Reply
Transit visa on arrival at Shenzhen bao'n international airport
Hi I am a British citizen is it allowed to obtain a 5 days voa transit visa at bao'n airport while travelling London to Tokyo by Shenzhen airline regards
Asked by tammy from CANADA | Mar. 11, 2019 13:13

Reply
Arriving at 7:00 pm will i be able to get Shenzhen 5 day visa
would like to ensure that there is someone there to obtain a five day visitor visa
Answers (1)
Answered by Jackson from FINLAND | Mar. 12, 2019 20:31

0

0

Reply
Well, as I know, the service center still open at that time. Don't worry.
Asked by Donnachadh from IRELAND | Mar. 05, 2019 07:02

Reply
Shenzhen to HK from Dublin with Hainan Airlines.
Hainan are advertising this service as a gateway to HK. Do I get a SZ on arrival for both directions or can I get a 24 hour visa free access? I won't have onward flight or rail tickets to HK as I will go via Lo Wu on MTR. Thank you.
Answers (2)
Answered by Helen from USA | Mar. 05, 2019 19:45

0

0

Reply
Hi, I'm not very sure about this and you are suggested to apply for a visa in advance or contact the Shenzhen Exit and Entry Office.
Answered by Mike from CHINA | Mar. 20, 2019 21:27

0

0

Reply
The Shenzhen Transit WithOut Visa (TWOV) specifically excludes Hong Kong and Macau as a valld destination.