Shenzhen Bao'an International Airport

Airport Code: SZX

Address: situated on the east bank of the estuary of Zhujiang River, Shenzhen Bao'an International Airport lies about 32 kilometers (about 20 miles) from city downtown.

Bao'an Airport Transfer



Brief Intro: in 1991, Shenzhen Airport was opened to air traffic. In 1993, it became an international airport. As China's fourth largest airport with a yearly passenger flow volume of about 25 million, it now serves around 140 air routes to over 100 domestic and international cities and regions. Currently, only one terminal – T3 is in service.



Shenzhen Flights (flight search & ticket booking)



Note: Passengers who will catch the domestic flights are suggested to arrive at the airport at least 2 hours ahead. The boarding gates will be closed 15 minutes in advance. The boarding time of China Southern Airlines, Air China, Shenzhen Airlines, Kunming Airlines and Chongqing Airlines is 30 minutes ahead, and that for other airlines is 40-45 minutes before departure.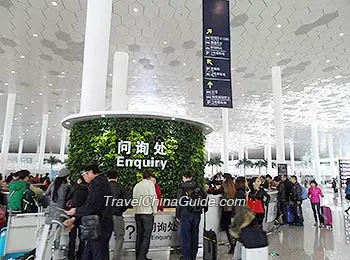 Enquiry Counter in the Airport

Terminal Building
The terminal – T3, including a main hall and two side halls, covers about 450,000 square meters (111 acres). The main hall has four layers above ground and two layers underground, in which are located: check-in counters, security check, luggage services, and waiting halls. The side halls contain international flights waiting halls, arrivals halls, and restaurants. The south section of the main hall is connected to the Ground Traffic Center, where passengers can board buses or taxis for Hong Kong, Macau, and Shenzhen city center areas.

Apart from the T3, many city terminal buildings of Bao'an Airport are built in nearby cities. Until now, it has had 14 city terminal buildings, extending its service to several cities including Hong Kong, Macau, Dongguan, Zhuahai, and Huizhou. Passenger service of check-in, ticket buying, and flight inquiry are served there. Besides, there are specials buses or ferries offered to take passengers directly to the airport.



Transportation between Shenzhen Airport and City Terminal Buildings



Terminal Floor Plan

4F: Check-in Counters, Domestic Departure Hall, Luggage Packing, Left Luggage & Lost and Found.



3F: Inspection & Quarantine, Exit Frontier Inspection for International Flights, and Waiting Hall.



2F: Arrival Hall for Domestic Flights & Luggage Claim of Domestic Flights.



1F: Inspection & Quarantine, and Entry Frontier Inspection for International Flights, Luggage Claim & Arrival of International Flights, and Waiting Hall.
| | | |
| --- | --- | --- |
| Information Board | | Direction Board |

Check-in Areas for Airlines

All the check-in Areas are in the fourth floor.


Area A: Southern Airlines.



Area B: 1 to 12 counters for China Southern Airlines domestic flights; 13 to 24 counters for team passengers of Hainan, Spring, Sichuan, Xiamen, Chengdu Airlines, and West Air.



Area C: Hainan, Sichuan, Xiamen, Chengdu Airlines, and West Air.



Area D & E: International flights of Shenzhen Airlines, China Southern Airlines, Air China, China Airlines, Uni Air, Air Asia, Tiger Airways, Silk Air, Korean Air, Asiana Airlines.



Area E: China Eastern, Shanghai, Hebei, Juneyao Airline, Shangdong, Tibet Airlines, and Okay Airways,



Area G & H: Domestic flights of Shenzhen Airlines and Air China.



Airport Transportation
Transportation from Bao'an International Airport is quite convenient. All buses for Hong Kong, Macau, different districts of Shenzhen, and nearby cities, can be taken from the Ground Traffic Center. Ferries to HK and Macau are available from Fuyong Port near the terminal. Passengers also can take Subway Line 11 (Airport Line) to get to Airport Metro Station. Then just walk around 3 mins to reach the terminal building (T3).



Facilities & Service


Parking: The parking lot is located in the Ground Traffic Center, and there are 4700 parking spaces. The charge is CNY10 for the first hour, and CNY1.5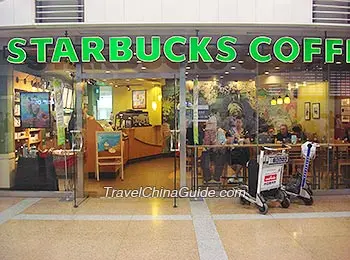 for every 30 minutes thereafter. The maximum fee is CNY60 within 24 hours. It is free within 15 minutes.



Airport Inquiries: In front of Check-in Areas from A to H.



Baggage Packing: Gate 2 & 6, 4F, Departure Hall.



Lost and Found & Left Luggage Service: Departure Hall on Fourth Floor (behind Check-in Area A).
Operational Hours: 24 hours.
Inquiry Number: 0755—23452663 (Lost and Found); 0755 – 23457066 (Left Luggage)


Fee for Left Luggage Service
| | |
| --- | --- |
| 20*40*55 (cm) | CNY 15 per day/per piece |
| 40*60*100 (cm) | CNY 25 per day/per piece |
| Over 40*60*100 (cm) | CNY 40 per day/per piece |
Charges are: CNY30 per piece per day for valuable items such as computers, digital cameras, and DV.



Bank and Currency Exchange Service:
SPD Bank (behind the Check-in Area B).
Travelex in Arrival Hall, 1F;
YunForex in Arrival Hall & 1F, Ground Transportation Center; 2F



Meeting Place: Gate 2 & 6 on 4F, and Gate 2 on 2F.
Children's Playground

Children's Play Ground: Boarding Gate 25, 3F.



Nursing Rooms: 50 Nursing Rooms can be found in the washrooms.



Special Passage:
Kids from 5-year-old (including), to 12-year-old (excluding) boarding alone, seniors over 70-year-old boarding alone, and accompanied disabled people, can use the special passage. These passengers need to apply for this service at the inquiry desks.



Medical Service: Between Luggage Claim Desk 2 and 3 on 2F.



Prayer Room: International Departure Hall, near Boarding Gate 1.



Trolley and Battery Car Service: The trolleys and baby carriages (only on 3F) are available in the airport. The battery cars, charge CNY15 per person, operate in the Departure Hall on 3F, and the Arrival Hall on 2F.



Public Telephones & Internet: Free Wifi connection within the airport. Public telephones can be used for three-minute local calls for free.