Shenzhen Ferry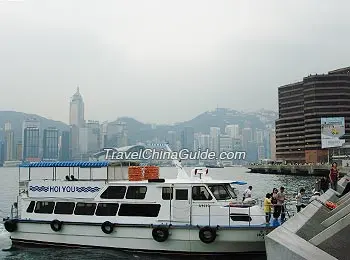 There are two passenger transport ferry terminals in Shenzhen, which are the Shekou Ferry Terminal and the Fuyong Port. At present, ferries from the city can reach Hong Kong, Macau and Zhuhai.

China Merchant Shekou Ferry Terminal
(Shekou Port)
China Merchant Shekou Ferry Terminal, also named Shekou Passenger Transport Port, has moved to the Shekou Cruise Homeport in no. 1 Haiyun Rd, Nanshan District, Shenzhen. This port still operates ferries to
Hong Kong International Airport
, Hong Kong Macau Ferry Terminal, Macau and Zhuhai as well as nonscheduled island lines. Passengers can enjoy upstream check-in for Hong Kong International Airport here at the port.
2. To/From Macau: Maritime Ferry Terminal and Taipa Temporary Ferry Terminal
3. To/From Zhuhai: Jiuzhou Port and Wailingding Island Ferry Terminal
Port Services and Facilities
1. Ticketing and Waiting
There is only one main building of the port. The 1st floor serves at Ticket Hall and where passengers arrive. The 2nd floor is the place for security check, waiting for boarding, and check-in.

Note: Passengers leave for Hong Kong Macau Ferry Terminal, Macau and Zhuhai should get there 30mins before the ferry leaves; those to HK Airport should be 1h earlier.
2. Dining
There are many restaurants on the 4th floor of the building.
How to get to Shekou Port
1. Take
subway Line 2
to Shekou Port and then catch a free shuttle bus to reach the new port.
2. Take bus no. 328, B601, K105 to Shekou Youlun Zhongxin. Or take bus no. 332 to Shekou Matou Zongzhan.
Fuyong Port of Shenzhen Baoan Airport
Fuyong Port is located about 10 kilometers (6.2 miles) to
Shenzhen Baoan International Airport
. It was put into use in the year of 1993 and was moved to the present place in the beginning of 2010.
Lines
1.
Fuyong Port ↔ SkyPier, Hong Kong International Airport
(40 minutes)
For passengers going to take flight at Hong Kong Airport, you can take the direct boat from Shenzhen Airport Fuyong Port. By taking it, passengers can enjoy tag through luggage service and departure tax refund service.
2. Fuyong Port ↔ Macau Maritime Terminal
From Fuyong Port: 08:45, 10:30, 12:30, 14:00, 16:30, 17:30.
From Macau Maritime Terminal: 10:45, 12:15, 14:30, 15:45, 18:30, 19:30.
Ticket Fare: The ticket fare is CNY196 per person for economy class, there is no luxury class and super class ticket at present, and also there is no kid ticket.
3. Fuyong Port ↔ Macau Taipa Temporary Terminal
From Fuyong Port:to Macau at 16:00
From Macau Taipa Temporary Terminal: 17:30
How to get to Fuyong Port
At Shenzhen Airport, passengers can take free shuttle buses from the terminal building to the port. The bus could be found at Gate 3, Arrival Hall, Terminal A and Gate 6, Arrival Hall, Terminal B.
- Last modified on Apr. 08, 2019 -
Questions & Answers on Shenzhen Ferry
Asked by Pardeep from INDIA | Apr. 20, 2019 06:22

Reply
Fuyong - Kowloon
Hi! Is there any ferry from fuyong to kowloon??
Asked by Chuy from MEXICO | Apr. 08, 2019 17:44

Reply
Where can I buy Tickets from Fuyong Terminal TO Zhongshan?
Answers (1)
Answered by Harry from USA | Apr. 08, 2019 19:36

0

0

Reply
You can book tickets in official website of Chu Kong Passenger Transport Company Limited or but tickets in T3, Bao'an Airport.
Asked by Arun from INDIA | Jan. 06, 2019 11:18

Reply
I need to reach hotel Marriot, northwest in Shenzhen
Which ferry should i take i.e Fuyong port or Shekou?
Answers (1)
Answered by Luke from GERMANY | Jan. 07, 2019 17:31

0

0

Reply
Do you refer to Courtyard by Marriott Shenzhen Northwest?
If yes, there is no need to take a ferry from the airport. Take metro line 11 to Fuyong Station, Exit D. Then walk north around 1km to find the destination.
Asked by Badrul from MALAYSIA | Nov. 06, 2018 01:14

Reply
How to i go from Shenzhen airport to Fuyong Pier? And where I can buy the ticket?
Answers (1)
Answered by Apple from CANADA | Nov. 07, 2018 01:42

0

0

Reply
There are free shuttle buses between the airport and the pier. And you don't need to buy tickets and just follow the guide to take the bus.
Asked by Lee Yun Fon from MALAYSIAUF | Oct. 03, 2017 00:52

Reply
Was the documents valid enough and eligible for the entire trip?
KK (Malaysia) - Shenzhen - Macao - Hong Kong - Shenzhen - KK (Malaysia). Holding Malaysia and Indonesia Passport & 2 way China Visa.

We're planning to travel by bus from Shenzhen Airport to Zhuhai Gongbei then take taxi to Macao Maritime Ferry Terminal. After that from Macao to Hong Kong, then finally return back to Shenzhen (8.11.17 to 14.11.17).
Answers (1)
Answered by Heiby from AUSTRALIA | Oct. 12, 2017 04:27

1

0

Reply
Don't worry, the documents are enough. Have a nice trip!