Shenzhen Ferry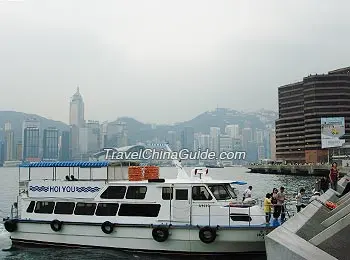 There are two passenger transport ferry terminals in Shenzhen, which are the Shekou Ferry Terminal and the Fuyong Port. At present, ferries from the city can reach Hong Kong, Macau and Zhuhai.


China Merchant Shekou Ferry Terminal
(Shekou Port)
China Merchant Shekou Ferry Terminal, also named Shekou Passenger Transport Port, is located at 1 Gangwan Dadao, Nanshan District and was first built in 1981. At present, there are operating lines to
Hong Kong International Airport
, Hong Kong Macau Ferry Terminal, Macau and Zhuhai as well as nonscheduled island lines. Passengers can enjoy upstream check-in for Hong Kong International Airport here at the port.

Ferry Lines
Routes to Hong Kong Macau Ferry Terminal, SkyPier of Hong Kong Airport and Hong Kong Tuen Mun Ferry Pier; Ferries to Macau Maritime Ferry Terminal and Macau Taipa Temporary Ferry Terminal and ferries to Zhuhai Jiuzhou Port are available there.

Port Services and Facilities

Ticketing and Waiting
There are two ticket halls in Shekou Port Terminal Building, one is for tickets of Zhuhai, located on the west side of the first level while tickets for Hong Kong and Macau can be bought at the east side of the first level. There are five ticket windows in the former one and four ticket windows provide tickets to Hong Kong and Macau. After buying tickets, passengers can ascend to the waiting hall and waiting for taking. The two waiting halls for Hong Kong and Macau ferries are on the second level.

Shopping
There are two duty free shops on the first and second level of the terminal building.

Dining
There is a western restaurant located between the waiting halls.

Transportation
The following bus routes can reach: Nos. 113, K113, 226, 204, K204, 331, 31, 332, 329, 328, 105, K105, 70, 355 and the Airport Shuttle Bus 10.

Fuyong Port of Shenzhen Baoan Airport
Fuyong Port is located about 10 kilometers (6.2 miles) to
Shenzhen Baoan International Airport
. It was put into use in the year of 1993 and was moved to the present place in the beginning of 2010.

Lines:

Fuyong Port ←→ SkyPier, Hong Kong International Airport
(40 minutes)
For passengers going to take flight at Hong Kong Airport, you can take the direct boat from Shenzhen Airport Fuyong Port. By taking it, passengers can enjoy tag through luggage service and departure tax refund service.

Fuyong Port ←→ Macau Maritime Terminal
From Fuyong Port: 08:45, 10:30, 12:30, 14:00, 16:30, 17:30.
From Macau Maritime Terminal: 10:45, 12:15, 14:30, 15:45, 18:30, 19:30.
Ticket Fare: The ticket fare is CNY196 per person for economy class, there is no luxury class and super class ticket at present, and also there is no kid ticket.

Fuyong Port ←→ Macau Taipa Temporary Terminal
From Fuyong Port:to Macau at 16:00
From Macau Taipa Temporary Terminal: 17:30

Transportation
At Shenzhen Airport, passengers can take free shuttle buses from the terminal building to the port. The bus could be found at Gate 3, Arrival Hall, Terminal A and Gate 6, Arrival Hall, Terminal B.