Shenzhen City-Bus & Taxi
City-Bus
With more than 900 bus lines and close to 16,000 buses, Shenzhen has a well developed city bus system. There are presently 3 large city bus companies in the city. They are the Shenzhen Bus Group Co., the City West Bus Company, and the City East Bus Company. The large amount of vehicles exerts a lot of pressure on local's transport system at present, especially during rush hour. Therefore, visitors should take into account the traffic congestion when planning their schedule.

Bus Categories:
Downtown Lines: 1-998, B307-B725, M200-M226, E1-E20. J1, K105-K651
Tourist Lines: East Holiday Line 1, East Holiday Line 2, Sightseeing Line 1, Sightseeing Shopping Line (Sightseeing Line 2), Da Yun Line (Sightseeing Line 3), Seashore Line (Sightseeing Line 4) and the Holiday Line.
Night Lines: N1-N18, 791NB3
Commuter Time Lines: Gao Feng Zhuan Xian 1 - Gao Feng Zhuan Xian 40; Fu Tian Bonded Area Special Lines 1 and 2; 26, 209, 210, 234 and 317.
Intercity Lines: Chang 5 - Chang 328, Kang 11, Shenzhen - Huizhou Bus 1 and 2, Shenzhen - Dongguan Bus1 and 2.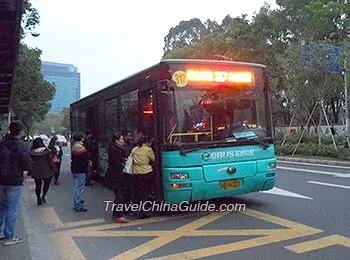 City Bus

Ticket Fare:
Bus ticket fare is generally slightly higher than the bus fare of other cities in China. Bus lines that start with the letter B are ordinary lines and the ticket fare is CNY1 per person. Most of the M Buses are air-conditioned and serve for stage fare. The K buses are express buses which only stop at the main stops, and most of them charge a graded fare. E buses are air-conditioned; they are also express buses and charge more than CNY5 per person. The rest of the downtown buses charge CNY1 for the ordinary bus and CNY2 for an air-conditioned bus. Most of the tourist lines apply graded charges for air-conditioned ones. Night buses charge CNY2-CNY10 per person. The commuter lines apply a graded fare and tickets cost about CNY2-CNY6. Intercity Buses fares are CNY2-CNY35.
Preferential prices:
Children under 1.2m in height are free of charge while taking city bus. Children between 1.2-1.5m pay half of the full price. With the special Children's pass issued by Shenzhen Transportation Card Co., Ltd, children younger than 6 years old are free of charge, and 6-15 year old children enjoy 50% discount. Students in primary and high schools and the senior people at 65 years old and above can also enjoy preferential prices, but need to show their special student's pass or the senior's pass too.

Operating Time:
Most of the buses operate from around 07:00 to 23:00. Some suburban lines stop running earlier.

Local Tourist and sightseeing lines:


East Holiday Line 1 runs from Overseas Chinese Town East to Futian Transportation Hub, operating from 09:30 to 21:00 at Overseas Chinese Town East and 08:00 to 19:00 at Futian Transport Center with fares around CNY6.


East Holiday Line 2 runs from Meilin Union Inspection Station to Overseas Chinese Town East between 08:00–20:00. Tickets costs around CNY7.


Sightseeing Line 1 runs from Nantou Checkpoint to Overseas Chinese Town East with prices around CNY9. It runs from 07:00 to 18:30 at Nantou Checkpoint and 08:30–20:00 at Overseas Chinese Town East, and it passes through Window of the World and Splendid China - Folk Culture Villages.


Sightseeing Shopping Line (Sightseeing Line 2) runs from the Futian Agriculture Products Wholesale Market to Buji Union Inspection Station. It runs from 07:00–22:00 and tickets cost CNY3. This line stops at some famous shopping centers, such as Women's World, Mao Ye Department Store and Buji Free Market. You can take it at Yinhu Mansion, Bubei Road.


Da Yun Line (Sightseeing Line 3), runs from the Jin Long Hotel to the Futian Transportation Hub. Operating hours are from 06:30 to 20:30 with a fare of about CNY10.


Seashore Line (Sightseeing Line 4) runs between Shenzhen Sea World and the Buji Union Inspection Station from 06:30 to 20:30 daily. Ticket prices cost up to CNY7.


The Holiday Line runs between Henggang and the Meisha Subdistrict Office from 06:30 to 20:30 with a fare of CNY2–CNY6.


Tips:
1. If you transfer between the bus and the subway or between two buses you get a CNY0.4 discount.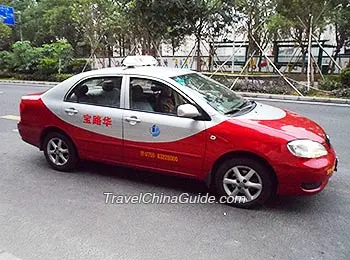 Taxi
2. The East Holiday Line 2 and Sightseeing Line 1 run only on Saturdays and Sundays.


Taxi
More than 16,000 taxis serve in the city. They are mainly in four types of red, yellow, green and blue (electric) cabs. The red and yellow ones run both in urban and suburb areas (the urban areas usually refer to Luohu, Futian, Nanshan and Yantian Districts) and they are in the largest quantity, over 11,000 cars. The electric ones, in blue, cover the same areas as the red cabs. The green ones only operate in Bao'an and Longgang Districts as well as Pingshan, Dapeng, Longhua and Guangming New Areas (these are the so-called suburb areas).

The table blow shows the taxi fare:
Taxis
Flag-down Rate
Fuel Charge
Charge of Each Additional Kilometer (0.6mi)
Fare for Every Minute's Waiting
Night-driving Allowance (23:00 – 06:00 the next day)
Red&Yellow Cars
CNY10 for the first 2km (1.2mi);
CNY 13 at night (23:00-06:00 the next day)
CNY1
CNY2.4
CNY0.8
extra 30%
Electric Cars
CNY10 for the first 2km (1.2mi);
CNY 13 at night (23:00-06:00 the next day)
---
CNY2.4
CNY0.8
extra 30%
Green Cars
CNY6 for the first 1.5km (0.9mi)
CNY2
CNY2.4
CNY0.5
extra 20%

Other fares: When a taxi runs farther than 25km (15.5mi), it charges extra 30% for the empty return. CNY 0.5 is charged for each luggage large than 0.2m³ (7ft³) or heavier than 20kg (44lb).

Taxi fares from
Bao'an International Airport
to some major destinations in town for your reference:
To
Shenzhen Railway Station
/ Luohu Border: CNY110-120;
To
North Railway Station
: CNY80-100;
To
Shekou Port
: CNY80-90;
To the Window of the World: CNY60-80;
To OCT East: CNY200-230.

Tips:
1. Some taxis accept the payment with Union Pay Bank Card and local Transportation Card (Shenzhen Tong), which is mainly used on local public vehicles like subways and city buses.
2. The 24-hour hotline for reserving a taxi: 96880.
3. Motorcycles are not allowed to operate within the special zone, but can be found outside the zone. You are advised not to use them for the sake of safety.