Shenzhen Bay Sports Center
Shenzhen Bay Sports Center is covered by an oval roof whose overlook is like a silkworm cocoon, so it is also called "Spring Cocoon Sports Center". Lying in the northeast of Houhai Central District in southwest Shenzhen, Shenzhen Bay Sports Center is a large multi-functional sports filed mainly composed of a gymnasium, a stadium and an international standard natatorium in central part, a star-rated hotel called Hotel Kapok Shenzhen Bay, some public fitness facilities in the north and some shops around the gymnasium. It is one of the main venues of the 26th Summer Universiade. After the event, it is used for large sports competitions, exhibitions and concerts, etc.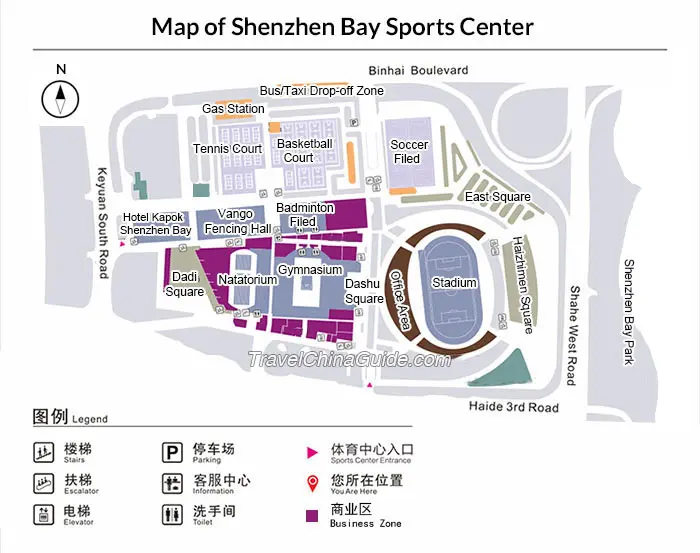 Map of Shenzhen Bay Sports Center
Gymnasium
With an area of 48,210 square meters (57,659 square yards), this gymnasium has set 23 boxes and 2 VIP Lounges. It is capable of accommodating about 12,700 persons at once so it is suitable for concerts, annual meeting of the enterprises, high-end cocktail party and new products release conference, etc. Till now, plenty of famous Chinese singers have held their concerts in this gymnasium.
Stadium
The stadium is in the easternmost of Shenzhen Bay Sports Center with about 20,000 seats. It is available for big domestic and international competitions, large concerts and various exhibitions. The most special point of the stadium is that tourists can enjoy the sea view in it directly. Considering of its location by the sea, a more than 100-meter-long (110-yard-long) "French Window" is constructed in the east of the stadium from where tourists can see the sea. Also, an overpass is built by it where people can better appreciate the sea scenery meanwhile watch the games.
Natatorium
Shenzhen Bay Sports Center Natatorium is one of the largest venues for international professional swimming competitions in Shenzhen. There are two swimming pools in it. One is for competition with a dimension of 50m*25m*2m (54.8yd*27.3yd*2.1yd) and the other for training with a dimension of 25m*20*1.2m (54.8yd*21.8yd*1.3yd). The water temperature is 27℃ (80.6°F) all year round. With international competition standardized facilities, specifications and technical requirements, this natatorium can provide service for domestic and international water sports, too. Also, it opens to public all the time.
Dashu Square
Located between the gymnasium and the stadium on the second floor, Dashu Square is famous for the picturesque light and shadow landscape. Dashu Square is the most utilized space in Shenzhen Bay Sports Center equipped with basic service facilities for retailing, catering and entertainment.
Basketball Court, Tennis Court, Soccer Filed & Badminton Filed
All these four fitness facilities are in the north of Shenzhen Bay Sports Center. Basketball Court has the largest 9 standard basketball fields in the city. With silicon PU elastic surface layer, the court is safer and more comfortable. As for Soccer Filed, there is one international 11-person football filed and three 7-person football fields with natural grass. In outdoor area, there are 9 artificial grass soccer courts in total in the northeast of sports center with 4 fields for 5 people, 4 for 7 people and 1 for 11 people. Shenzhen Bay Sports Center Tennis Court is the largest and most representative tennis court in the city with 12 international standard outdoor courts. Equipped with free lockers and bathrooms, badminton filed has 20 badminton courts with international standard.
Hotel Kapok Shenzhen Bay
It is located inside the west gate of Shenzhen Bay Sports Center. The 242 hotel rooms and 14 suites are in simple style with spacious space. Inside the rooms, guests can watch the sea scenery through the French windows. On the 21st floor is a restaurant aiming to provide the most high-end northeast Chinese cuisine in Shenzhen. The style of the bar inside combines both classical and modern elements. From the Hanging Garden on the 22nd floor, guests can enjoy the sea view of Shenzhen Bay, the night view of Nanshan District and even overlook Hong Kong. There is also a bar in the ground floor with about 1,000 books where is suitable for business talks and leisure.
Shops
There are shops in B1, 1F and 2F around the gymnasium and stadium which involves catering, early children's education, sports training and retailing.
How to Get to Shenzhen Bay Sports Center

To North Entrance: Take city bus line 58, 80, 229, 337, 362, E12, N24, M106, M347, M463 or M519 and get off at Shenzhen Bay Sports Center.

To South Entrance: Take
metro line 2
or
line 11
to Houhai Station and then walk eastward; or take city bus line B964 to Huarun Shenzhen Bay.
- Last updated on Jul. 27, 2023 -
Questions & Answers on Shenzhen Bay Sports Center
Asked by Vaishnavi from INDIA | Jul. 26, 2023 11:07

Reply
What's the total capacity of the whole stadium.
I noticed that in the google earth the tennis court and the soccer fields are not shown, was it there before?
Thanks alot for your time
Answers (1)
Answered by Bill | Jul. 27, 2023 00:24

0

0

Reply
The total construction area is 335,000 square meters and it can accommodate at most 40,000 people. It does have a soccer field and tennis court.