Shenzhen Safari Park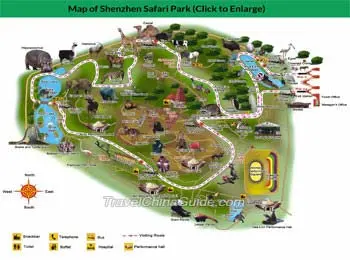 Map of Shenzhen Safari Park
(Click to enlarge)
Shenzhen Safari Park is the first zoo in China to uncage animals. With green mountains to the north as its barrier, it is like a bright pearl in the bustling metropolis. Covering an area of 640,000 square meters (158 acres), there are more than 300 kinds of wild animals, in total 10,000 from all over the earth. Many of them are rare animals, such as giant pandas, south China tigers, golden monkeys, Siberian tigers, flamingos, giraffes, zebras, and Asian elephants. Visitors can not only take a close look of the animals, appreciating their amusing performances, but also enjoy the thrilling Motorcycle and Car Stunt Show at night.

The park is divided into three zones according to the living habits of different animals. Tourists can closely see the uncaged animals through the glass corridors.
Wild Beasts Zone
In the adventurous Wild Beasts Zone, white tigers (Bengal tigers), north China tigers (Siberian tigers), south China tigers, bears, wolves, lions, and African leopard all have their own homes. You don't want to lose the chance to have a look at the hybrids of tigers and lions - tigons and ligers, for the park is the only wildlife zoo in the world to see these rare species.
Herbivorous Animals Zone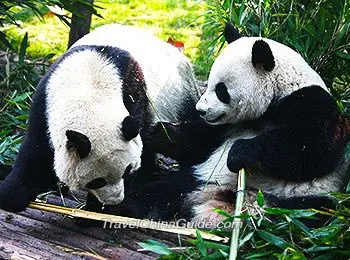 Giraffes, flamingos, zebras, kangaroos, camels, hippos, swans, and other herbivores inhabit the Herbivorous Animals Zone. This area has the largest swan lake in China. Visitors can float over this lake to appreciate the graceful black and white swans. The national treasure of China, giant pandas, can also be seen in this zone. Two giant pandas are kept in the zoo. After adapting to the new environment, they are now living a happy life here and grow healthily.
Ocean World
In addition, the Ocean World in the park is definitely worth a visit. Visitors can see many kinds of sea creatures, such as spotted dolphins, sea lions, white fin dolphins, and lemon sharks. Meanwhile, the musical drama 'Happy Ocean' featuring acrobatics in mid air, high diving, and sea animal performances will take your breath away.
Animal Performance Zone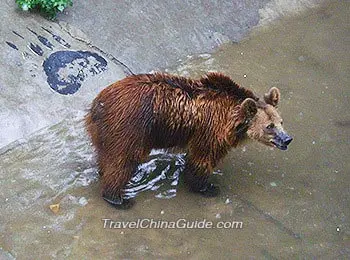 In this area, wonderful performances are awaiting visitors. Every day, Shenzhen Safari Park holds about ten animal performances in the four performance halls, namely the Circus Hall, the Elephants and Tigers Show Hall, the Sea lion Performance Hall, and the Birds Show Hall. You can see red orangutans serve as salesmen, cooperating with the cashiers - parrots and elephants which play the porters in the Circus Hall. The grand party of hundreds of birds in the Birds Hall cannot be seen in other parts of the world. The exciting parade with more than 300 actors and about 1,000 animals is also a pioneer in the world. The elephants act as the leaders of the procession, with tigers, lions, and other animals following behind. At the same time, clouds of pigeons can be found hovering in the sky.
Motorcycle and Car Stunt Show
The Stunt Show is hailed as the live the Fast and the Furious movie, performed at night, and is totally different from other performances in the park. More than ten car stunt men and fancy motorcyclists combine the vehicle stunts, parkour, and street dancing together in the show. With the fireworks, lights, and music, the thrilling show must be a feast for both your eyes and ears.
Performance Schedule
Performance
Monday to Friday
Weekends and Holidays
Location
Beasts' Pageant
16:00
16:30
Performing Square
Circus
12:00, 14:00
12:00, 14:00, 15:00
Circus Hall
Happy Ocean
12:40, 14:40, 16:40
12:40, 14:40, 17:10
Ocean World
Birds' Show
11:00, 13:30, 15:00
11:00, 12:00, 13:00, 14:00, 15:00
Birds Performing Stadium
Motorcycle and Car Stunt Show
19:30
Performing Square

This table is only for your reference. It may change due to weather conditions and visitor flow. Official announcement of the day prevails.
How to get to Shenzhen Safari Park
1. Take subway line 7 (Xili Line) to Xili Lake Station, and walk northeast around 1 kilometer (0.6 mile) to the entrance of the park.
2. Take bus 36, 49, 66, 101, 104, 226, B736, B796, B797, M460, M492 to Dongwuyuan (Shenzhen Safari Park) Station.
Tips: If you want to go to Shenzhen safari park from Hong Kong, take East Rail Line to Lok Ma Chau and pass through Futian Port. Go northeast for 5 minutes to the Huanggang Checkpoint Subway Station to take line 7.
Shenzhen Bus / Subway Search
By Sightseeing Bus inside the Park
Inside the park, there are sightseeing buses shuttling around for visitors' convenience. The ticket price is CNY 20 per person. Visitors can take it unlimited times in a day.
Admission Fee
Adults: CNY 240
Children between 1.2 and 1.5 meters (3.9 and 4.9 feet) in height: CNY 140
Night Ticket: CNY 90
Free of charge for children less than 1.2 meters

Each adult can only bring one child less than 1.2 meters into the park, without the charge for the kid. The extra children should buy discount tickets.
Opening Hours
Daytime
9:30 - 18:00, last entry at 17:00.
Evening
(only open from May to October)
18:30 – 21:00, last entry at 20:00.
- Last modified on Dec. 25, 2018 -
Questions & Answers on Shenzhen Safari Park
Asked by jaffar from HONGKONG | Dec. 24, 2018 00:14

Reply
Is it cheaper to take ticket online for Shenzhen Safari Park than taking at the counter?
Answers (1)
Answered by Kaitlyn from SPAIN | Dec. 25, 2018 19:23

0

0

Reply
Yes, you can enjoy CNY10 discount if you book the tickets on their official website. But the booking page only has Chinese version. You can ask help for your Chinese friends. Or ask help for your hotel staff.
Asked by Zhi Wei from SINGAPORE | Oct. 24, 2018 08:37

Reply
Are there any luggage locker facilities at the Shenzhen Safari Park?
Answers (1)
Answered by Vida from USA | Oct. 25, 2018 00:29

0

0

Reply
Yes, there is the check room at the entrance of the park.
Asked by Annie from PHILIPPINES | Oct. 10, 2018 21:59

Reply
we're planning to visit Safari world on our visit to Shenzhen on Oct. 18.
How do we get there from Kowloon, Hong Kong. Which place will we arrive first, Window of the World or Safari Zoo if we take the bullet train? Which route are we going to board. Thank you!
Answers (1)
Answered by Kelly from USA | Oct. 15, 2018 01:18

0

0

Reply
You can first take the train from West Kowloon to SH North Railway Station. Then take the bus M369 at SZ Bus Station, about 5 minutes' walk from North Railway Station. And get off at Xili Lake Metro station. The after about 7 minutes' walk, you will get to your destination.
Asked by vamshi from HONG KONG | Sep. 19, 2018 02:24

Reply
I am planning to Visit Shenzhen on 30th Sept , 1st, 2nd Oct 2018.
Is Safari Park opened on those days?
Answers (1)
Answered by Dave from USA | Sep. 20, 2018 01:59

0

0

Reply
Yes, it is opened.