Longmen Grottoes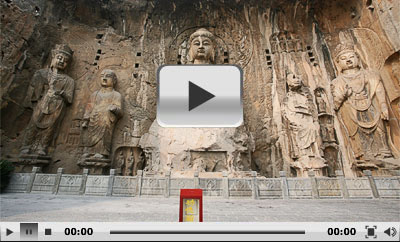 Click to start your Longmen Grottoes virtual tour!
Pictures
Longmen Grottoes Facts
Location: in the south of Luoyang city
Length: 1,000 meters (1, 094 yards) from north to south
Construction begining: in Northern Wei Dynasty (386-534)
The Longmen Grottoes, aka Longmen Caves, are between Mount Xiang and Mount Longmen and face Yi River. Longmen Grottoes,
Yungang Caves
and
Mogao Caves
are regarded as the three most famous treasure houses of stone inscriptions in China.
Who built the Longmen Grottoes? Emperor Xiaowen of Northern Wei Dynasty firstly directed the construstion around the year 493 when he moved the capital to Luoyang. After that, the Longmen Caves were continuously built during the 400 years until the Northern Song Dynasty (960-1127). The scenery area holds over 2,300 holes and niches, 2,800 steles, 40 dagobas, 1,300 caves and 100,000 statues. Most of them are the works of the Northern Wei Dynasty and the flourishing age of the Tang Dynasty (618-907). Lots of historical materials concerning art, music, religion, calligraphy, medicine, costume and architecture are kept here.

Twenty Inscriptions of Longmen Grottoes

Fengxian Temple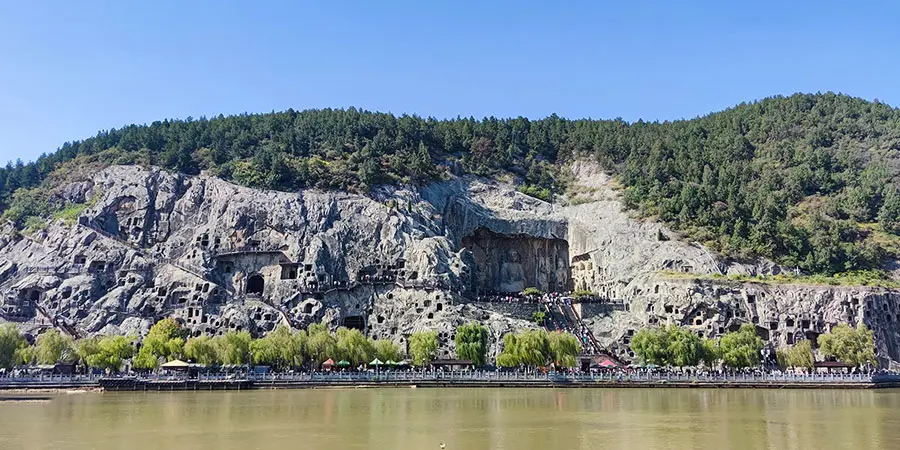 Fengxian Temple was built in the Tang Dynasty and it is the largest grotto in Longmen Grottoes with a width of 36 metres (about 118 feet) and a length of 41 metres (about 136 feet). There are nine major figures of various facial appearances and temperaments in the temple that were built in accordance with the Buddhist rite and their relationships by the artists.
The most impressive figure is the statue of Vairocana Buddha sitting cross-legged on the eight-square lotus throne. It is 17.14 metres (about 56.23 feet) in total height with the head four metres (about 13 feet) in height and the ears 1.9 metres (about 6.2 feet) in length. Vairocana means illuminating all things in the sutra. The Buddha has a well-filled figure, a sacred and kindly expression and an elegant smile. According to the record on the epigraph, the
Empress Wu Zetian
together with her subjects took part in the ceremony of Introducing the Light (a Buddhist blessing that the Buddha opens the spiritual light of himself and shares it with others).
At the sides of Vairocana there are two statues of Vairocana Buddha's disciples, Kasyapa and Ananda, wearing prudent and devout expressions. The figures of Bodhisattvas and devas can also be found in the temple. Some have dignified and genial expressions, while others are majestic and fiery. The various appearances and delicate designs are the representations of Empire Tang's powerful material and spiritual strength as well as the high crystallization of people's wisdoms.

Wanfo Cave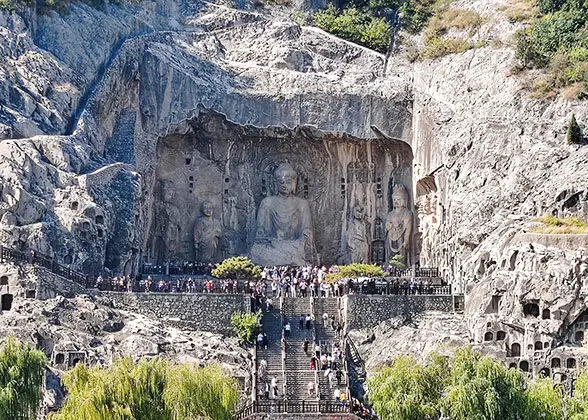 Wanfo Cave in Longmen Grottoes, completed in 680, is a typical chronological cave of the Tang Dynasty of two rooms and square flat roofs. Its name is due to the 15,000 small statues of Buddha chiseled in the southern and northern walls of the cave. The main Buddha Amida sits on the lotus Sumeru throne, having a composed and solemn face. The wall behind Amida is carved with 54 lotuses upon which there are 54 Bodhisattvas in different shapes and with various expressions.
In addition, there are lifelike reliefs of pretty and charming singers and dancers on the wall. The singers are accompanied by various kinds of instruments and the dancers dance lightly and gracefully to the music. The whole model in the cave has created a lively and cheerful atmosphere. On the southern wall outside the cave is carved a statue of Kwan-yin of 85 centimetres (about 33 inches) in height, holding a pure bottle in the left hand and deer's tails (as a symbol of brushing off the dust in spirit) in the right hand. This figure is well designed and is regarded as an example of Bodhisattva statues of Tang Dynasty in Longmen.
Guyang Cave
Guyang Cave is the earliest cave in Longmen Grottoes. There are three tiers of niches on the northern and southern wall of the cave, in which are hundreds of statues, and most of the statues are engraved with the names of the artists, the dates and the reasons for carving them. The sculptures are of diverse shapes and patterns that are representations of the Gandhara Art style after the grotto art transmitted to Luoyang. A statue of Sakyamuni is situated in the middle with a whole height of 7.82 meters (about 25.66 feet). Nineteen of the most famous Twenty Calligraphies are found in Guyang Cave. Twenty Calligraphies represent the steles of the Wei's style, which are the essentials of stele calligraphies in Longmen Grottoes.
Binyang Cave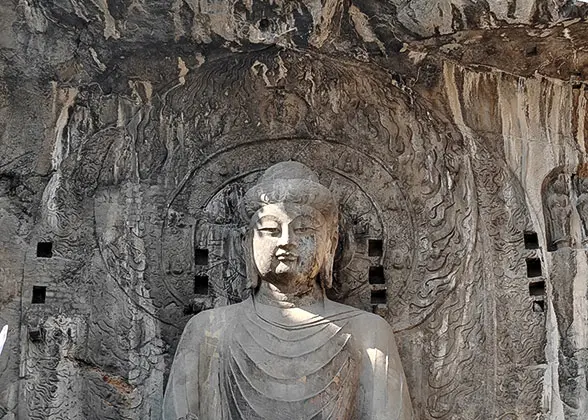 After the constructions of Guyang Cave, the royalty of the Northern Wei Dynasty constructed a series of lager scale caves, which are the northern, southern, and middle Binyang Caves. The middle cave, taking the longest time from 500 to 523, is the only one of the three finished during period of the Northern Wei. There are 11 big statues in the cave. Sakyamuni is of dignified and serene appearance, while his disciple and Bodhisattva are of slender figure and elegant look, which are the typical style of the late Northern Wei Dynasty. The floor is engraved with lotus patterns and on the rooftop is a rilievo of flourishing lotus flower.
Lotus Cave (Lianhua Cave)
Chiseled grottoes on the base of the natural limestone caves are also seen in Longmen, and the Lotus Cave is one of this type. Differing from sitting statues, Sakyamuni is of standing figure, showing that he has trudged a long distance to develop Buddhism from India to China. A huge relief of a well sculpted lotus flower is engraved on the dome, seedpod in the centre, petals in the outer and each leaf with honeysuckle patterns. Around the lotus are six flying musicians with vivid gestures, as if they are dancing along with the melodies of the music.
In addition, there is
Prescription Cave
that has about 140 prescriptions engraved on the walls, showing the achievements of medicine in ancient China. Some of the prescriptions are still used today. Other caves and temples like
Xiangshan Temple
,
Huangfugong Cave
, and
Qianxi Temple
can also be found in Longmen Grottoes.
How to get to Longmen Grottoes from Luoyang
1. From downtown:
Take Bus 53/ K53, 60/ K60, 71, 81/ K81, 99/ K99, or 167 to Longmen Shiku (Longmen Grottoes) Station.
2. From
Luoyang Railway Station
:
By Bus: take bus no. K81 and get off at the last station.
By Taxi: it costs around CNY 35 to 40.
3. From
Longmen Railway Station
:
By Bus: take bus no. 71 and get off at Longmen Shiku Station.
By Taxi: it costs around CNY 15
How to get to Longmen Grottoes from Xi'an
The most convenient way is to take high speed trains from
Xi'an North Railway Station
to Longmen Railway Station. It takes around 1.5 to 2 hours. If you take train from
Xi'an Railway Station
, then you arrive at Luoyang Railway Station.
How to get to Longmen Grottoes from Beijing
Take a bullet train from
Beijng West Railway Station
to Longmen Railway Station and then follow the above ways to get there.
Entrance Fee
CNY 90(including grottoes on East and West Hills, Xiangshan Temple and Bai Garden);
Free for children below 1.2 meters (3.9 feet).
Opening Hours
Feb. & Mar.: 08:00 - 18:00
Apr. 1 - Oct. 7: 08:00 - 18:30
Oct. 8 - 31: 08:00 - 18:00
Nov. - Jan.: 08:00 - 17:00
Note:
1. Ticket sale ends an hour before the closing time.
2. During the May Day Holiday and National Day Holiday (Oct. 1 to 7), and on Friday, Saturday and Sunday during Luoyang Peony Culture Festival, it opens 30mins earlier and closes 30mins later.

9 Historical Places in China You Should Never Miss



Recommended Guided Tours to Longmen Grottoes:
Luoyang 3 Days Tour from $399
1 Day Bullet Train Tour to Luoyang from Xi'an from $233
5 Days Xi'an and Luoyang Tour
- Last updated on Apr. 18, 2022 -
Questions & Answers on Longmen Grottoes
Asked by Yen | Nov. 07, 2019 03:58

Reply
follow the signs to get to Longmen Grottoes site?
after taking the high speed train from Xi'an North Railway Station to Longmen Railway Station, do I have to take an cab/bus to get to the Longmen Grottoes site itself? or I just have to walk to the site?
Answers (1)
Answered by Sara from USA | Nov. 10, 2019 18:25

0

0

Reply
After you arriving Longmen Railway station, you can take bus No.67/71 to the scenic area with CNY1.
Asked by Gap from TH | Oct. 05, 2019 22:19

Reply
Can I visit Longmen Grottoes at night time in this October?
I plan to visit there during Oct 11-12. Can I stay late to seen night lights?
Answers (1)
Answered by Vicky from CANADA | Oct. 12, 2019 01:14

0

0

Reply
Sorry, you can't. It opens from 8:00 to 18:00.
Asked by Macmonna from MALAYSIA | Sep. 09, 2019 06:35

Reply
May I know the shop (snack streets) closed at what time at old town luoyang ? Is it 9 pm ?
I am planing to go to Longmen Grottoes early morning on the next day .
Answers (1)
Answered by Daisy from USA | Sep. 10, 2019 18:00

0

0

Reply
Actually, it could operate till midnight.
Asked by Greta from USA | Jul. 21, 2019 15:53

Reply
How late are the Longmen Grottoes Open?
I have read they close at 18:30 and 21:30. I will be there in July.
Thank you!
Answers (1)
Answered by Danny from USA | Jul. 22, 2019 20:39

0

0

Reply
It closes at 18:30.
Asked by Clement from ENGLAND | Jul. 02, 2019 22:21

Reply
Hello, is there a price reduction of Luoyang Longmen Grottoes for student from outside of China ?
We are in a British international university.
Thanks
Answers (2)
Answered by David from SINGAPORE | Jul. 03, 2019 00:05

0

0

Reply
Generally, the price reduction is only for Chinese students. However, you can take your student card and have a try when you get there.
Answered by Lukas from GERMANY | Aug. 30, 2019 18:47

0

0

Reply
I just tried with my chinese student ID, but apparently discounts are only for chinese nationals