20 Inscriptions of Longmen Grottoes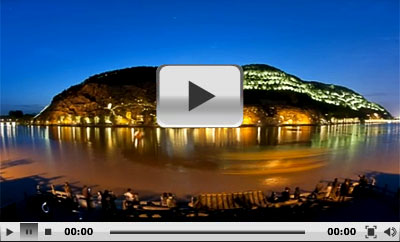 13 kilometers (8.1 miles) south from Luoyang lies the famous Longmen Grottoes. On Longmen Mountain and Xiangshan Mountain stretching along the two banks of the Yi River, there are 1,352 caves in the cliff excavated from the Northern Wei Dynasty (386 - 534) to the Northern Song Dynasty (960 - 1127). 2,345 niches, over 100,000 statues, and 2,800 tablets with inscriptions were carved and kept in these caves. Among all the engraved tablets, the Twenty Inscriptions of Longmen Grottoes are the archetypes of Northern Wei calligraphy and the most precious relics of Longmen Grottoes.
19 of the 20 inscriptions are inside the Guyang Cave, and one in the Cixiang Kiln, the No. 660 Cave outside the Old Dragon Cave. The 20 inscriptions are all poems engraved on the stone tablets for special statues. They are even more famous than the delicate sculptures. They were made at the request of some royal families, officials and eminent monks during the Northern Wei Dynasty to sing the praises of Emperor Xiaowen or pray for their deceased family members. The 20 inscriptions not only record these important historical facts, but also are excellent calligraphy examples of the Northern Wei style. The calligraphy in the Northern Wei Dynasty featured characters with a compact structure. The main parts of the characters are at the bottom instead of being equally distributed. Another feature of the inscriptions is that there are some characters intentionally written incorrectly by adding or cutting strokes.
Most of the 20 inscriptions are set in niches together with specific statues on the north wall of the Guyang Cave. Here is an introduction to the main ones: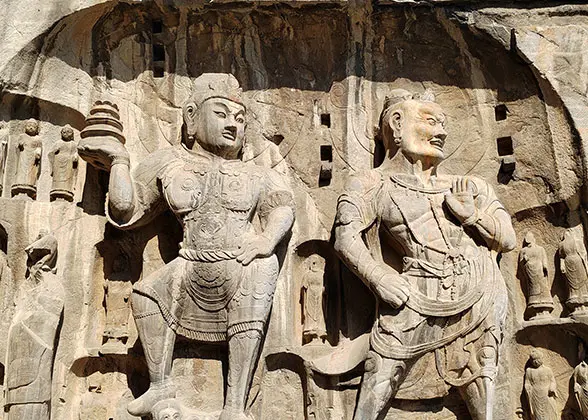 Inscription for Statue of Maitreya Making for Niu Jue
Being called Niu Jue Niche, this is among the earliest niches in Longmen Grottoes. It was made by Madam Yuchi, the wife of Changle Duke, in memory of her deceased son Niu Jue. At the top edge of the niche, there are eleven lads with lotus in hand. The statue of Maitreya sits inside the niche while two lions sit at his knees. Two strong men support the statue at the feet. The inscribed tablet is about 100 centimeters (3.3 feet) tall and 34 centimeters (1.1) wide. Delicate and elegant Chinese characters in regular script are orderly engraved in seven lines with 16 characters on each line, giving the condolence and blessing of the mother to her beloved son.
Inscription for Buddha Statues Made by Yifu for Her Husband
This inscribed tablet is in one of the two smallest niches in the 20 Inscriptions of Longmen Grottoes. The niche is 36 centimeters' (11.8 inches) tall and 19 centimeters' (7.5 inches) wide with a wave pattern on the bottom. The niche was made in 496 by Yifu for her dead husband Zhang Yuanzu, who was a sedan chair carrier for the emperor at that time. For Zhang's low position, the niche was small compared with others. Statues of two Bodhisattvas and a Buddha were carved in the niche. Under the statues is the inscribed tablet. The posy, showing the woman's best wishes for her husband, has only 30 characters but is in regular script and in neat formation. The strokes of the characters look composed, steady, powerful, and also with smartness and variations.
Inscription for Passed Father Shiping
This tablet on the right side of the statue made by the monk Huicheng for his dead father Shiping in 498 is regarded as one of the most precious among the 20 Inscriptions of Longmen Grottoes. It is the only one of the 20 works with all characters in relief, whereas others all used intaglio. The tablet is 130 centimeters (51.2 inches) high and 40 centimeters (15.7 inches) wide. The content of the inscription is about Huicheng's religious attitude and praying for the dead. The characters are in regular script, showing a vigorous style with compact structure and uncommonly powerful strokes.
Inscription for Emperor Xiaowen Made by General Yang Dayan
This is among the top four inscriptions of Longmen Grottoes. The niche is 253 centimeters (99.6 inches) tall with a statue of Sakyamuni sitting in the center. Two dragons are coiled under the Buddha, while two immortals are riding alongside, one on a tiger, the other on an elephant. The tablet, with a height of 126 centimeters (49.6 inches), is on the right side of the niche with inscriptions describing the General Yang Dayan's life stories. The characters are also in a powerful regular script.
Inscription for Buddha Statue Making for Grandson Bao
This tablet, being embedded on the north part of the roof of Guyang Cave, was made by the Imperial Concubine Gao of the North Sea State of Northern Wei Dynasty for her beloved grandson who died at an early age. The niche, with a height of 110 centimeters (43.3 inches) and a width of 80 centimeters (31.5 inches), contains a statue of Maitreya on two lions in the center and two statues of Bodhisattva beside. The corresponding tablet, with a height of 40 centimeters (15.7 inches) and a width of 26 centimeters (10.2 inches), has inscriptions in regular script recording the short and suffering life of Bao, and also describing the grandmother's supplications for her grandson, Bao, to be rid of pain forever.
Inscription for Buddha Statue Making for Zheng Changyou's Family Members
There is a group of six niches arranged in three rows with an inscribed tablet on the south wall just inside the entrance of the Guyang Cave. In the niches are Buddha statues made by Zheng Changyou (Yunbo Earl) in 501 for his dead father, mother, son and other relatives. A 50 centimeters' (19.7 inches) tall tablet was set on the right side, with 84 characters engraved in regular script. The inscriptions show a strong and orderly style.
Besides the above, there are also other outstanding works, including Inscription for Buddha Statue Made by Sun Qiusheng, Inscription for Statue Made by North Sea Prince Yuan Xiang, Inscription for Statue Made by Xie Boda, Inscription for Sakyamuni Statue Made by Wei Lingcang, etc.



Recommended Tours including the visit of Longmen Grottoes:
Spotlights of Luoyang: 3 days to visit Shaolin Temple & White Horse Temple, etc
One- Day Express Train to Luoyang: Express train tour to visit Shaolin Temple and Longmen Caves
Ancient Capitals Xi'an & Luoyang: 5-day tour to visit the popular attractions of these two ancient cities
- Last modified on Sep. 06, 2018 -
Questions & Answers on 20 Inscriptions of Longmen Grottoes
Asked by ron kantor from USA | Sep. 05, 2018 12:28

Reply
Longmen Grottoes Close by accommodations
Are there any close by hotels if one would want to stay closer to the caves for a night or two?
Thanks,
Dr. Ron Kantor
Answers (2)
Answered by James from UNITED KINGDOM | Sep. 05, 2018 23:54

0

0

Reply
There is a Dongshan hotel in the scenic area, which is pretty good. The phone number are 0379-64686000;0379-64686002.
Answered by ronald j kantor from USA | Sep. 06, 2018 04:43

0

0

Reply
Thanks much, James...
Asked by Ng Swee Poh from SINGAPORE | Apr. 25, 2016 22:30

Reply
Closing Time of Longmen Grottoes.
In some tourist books, it said the scenic area open at night till 9.00 pm.
Can you confirm its closing time. ( 6.00 pm, 6.30 pm or 9.00 pm).
Thank you.
Answers (1)
Answered by Li Ming from CHINA | Apr. 26, 2016 04:57

1

0

Reply
The opening hours are the following:
February 1 to March 31: 08:00 - 18:00
April 1 to October 7: 08:00 - 18:30
October 8 to October 31: 08:00 - 18:00
November 1 to November 31: 08:00 - 17:00
In addition, ticketing stops one hour before the closing time. The scenic area is cleared one hour after the closing time.:)
Asked by Mr.Mamiya from USA | Mar. 22, 2011 00:52

Reply
Will it be too much driving back forth if I stay in Luoyang and spend first day to visit Shaolin Temple, second day to visit Songshan Mountain scenic area, including Songyang Academic Hall, Songyue Temple and Dafawang Temple and third day to visit Longmen Grottoes?
Answers (1)
Answered by Mr.Jamie | Mar. 25, 2011 22:32

0

1

Reply
You do not have to go back to the city every day, do you?
Asked by Ms.Abby from AUSTRALIA | Mar. 18, 2011 08:49

Reply
Hello,

I was thinking of doing the day tour to the Longmen Grottoes and the Shaolin Temple from Xi'an by the high speed train.

Is it really possible to see both of these attractions and go too and from xian in the one day? My contact in China said they did not think this was possible, as it is simply to much travel time between cities and sites.

Could you help and give me a break down of your itinerary for what you would do to achieve this? Like how long you would leave for each attraction and what transport and how long it takes by that transport to reach each attraction and back.

Really want to see both attractions - but need to know if it is really possible or if it is best to just pick one.

Xi'an - Luoyang - Longmen Grottoes - Shaolin Temple/Show - Back to Luoyang? - Xi'an

Thankyou!!
Answers (1)
Answered by Mr.Mark | Mar. 18, 2011 21:27

0

2

Reply
It takes about 2 hours from Xi'an to Luoyang by high-speed train, and then take bus no. 81 from the railway station to the Grottoes for about 40 minutes. After that, you can take a bus from the Grottoes to Shaolin Temple for about 2 hours. Finally, it will take about 2 hours back to luoyang railway station. To sum it up, you have to spend at least 7 hours on the way, so one day is absolutely not enough for this tour.
Asked by Mr.dwekat from JORDAN | Sep. 21, 2010 04:35

Reply
hi !
am planning to visit longmen and shaolin temple in one day , and i need to know how much time it takes for both of them to see everythng , please recomend for me :)
Answers (1)
Answered by Mr.chang | Sep. 23, 2010 03:52

0

1

Reply
I think two hours for shaolin temple and another 2 hours for Longmen is enough.