Top Xian Attractions
More Things to Do
Top 10 City Tours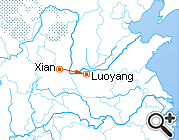 XA07: 5 Days Private Xi'an & Luoyang Tour
From
$679
per person
Free Inquiry


Sincere greetings & airport-hotel transfer, City Wall.
Welcome to take our private Xi'an & Luoyang tour! Your guide and driver will pick you up at Xi'an Airport and then transfer you to the downtown city by a comfortable vehicle.
Before heading to the hotel, you will visit one of the landmarks of Xi'an, the
City Wall
. Constructed between 1374 and 1378 during the Ming Dynasty, it is the best-preserved city wall with a total length of 11.9 km (7.4 miles) and a height of 12 meters (39 feet). You can either walk or ride a bicycle on the wall to view the ancient part of the city. The bike rental fee is at your own expense and your guide is always ready to help. After the visit, you will check in at the hotel to relax.
Terracotta Soldiers Museum, Big Wild Goose Pagoda. (B)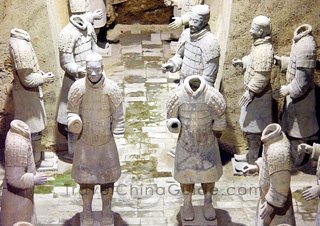 Terracotta soldiers
You will spend the whole morning to visit the amazing
Terracotta Warriors and Horses Museum
which is believed to be the most significant archeological excavation of the 20th century in the world. Thousands of life-sized terracotta soldiers with distinct expressions on each face and war horses were orderly arranged in battle formations, reflecting the mighty forces and advanced manufacture of the Qin Dynasty more than 2,200 years ago. The Bronze Chariots and Horses and the exquisite bronze weapons displayed in the museum will also leave a deep impression on you.
In the afternoon, we will continue to visit the
Big Wild Goose Pagoda
. Built in 652 during the Tang Dynasty (618-907 AD), the seven-storey square cone-shaped pagoda was used to house the Buddhist statues and sutras brought back from India by the master Xuanzang. It is not only a Buddhist masterpiece but also regarded as one of the landmark constructions of Xi'an City.
Meals: Western buffet breakfast
Shaanxi History Museum, A local family visit and home-cooked lunch, Great Mosque, Free time at the Muslim Bazaar. (B+L)
Our clients on ancient City Wall
Today's sightseeing tour will start from
Shaanxi History Museum
, which boasts large collection of historical items reflecting Chinese culture and history from the prehistory period to the mid-20th century. It is also the first modernized museum in China, so you can have an easy access to enjoy these rare exhibitions through the advanced facilities. Then a
local family visit
with a home cooked lunch will be specially arranged for you to have a close touch with the daily life of the local people and taste authentic home-made dishes. We can also arrange
Chinese food cooking class
in the local family for free if you would like to have a try.
In the afternoon, you will continue to visit the oldest, largest and best-preserved Islamic mosque in Xi'an, the
Great Mosque
. Though an Islamic mosque, it was constructed in the traditional Chinese architectural style. Therefore, the buildings are pavilions with painted columns and flying eaves rather than domes and minarets. Surrounding the mosque is a local prosperous food street, the Muslim Street, where many delicious local foods and interesting souvenirs could be found.
Meals: Western buffet breakfast, Home-cooked lunch
Day 4
Xi'an to Luoyang by High Speed Train
A high speed train to Luoyang. Longmen Grottoes, White Horse Temple, Chariot and Horse Pits. (B)
Monks in Shaolin Temple, Luoyang
After breakfast, you will take a high-speed train to Luoyang for about 2 hours. Upon your arrival, your local guide and driver will transfer you to visit the
Longmen Grottoes
. The entire carving work here has lasted over 1400 years in more than 10 dynasties, beginning from the Northern Wei Dynasty (386-534 AD), flourishing in the Tang Dynasty (618-907 AD) and ending in the late Qing Dynasty (1636-1912 AD). There are altogether 2,300 caves and niches filled with countless Buddha statues and inscriptions in the Longmen Grottoes.
You will then visit the
White Horse Temple
, which is the first temple invested and built by the court after Buddhism was introduced into China about 1,900 year ago during the Eastern Han Dynasty (25-220 AD). Later, it became the center of China's Buddhist activities. The last stop of today is the Royal Chariot and Horse Pits of the Eastern Zhou Dynasty. Based on these archeological discoveries, a museum was built to display the giant horses and chariots sacrificial pits of over two thousand years ago.
Meals: Western buffet breakfast
Shaolin Temple. Hotel-airport transfer & see you off. A nice onward trip! (B)
Longmen Caves, Luoyang
In the morning, you will go to visit the
Shaolin Temple
to have a Kung Fu tour. Situated among the dense forest at the foot of Songshan Mountain, it was originally built in 495 during the Northern Wei Dynasty (386-534 AD), and was greatly expanded when Bodhidharma, a famous Indian monk and the patriarch of Chinese Zen, came to impart Zen Buddhism in China. Besides its long history, the temple is much more famous for Shaolin martial arts and you can watch a performance while visiting. When the private tour is finished today, your guide and driver will see you off at the airport. Please board on your flight for the connecting trip on time!
Meals: Western buffet breakfast
B-- Breakfast
L-- Lunch
D-- Dinner
Tour Prices
With Luxury Hotels
2-3 travelers
4-5 travelers
6-9 travelers

$869

$779

$639
With Standard Hotels
2-3 travelers
4-5 travelers
6-9 travelers

$759

$679

$539
Prices are per person in US Dollars based on double occupancy.
Any part of the itinerary e.g. tour length, activities & hotels can be tailored to your individual interests.

Price Includes
Hotel accommodation with breakfasts
Train fare of Xian/Luoyang
Private English-speaking guide
Private driver & air-conditioned vehicle
Entrance fees to tourist sites
A la carte lunch at a local family
Price Excludes
International and domestic airfares
Lunches and dinners not specified
Entry visa fees
Tips or gratuities for guide and driver
Itineraries you may also like: