Luoyang Museum
Luoyang Museum located in downtown area, is a reflection of the rich history of Luoyang city. As a major Chinese cultural center, the city was the capital of more than a dozen ancient dynasties, such as the Xia (2100 -1600 B.C.), the East Zhou (770 - 256 B.C.). It experienced prosperous growth, making it one of the most affluent cities of the Tang Dynasty. To enlarge the space for the rich collection of relics, the new museum is completed and opened to the public in 2009, located in the south of Niewan Village, Anle Town, next to Sui (581 - 618) and Tang (618 - 907) Dynasty Ruins Botanical Gargen. Among its excellent selection of thousands of culture relics, the following are the best exhibits.
Gold Seal
Firstly you will see a Gold Seal crafted during the West Jin Dynasty (265 - 316 A.D.) Its base is square and engraved with five Chinese characters in the style of seal cutting. You will find the layout and the design of this seal simple but orderly.
The Ceramic Glazed Teapot
A Ceramic Glazed Teapot comes second in Luoyang Museum. It has a flat bottom, a dragon-like handle and its body is primarily a brown ceramic glaze with grey-white spots, which gives the teapot an elegant appearance.
Tang Tri-colored Glazed Pottery
Speaking of the Tang Dynasty (618 - 907), you may know of the world-renowned Tang tri-colored glazed pottery, a type of pottery produced with three colorful ceramic glazes, namely yellow, green and blue and the Luoyang Museum exhibits such pottery, including this classic example of a plump and life-like woman; mirroring the female aesthetic of the Tang Dynasty. Careful inspection will reveal complicate craftwork of the Tang tri-color glazed pottery, and that she is in a long brown gown, coils her hair in a bun and has but light makeup.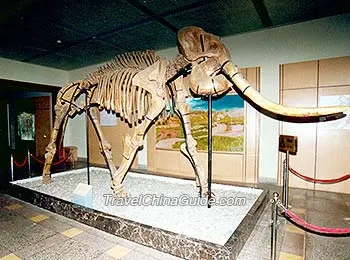 Framework of an elephant
A Small Jade Figurine
Next up is a small figurine crafted in jade. The figure is crouching on the floor with two hands crossing in front of his abdomen. He is a high cheek boned man with thick eyebrows and a wide mouth and his mysterious status is complemented by a mask over his face. His heart-shaped and short-sleeved garment is very valuable for researching the fashion of dress during the Warring States Dynasty (475 - 221 B.C.).
A Replica of 'Golden Throne'
The last piece you can't miss in Luoyang Museum is a replica of 'Golden Throne' sent by the Beijing
Forbidden City
. In China's ancient history the golden throne was used exclusively by successive Emperors in the Hall of Supreme Harmony (Taihedian) within the Forbidden City in Beijing. The replica, made at a ratio of 1:7, is carved with dragons and embedded with jade and ruby.
All in all, the exhibits from different dynasties displayed here number far, far more than the above-mentioned items. If you are an archaeological or historical enthusiast, the Luoyang Museum should definitely be incorporated in your travel plan.
| | |
| --- | --- |
| Painted pottery maid servants | Tri-color figures of horses and groom |
How to get to Luoyang Museum
1. Take bus 77 to Luoyang Bowuguan (Luoyang Museum).
2. Take bus 37/ K37, 49/ K49, 68/ K68, 601, or 602 to Mudan Qiaonan.
Entrance Fee
Free
Opening Hours
09:00 - 16:30;
Close on Monday (except during Peony Culture Festival and holidays.)
Nearby Attraction:
China National Flower Garden
: a beautiful garden with 500,000 peonies in 9 colors and other 2,000,000 plants of 1,000 kinds.
- Last updated on Apr. 15, 2021 -
Questions & Answers on Luoyang Museum
Asked by ELSIE96 | Dec. 10, 2015 03:20

Reply
Longmen station to Luoyang Musuem?
I heard that the Longmen Grottoes is closed till the 21st December? How do I get from Longmen Station to the Museum? Do I tell the taxi driver the new or old museum? What bus should I take or how much is a taxi? From the musuem I want to go to long distance bus station to take a bus to Shaolin. I noted that I should take the bus to Xuanchang and it will stop at Shaolin Temple? Thanks.
Answers (1)
Answered by Julia from UNITED KINGDOM | Dec. 10, 2015 19:12

2

1

Reply
1. The Grottoes is closed from December 3rd to 20th for renovation.
2. Take bus line 49 from LM Station to Niewan South Station. Then, walk east for about 800 yards to your destination. By taxi, you need to tell the driver to take you to the new one, or you may show him/her the note "师傅,您好!我想去洛阳博物馆新馆,位于洛龙区聂泰路, 谢谢您!" for your convenience. The taxi fare may be CNY 16 to 20.
3. To go to Shaolin Temple: take bus line 68 from Niewan South Station to LY Railway Station. Then, you will see the City Bus Station to the opposite of the railway station. Then, take a coach to Shaolin Temple for CNY 19. The coaches are available from 5:30 to 12:30, and the duration is about 2 hours. By the way, the final station of the coach is Xuchang, not Xuanchang. :)
Asked by ELSIE96 | Dec. 05, 2015 08:33

Reply
How to get to New Museum from Longmen Grottoes?By bus or taxi. How much would it cost by taxi?
How far is the museum to the bus station to Shaolin or Dengfeng?

Can we take a bus to Xuanchang and it will stop at Shaolin Temple? What's the time of the last bus?
Many thanks
Answers (1)
Answered by Rita from SINGAPORE | Dec. 06, 2015 00:29

3

1

Reply
1. From the Grottoes, you can take bus no. 60 or K60 and get off at Jicui Nanjie Jicui Beijiekou. Then walk around 10min to the museum. By taxi, it costs CNY25 or around and the travel time is at most 20min.
2. It is around 7km/4mi to local Long-distance Bus Station where buses to Shaolin or Dengfeng are available. By taxi, it costs CNY15 or around.
3. Yes, buses to Xuchang pass the temple, so you can just ask to get off in front of the temple. The last bus leaves at 15:50 by the way.
May help!
Asked by Hilton | Oct. 22, 2012 21:49

Reply
How to get to Luoyang Museum from Longmen Grottoes?
Hello, I'd like to visit either here or White Horse Temple after I visit the Longmen Grottoes? Are there any buses that I can take to either place from Longmen? Thanks.

Answers (3)
Answered by Andrew | Oct. 22, 2012 22:40

2

0

Reply
From Longmen Grottoes to the White Horse Temple, you can firstly take bus 53 to Guanlin and then take bus 56 or 58 to the White Horse Temple.
When go to the old museum, you can take bus 81 to Wangcheng Park and then take bus 77 to get there. When go to the new one, you can take bus 60 to the New District and transfer to bus 49 to Suitang Botanical Garden. Then walk ahead for about several minutes, you will find it.

Answered by Hilton | Oct. 24, 2012 01:46

0

1

Reply
Thanks, Andrew.
What's the exact location of the new museum?
Also, which is better- the old or the new one?
Thanks.

Answered by Andrew | Oct. 24, 2012 01:53

1

0

Reply
Hi, the new one is located in the north of Sui and Tang Heritage City Park.
Relatively, collections of the old one is being moved to the new one, so you may get a better look in the new one.
Asked by Inge from CHINA | Aug. 10, 2011 00:03

Reply
Is the old museum on Zhongzhou Lu still in use? And how far is the new museum from Luoyang?
Answers (1)
Answered by Cindy from CHINA | Aug. 10, 2011 02:21

1

0

Reply
Didn't find any accurate information saying the old one is still in use or not. But most of the treasures have been moved and displayed in the new one. Not necessary to see the old one now.