Luoyang Attractions - Things to Do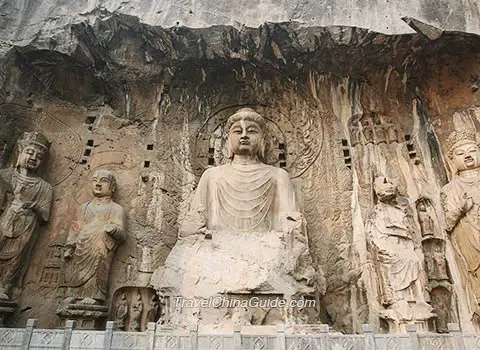 Longmen Grottoes
The city of Luoyang enjoys a pre-eminent reputation as a cradle of Chinese civilization. For over 4,000 years, it served as the capital city of thirteen different Chinese kingdoms including the first, the Xia Dynasty (21st-16th century B.C.). The city is thus endowed with countless historical sites and cultural treasures.

Top Things to Do in Luoyang

Longmen Grottoes

Shaolin Temple

White Horse Temple
Longmen Grottoes is situated in the southern outskirts of the city. Having survived for about 1,400 years, the over 2,100 grottoes have tens of thousands of statues of Buddha and more than forty Buddhist pagodas as well as a large number of stone stables. These grottoes, together with the
Yungang Grottoes
in Datong and the
Mogao Caves
in Dunhuang, are the three major cave clusters in China.
Bai Garden
is nearby the grottes, separated by the Yi River in front of the grottoes.
White Horse Temple is a Buddhist temple in the eastern portion of the city. This temple, which is over 2,000 years old, is honored as the 'Founder's Home' and the 'Cradle of Buddhism'.
Shaolin Temple , on the slopes of
Songshan Mountain
between Luoyang and Zhengzhou, is renowned for its Shaolin martial arts that are so popular in China and the rest of the world. Built in the year 495, the temple preserves its original palaces, mural paintings and stone inscriptions. Not far from the temple, there is the
Shaolin Zen Music Ritual
performanced at night, known as the world's largest-scale outdoor performance in mountains and mainly showing the Zen Buddhism concepts.
Other Attractions
Guanlin Temple
is named after a famous hero in Chinese history who is the best representation of loyalty, Guan Yu. The temple is also the General Guan's Tomb where Guan Yu's head is buried.
Luoyang Ancient Art Museum
is located in a village in the northern part of the city. Here we find 25 restored ancient tombs of several dynasties ranging from the Western Han Dynasty (206 B.C.-24 A.D.) to the Northern Song Dynasty (960-1127). There are elaborate murals in the tombs reflecting the daily life of the nobility in ancient times. Luoyang Museum is the only comprehensive museum in the city. It is located in the prosperous district in the downtown, neighboring the Wangcheng Park in the west. This reputed museum well exhibits the rich history of the city.
Related Attraction:
Luoyang Museum
| | |
| --- | --- |
| Shaolin Temple | The Hall of Mahavira |
The city's natural beauties are as equally attractive as its historical sites. White Cloud Mountain National Forest Park (Baiyunshan) spans the Yangtze, YellowRiver and Huai River. White Cloud Mountain National Forest Park built on the mountain is praised as the 'Natural Museum' because of the manyspecies of animals and plants in its primitive forests. Its seven peaks are wreathedby white clouds all year round giving the mountain an aura of mystery and charm.

China National Flower Garden, sizing 255 acres, is located at the southern bank of Luo River of Luoyang. This garden cultivates 500,000 peonies in 9 colors and other 2,000,000 plants of 1,000 kinds. It is advised to go there from April to early May to apprecite the scene of peony blossom.

Longyuwan National Forest is called 'Luoyang's Backyard Garden.' The rolling hills, narrow valleys andgrand waterfalls provide visitors ample contact with nature. Mt. Qingyao isfamous for the emerald green trees on its mountainsides. It is said to be the'Mysterious Capital' of Huangdi -the ancestor of Chinese civilization. Another 'must see' place is the Cockscomb Limestone Cave (Jiguan Cave) designated as the 'Top Cave in Northern China.'The limestone formations take on various appearances looking at different timeslike shields, flags, pillars or waterfalls. Well known as the home of Monkey King, the Flower and Fruit Mountain National Forest Park is also one of the seventy-two BlissfulLands in Taoism. Bai Garden is a famous resort in the city. It is based on the tomb of Bai Juyi, a reputedpoet of the Tang Dynasty.

The city is particularly famous for its numerous types of peony, a traditional Chinese flower that symbolizes magnificence, abundance and thriving. Its peonies rank as the best in the country due to their long growing period and wide varieties. Wangcheng Park, Xiyuan Park and Peony Park are the best places to see and appreciate these beautiful flowers.

Museum of Luoyang Eastern Zhou Royal Horse and Chariot Pits is located under the Eastern Zhou Imperial City Square, right on the original site of the ancient capital of Eastern Zhou Dynasty. It has the only site of this kind of chariot drawn by six horses in the world. It also shows the profiles of the imperial city and cultural relics of Eastern Zhou Dynasty.

Situated in the northern suburbs of Luoyang, the Yellow River Xiaolangdi Scenic Area is home to the Xiaolangdi Water ConservancyProject. The project plays an essential role in irrigation, flood preventionand electricity generation for people in the lower reaches of the Yellow River.The reservoir divides the river into thousands of sections making the area looklike a 'Thousand Island Lake.
| | |
| --- | --- |
| Statues of Ethnic Hu People and Camels | Site of six horse-drawn vehicle |
- Last updated on Jun. 13, 2022 -
Questions & Answers on Luoyang Attractions
Asked by Rosa from PHILIPPINES | May. 04, 2019 11:15

Reply
Hi. How can I go to the Shaolin Temple from Zhengzhou Train station or Luoyang train station?
Thank you
Answers (3)
Answered by Adam from USA | May. 07, 2019 00:22

0

0

Reply
You can take a bus from Zhengzhou Central Bus Terminal which is near the Zhengzhou Railway Station to Shaolin Temple. The bus departs from 7:00 to 11:00 every hour and it takes about 1.5 hours to the temple. The bus fare is CNY 28.
Answered by Jeff | Jul. 02, 2021 06:26

0

0

Reply
Hello. What is the number of the bus from Zhengzhou Central Bus Station to the Shaolin Temple, please? Thank you.
Answered by Nolan | Jul. 04, 2021 20:08

0

0

Reply
You can take a coach from Central Bus Station to the temple directly. The bus schedule are 07:00, 07:30, 08:00, 08:30, 08:50, 09:30, 09:40, 10:10 and 11:00. The duration is 1.5 hours with the fare of CNY 28/person.
Asked by Peter from MALAYSIA | May. 04, 2019 08:46

Reply
Does wheelchairs made available at Shaolin Temple?
Am travelling with my elderly mom with problem walking, is there any wheelchair provided at Shaolin Temple?
Answers (1)
Answered by Moria from AUSTRALIA | May. 07, 2019 00:05

0

0

Reply
They have wheel chairs but in some places there is no wheelchair access.
Asked by Anna from RUSSIA | Mar. 09, 2019 16:39

Reply
Hi. Could you give us advice how to plan visit to Longmen grottoes?
We arrive from Beijing to Luoyang longmen train station at 11-05. Where we can leave our luggage? How we can reach Longmen grottoes, which bus? where is bus station? What's the price? Is it park? How much is cost the entrance? What is the best way to see this sightseeing? We want to see exactly "must see" points, not everything :-) and then in the evening we want take a train to Xi'an. But can't understand what time we should depart because we don't understand how long time we can spend there. Please could you give us advice?
Answers (3)
Answered by Penelope from USA | Mar. 14, 2019 00:23

0

0

Reply
Longmen Railway Station has several places for you to leave the luggage.
You can take public bus no.94 to Longmen Avenue Bus Stop. Then walk south around 750 meters to find the scenic area.
The ticket fare is CNY2/person. The scenic area entrance ticket is CNY90/person.
You shouldn't miss Fengxian Temple, Wanfo Cave, Guyang Cave, Binyang Cave and Lotus Cave (Lianhua Cave).
You can spend 4-5 hours for sightseeing.
Answered by Anna from RUSSIA | Mar. 15, 2019 01:10

0

0

Reply
Thank you very much. Could you tell about boat. I saw some photos of grottoes which were made in a boat (I think so). But I don't understand where I should search this boat. How long does this trip take? What the price? Where are start and finish?
Answered by Penelope | Mar. 17, 2019 23:51

0

0

Reply
Yes, the scenic area provides the cruise boat. As I know, the boarding site is at Fengxian Temple. The duration is around 15mins. You can also find the place based on the signs inside the scenic area. The ticket fare is CNY25/person from Fengxian Temple to Baiyuan.
Asked by Eileen Oo from UNITED KINGDOM | Feb. 05, 2019 09:18

Reply
How can i get to Huashan from Luoyang, Henan?
Answers (1)
Answered by Ellen from DENMARK | Feb. 17, 2019 22:20

0

0

Reply
Take high speed train from Longmen Railway Station to Xi'an North Railway Station first. It takes around 2 hours on the way. Then take a taxi to the Main Railway Station. After arriving, there are several direct tourist buses that can take you to the destination.
Asked by Monika from NETHERLANDS | Jan. 30, 2019 06:31

Reply
Is it possible to travel by night train from Luoyang (preferred) or Xi'an to Shanghai?
If yes, do we need to book tickets much in advance? How much would it cost (regular class ticket) for 2 adults and for 7 year old child? Could you please provide a link to a railway company?

Thank you very much in advance!
Monika
Answers (1)
Answered by Charley from DENMARK | Jan. 31, 2019 23:46

0

0

Reply
You can take bullet train from Luooyang Longmen Railway Station to Shanghai Hongqiao Railway Station. It takes around 6 hours on the way. The ticket fare of 1st Class Seat is CNY844, 2nd Class Seat is CNY512.5 and business cls. seat is CNY1618.5.
Children under 1.2 meters don't need tickets. Children between 1.2 and 1.5 meters can enjoy the Children Tickets. Children above 1.5 meters need to buy the full price ticket.
Generally speaking, you are advised to book the train tickets in advance. TravelChinaGuide.com provides this service. If interested, their contact information is booking

travelchinaguide.com.