Luoyang Pictures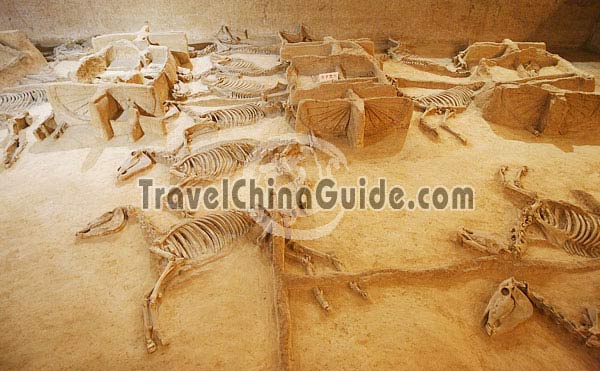 Burial Pit of Horses and Chariots in the Eastern Zhou Dynasty
Luoyang, Beijing, Xi'an, Nanjing, Hangzhou, Anyang and Kaifeng, have each been one of the seven ancient capitals of China at various points in its long history. Luoyang was the capital during thirteen dynasties so many ancient cultural relics remain there. These photos are of Burial Pits of Horses and Chariots, the Residential House of Xuan Zang and the Yongtai Temple. Xiaolangdi, the largest flood control and hydropower project on the Yellow River is also located in this ancient city. City Intro:
Luoyang
- Last modified on Jul. 14, 2017 -
Questions & Answers on Luoyang Pictures
Asked by Ms.irismari | Mar. 23, 2011 00:48

Reply
Would you recommend riding the train from shanghai to zhengzhou? I have heard some feedback that trains in china are not a pleasant experience. I am planning to take the train from zhengzhou to shanghai middle of oct 2011.
How much is the fare?

Answers (1)
Answered by Mr.Jim | Mar. 23, 2011 03:32

33

0

Reply
If you buy a seat ticket, i am sure that you will feel the train journey is suffering. However, a sleeper or a ticket of D-train can be a pleasant one.
I advidse you to take the bullet train (start with D), it is fast and the service is quite good. However, it is a little costly. The bullet train ticket is about 370 yuan for the first class and 300 yuan for the second class. The duration is about 7 hours.

Asked by Mr.WOLFGANGAMMON from GERMANY | Aug. 04, 2009 07:10

Reply
dear madam, dear sir:

is there a direct bus luoyang - pingyao ? at what time ?

if not:
is there a direct bus to linfen ? at what time ?

if not:
is there a direct bus to taiyuan ? at what time ?

thanks in advance !
best regards, wolfgang



Answers (1)
Answered by Mr.him from CN | Aug. 05, 2009 04:31

22

0

Reply
No direct bus between luoyang and pingyao, but there are bus between to linfen. The departure time is 9:30, 10:30, 11:15, 12:00, 14:00, 20:00. the price is about 70 yuan.