Longmen Grottoes Pictures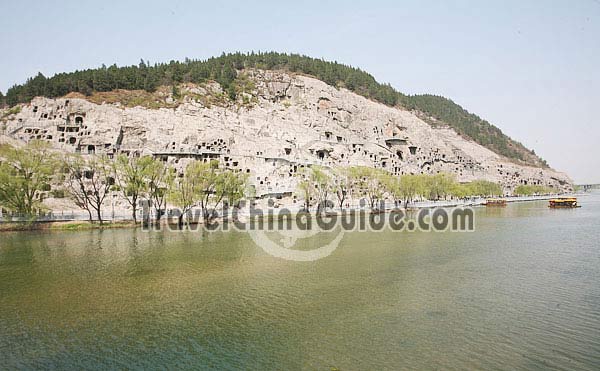 The Longmen Grottos are situated on the bank of the Yi River in Luoyang
12 kilometers south of downtown Luoyang, the Longmen Grottoes are a famous tourist attraction of Buddhist art. Together with
Maiji Caves
in Tianshui,
Mogao Caves
in Dunhuang and
Yungang Grottoes
in Datong, they are called Four Largest Buddhist Caves in China. At the site, two mountains stand facing each other with a river flowing between them. In ancient times, this was a very important battle field. Attraction Intro:
Longmen Grottoes
- Last modified on Sep. 22, 2017 -
Questions & Answers on Longmen Grottoes Pictures
Asked by Mr.henn | Mar. 23, 2011 21:36

Reply
i'm a foreign student in china....can i use my student card to receive a half price at Longmen Grottoes Site?
Answers (1)
Answered by Mrs.Jenny | Mar. 24, 2011 22:07

20

1

Reply
Hi Henn,

I am afraid that you can't receive a half-price ticket. According to the notice of the official website, those who hold valid student cards will receive half-price tickets. But a note reveals that the preferential policy is only available to Chinese citizens (including people from Hong Kong, Macau and Taiwan).

Asked by Ms.Charity from USA | Nov. 23, 2010 06:23

Reply
I am travelling to Zhengzhou via train coming from Beijing this December. My friend and I would like to visit both the Shaolin Temple and the Longmen Caves. Since we are coming into Zhengzhou would you suggest we visit the Shaolin Temple first and then go to the Longmen Caves? Also if you think that is a good idea, how can we get from the Shaolin to the Longmen Caves? At the end of our stay we will be retuning to Xi'an via the train. Thank you!
Answers (1)
Answered by Mr.Jason from CHINA | Nov. 23, 2010 19:39

16

0

Reply
Yes, if you arriving in Zhengzhou first I think you should go to Shaolin Temple first. It seems there is direct bus to Longmen Cave from Shaolin. I can not make sure the time, so suggest you ask for local people when you are there. If you can not catch the direct bus, you can go to Dengfeng Coach station first and then take bus to Luoyang. Then take bus to Longmen Caves. I don't think one day is enough for these two places
After visiting, you can just take taxi to Longmen Train Station. That is a high speed railway station having direct speed G trains to Xi'an, 2 hours journey. Hope this help you.
Asked by Ms.Nina from AUSTRALIA | Oct. 06, 2009 00:10

Reply
Hi,

I am travelling through China with some friends in December and we want to see the Longman Grottos and Guanlin Temple. We also want to travel to Shaolin Temple to see the kung fu show. Where should we stay in Luoyang and is it very far to Shaolin Temple or do you suggest we stay in Zhengzhou? We also would like to travel to Beijing from here. Do you recommend travelling from Luoyang or Zhengzhou?

Thanks
Answers (6)
Answered by Mr.Paul | Oct. 09, 2009 22:52

6

0

Reply
It seems there are shuttle bus between Longmen Grottoes to Shaoling Temple. So I think you can go to these two places, after that you can go directly to Zhengzhou city and stay there. Zhengzhou is the city where you can easily reach Shaolin Temple and Beijing. There are bullet trains between the two cities.
From zhengzhou, you can easily reach Shaolin.

Answered by Ms.Nina from AUSTRALIA | Oct. 12, 2009 09:16

0

0

Reply
Thanks Paul.

How long does it take from Zhengzhou to Shaolin Temple? And what time is the kung fu show on?
Answered by Mr.Paul | Oct. 14, 2009 01:56

0

0

Reply
About 1.5 hours by bus. The shows are performed at 3pm, 4pm and 5pm. Every show lasts 30 minutes. No need to pay for the show.
Answered by Mr.swanhouw

yahoo.com from NETHERLANDS | Oct. 24, 2009 06:41

0

0

Reply
In 2007 I stayed in a hotel just 50 meters next to right handside of the station exit. Very simple, clean rooms and cheap ( about 150 Rmb maximum per night). When U cross the station square on the left side there is a kind of busstation where every 12 minutes there is a ordinary city-bus departing to LongMen Grottoes ( it's the end of the line). Just ask at the hotel the number of the bus ( I forgot sorry).
For the Shaolin tour I would suggest you collect data at the hotel.
As we were in a budget hotel in the centre of town there were many possibilities to choose from and we booked directly upon arrival for the next morning to take the daytrip to Shaolin. You will be guoided to 5 spots of which 3 are temples. The bus location to commence the tour will be told to you by the person where you register the trip. As December is the winter season in our Northern hemisphere, I am not so sure about the frequency of the bus tours. I was there in October, which is the ideal month to visit China.
Have a pleasant tour and lots of good luck.


Answered by Mr.swanhouw

yahoo.com from NETHERLANDS | Oct. 24, 2009 06:56

0

0

Reply
October 24,2009
Sorry I forgot to tell that I used Luoyang as my starting point. ZhengZhou is a little to big and too busy for me.
Besides I went with 2 elderly chinese friends, so I was in good hands and they did the talking for me. After 3 days we were picked up by some nephews of them and we drove to Ji Yuan village ( about 70 km north of LuoYang. Many sigghtseeing spots within 30 K from JiYuan, we visited the Wang WU Shan mountains to admire the autumn leaves and also saw a more than 1000 years old tree, and paid a visit to the Huang He ( Yellow river) hydropower-basin.
Answered by Ms.Nina from AUSTRALIA | Oct. 24, 2009 19:42

0

0

Reply
Thanks for your help!

I just wanted to know also if I take the K16 train from Luoyan to Zhengzhou (1217-1348) on the 23/12 will I have time to travel to Shaolin Temple after checking in at my hotel? Or should I take the earlier train (K890 0725-0909)?

Also is this itinerary possible?

Dec 22: Arrive in Luoyang on the K84/K81 train (0835-1336). Check into hotel. Go to Guanlin Temple (1hr) then spend the rest of the day at the Longman Grottos.
Dec 23: Take a train to Zhengzhou, check into hotel then travel to Shaolin Temple. Stay overnight in Zhengzhou.
Dec 24: Take a flight to Beijing

Also is travelling to Guanlin Temple and the Longman Grottos possible by taxi? Would it be difficult for us if we do not know Manderin? Would you be able to give me the names in Chinese?

With Shaolin Temple I have read that I can ask the hotel to arrange bus tickets is this correct? Or is there a website where I can buy return tickets?

Thanks so much for your help

Thank you for yoru help