Mogao Caves Pictures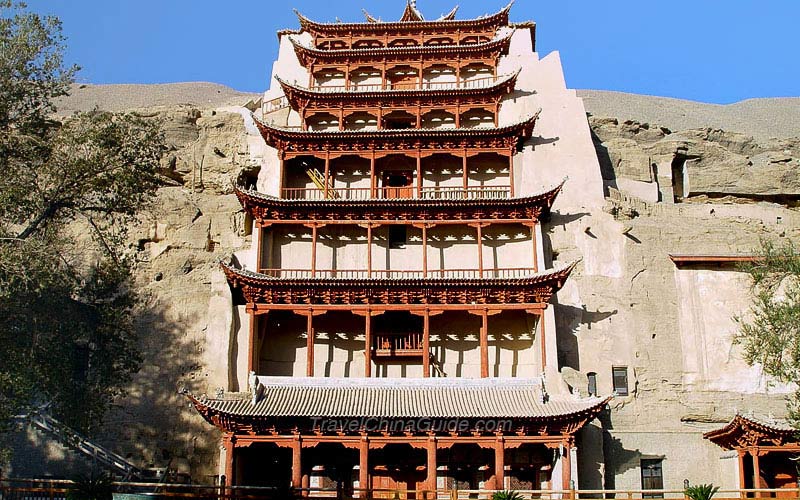 The Mogao Caves are one of four largest grottoes in China along with
Maiji Caves
in Tianshui,
Longmen Grottoes
in Luoyang and
Yungang Grottoes
in Datong. They are set into a cliff-face of Echoing Sand Mountain about 25km southeast of Dunhuang. This honeycomb of caves was constructed over a millennium, from the 4th to the 14th centuries, and represents the height of Buddhist art and the world's richest treasure house of Buddhist sutras, murals and sculptures. Attraction Intro:
Mogao Caves
- Last modified on Oct. 07, 2018 -
Questions & Answers on Mogao Caves Pictures
Asked by Karen from USA | Oct. 05, 2018 20:22

Reply
Is Mogao caves wheelchair accessible? How about the rest of Xinjiang?
Answers (1)
Answered by Daniel from BELGIUM | Oct. 07, 2018 20:24

0

0

Reply
Well, as I know, it's not so convenient for the people to use wheelchairs in Mogao Caves and some of the attractions in Xinjiang.
Asked by soh from SINGAPORE | Sep. 03, 2017 09:14

Reply
Mingsha Dunes and Mogao Caves (entrance ticket)
I am visiting Dunhuang in mid Nov 2017. I have 2 questions:

(a) Is it consider low season?
(b) Would the weather be bad for the visit?
(c) Would I be able to purchase the entrance tickets to Mogao Caves at the ticket counter?
Answers (1)
Answered by Leah from SINGAPORE | Sep. 08, 2017 00:52

0

0

Reply
1. Yes, you are correct. November is the low season of scenic areas in Dunhuang.
2. According to the previous statistics, the temperature may range from -6C to 8C during that period. It will be ok for you to visit there. Don't worry. Just prepare some warm clothes in order to adapt large diurnal temperature difference.
3. Yes, you can purchase the tickets at the ticket counter when you arriving there in November.

Have a nice trip!
Asked by seng from SINGAPORE | Mar. 03, 2017 05:36

Reply
Is Mogao ticket need advance booking?
Can we buy the same day ticket upon our arrival on 27 March 2017?
Thank you.
Answers (1)
Answered by Velma from AUSTRALIA | Mar. 04, 2017 20:23

1

0

Reply
Seng, there should not be many visitors on that day, you may buy the tickets when you arrive there, but it is still suggested you make an online reservation just in case.
Asked by Gnun from THAILAND | Dec. 23, 2012 06:40

Reply
Do you have the detail of train schedule from Dunhuang to Turpan
I have heard that there is The newly-built Dunhuang City Railway Station , 10 km east of the downtown , has few trains connecting with Turpan.Do you have the detail of train schedule?, And from Jiayuguan to Dunhuang,I have to take off the train at Liuyuan then take bus to the city only? there 's no direct train from Jiayuguan to The newly-built the City Railway Station?

thanks in advance
Answers (3)
Answered by Gnun | Dec. 26, 2012 02:40

0

0

Reply
Hello anybody there? answering my question please.
Answered by Tilly | Dec. 26, 2012 03:16

1

0

Reply
That's right. There is a railway station as you mentioned. It is not far from the downtown. But there is no connecting trains between the train station and Turpan. Therefore, if you wanna go to Turpan, the best way is to take a train at Liuyuan.

From Jiayuguan, actually there are direct connecting trains to Dunhuang. The train schedule can be searched in the website:
https://www.travelchinaguide.com/china-trains/
Answered by Gnun | Jan. 02, 2013 03:55

0

0

Reply
Is there any a Left Baggage counter at train station in Dunhuang ?

thanks in advance
Asked by Mr.maria | Mar. 08, 2011 19:56

Reply
Is there any train from Urumqui to Dunhuang on October?

Is it better to go by bus or by train from Dunhuang to Jiayuguan?

How is the scenery? Is it worth it to go during day time
Thank you
Maria

Answers (1)
Answered by Ms.Stella | Mar. 09, 2011 19:25

16

0

Reply
Yes, there is a train daily from Urumqi to Dunhuang at 18:57, the train would arrive at 10:41, I think the scenery will be worth seeing but most of the trip is in night time.