Yungang Grottoes Pictures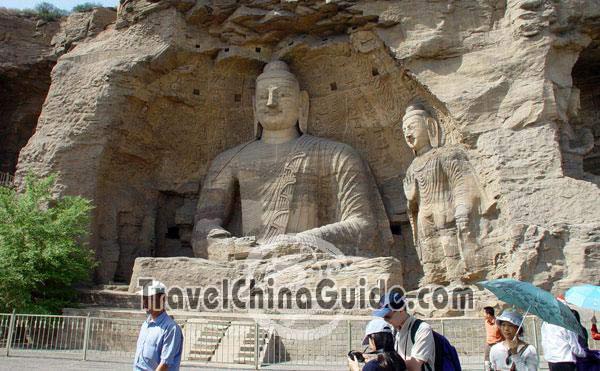 The seated statue of Sakyamuni of Cave 20 is 13.7 meters (45 feet) high, which is the representative statue of Yungang Caves.
The Yungang Grottoes in Datong are one of the largest grottoes in China, along with
Mogao Caves
in Dunhuang,
Longmen Grottoes
in Luoyang and
Maiji Caves
in Tianshui. Lying at the foot of the Wuzhou Mountain, this site has 45 main caves, 252 shrines and over 51,000 figures, representing the outstanding Buddhist art of China during the 5th and 6th Century. Attraction Intro:
Yungang Grottoes
- Last modified on Feb. 16, 2017 -
Questions & Answers on Yungang Grottoes Pictures
Asked by P AKERS from CANADA | Feb. 14, 2017 13:41

Reply
Longmen Grottoes vs Yungang Grottoes
I am planning on going to both Luoyang and Datong, BUT if I am pinched for time and can see only 1 of the 2 grottoes which should I see?

Answers (1)
Answered by Karen from NEW ZEALAND | Feb. 16, 2017 01:04

1

0

Reply
Longmen Grottoes combines the features of both minority groups and Han nationality while the grottoes only reveals the minority style. Plus carvings and statues of Longmen Grottoes are more exquisite and elegant, so I personally suggest you Longmen Grottoes.
Asked by esther wee from MALAYSIA | Feb. 11, 2012 00:44

Reply
How long do you have to travel from Beijing to Datong?
Answers (1)
Answered by Nancy | Feb. 13, 2012 20:42

6

0

Reply
It takes about 6 hours by train, and about 1 hour and 20 minutes by air.
Asked by Mr.lyer from SINGAPORE | Dec. 28, 2009 22:53

Reply
I am very keen to come to Shanxi sometime next year. Please kindly advice me the following,
1.Places of interest to visit.
2.Places of Dances with drums festival
3.Best Time to come for the above events
4.Any other reconmendations

Thank you
Answers (1)
Answered by Mr.Sandy | Dec. 30, 2009 04:48

5

0

Reply
Places of interest: Pingyao Old TOwn, Dadong for Hanging Temple and YUnggang Grotto. Dances with drum is usually help on traditional festivals in countries, such as in Lantern Festival. Time to visit: about April to November.
Asked by Ms.K from AMERICA | Jul. 19, 2009 04:14

Reply
Hello I am wondering how difficult it is to drive myself from the city of Datong and find our way out to the Hanging Monestary? It is about 40k from the city. The travel book I have describes the road in an unfavorable manner.
Answers (1)
Answered by Mr.Clark | Jul. 19, 2009 20:46

0

0

Reply
Drive to Hunyuan Country through Beijing-Datong Express Way and to Provincial RoadNo.203 and turn right via the first ring cross. It is not easy for you to drive yourself there, unless you know where is exit to the experssway and how to get off the express way to enter Yunyuan County. Why not rent a taxi and get around Hengshan Mountain and Hanging Temple together.