Maijishan Grottoes Pictures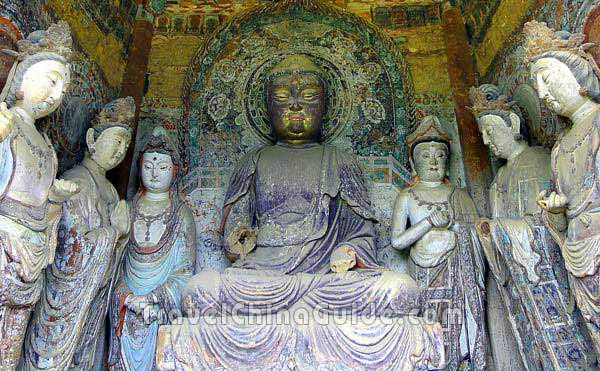 Maiji Mountain Grottoes are the fourth largest areas of Buddhist grottoes in China, after Magao Caves in Dunhuang, Yungang Grottoes in Datong and Longmen Grottoes in Luoyang.
Maijishan Grottoes, the oriental museum of sculpture, are one of four largest grottoes in China along with Mogao Caves in Dunhuang, Longmen Grottoes in Luoyang and Yungang Grottoes in Datong. They were excavated in Maiji Mountain, Tianshui. Begun in the Hou Qin Dynasty (384-417) since the opening of the Silk Road, this huge project lasted 1,600 years till the 20th century. The statues and the murals reflected the aesthetics of various times, ranging from the slim figures of North Dynasty to plump ones from the Sui and Tang Dynasties.
Attraction Intro:
Maijishan Grottoes
- Last modified on Aug. 10, 2018 -
Questions & Answers on Maijishan Grottoes Pictures
Asked by Ms.Rose | Mar. 08, 2011 20:21

Reply
Four of us (2 couples) would like to take train (soft sleeper)to Lhasa in September/October 2011. Should we start in Beijing, Lanzhou or Xining? Is it the same train? Is there some kind of tourist train that stops at interesting points (e.g. Tangulla Pass)? What are the prices and timing? Do you sell tickets to Lhasa?
Answers (1)
Answered by Ms.Rachel | Mar. 09, 2011 19:27

14

0

Reply
The train T27 departs from Beijing stopping at Lanzhou, Xining and some other cities. I have never heard of tourist trains. For the train tickets to Lhasa, you can buy it at the railway station or through some travel agencies. The Tibet Travel Permit is required to travel there
Asked by Mr.Otto from AUSTRIA | Dec. 31, 2009 05:42

Reply
I wish to fly from Tianshui to Xi'an in April 2010, but I cannot find a schedule on the web for this destination. I only found the news a new airport has been opened in September 2008 and there would be regular scheduled flights to Xi'an, but no schedule nor any info how and where I could make a booking. Can anyone please help?
Answers (1)
Answered by Mr. Dan from CHINA | Jan. 03, 2010 20:39

0

0

Reply
Hi, there are direct flights from Tianshui to Xi'an, which are available on Tuesdays, Thursdays and Saturdays. GS7404, Tianshui-Xi'an, 14:00-15:00, Tianjin Airlines. Since your departure date is in April of 2010, the airlines haven't published the ticket price yet. Thus, you can call the booking agency one month before your travel date.