Yuquan Temple Pictures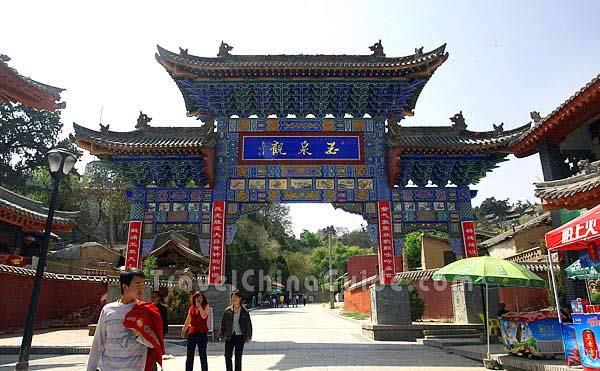 Yuquan Taoist Temple is a cultural site in Tianshui city, Gansu Province.
Yuquan Taoism Temple, getting its name after, jade spring (yuquan in Chinese), lies against Tianjin Mountain. The water here is clear and sweet and the spring has long been a scenic spot in the area. The temple was first built in the early Tang Dynasty, has collapsed, been destroyed and rebuilt several times. It blends with the surroundings harmoniously, which is an element of Taoism.
- Last modified on Nov. 28, 2017 -
Questions & Answers on Yuquan Temple Pictures
Asked by logeay from FRANCE JOSETTE | Feb. 24, 2016 09:37

Reply
Tianshui Yuquan temple open hours
I would like to visit this temple early in the morning, but i have found diffent opening hours : 7:00, 8:00, 8:30... which is correct? the same question for Fuxi temple.
Answers (1)
Answered by Anna from CANADA | Feb. 24, 2016 19:49

1

0

Reply
Oh, both of them open to the public at 08:00 in the morning. As they are within walking distance, you can cover them both in a day.
Asked by Mr.Sam Harry | Mar. 08, 2011 20:23

Reply
I need to go to Gansu (Lanzhou) from Fujian(Quanzhou),so which is the best way to get there? and how much will that cost? Thank you !
Answers (1)
Answered by Mr.Hank | Mar. 09, 2011 19:28

26

0

Reply
By train, you can transfer at Wuchang, which totally costs about 40 hrs on train. For convenience, you can take flight. The nearest airport from Quanzhou is the airport in Jinjiang City. You can take flight to Changsha from Jinjiang first and then go to Lanzhou by air.
Asked by Mr.Tony from CANADA | Jan. 25, 2010 15:08

Reply
Hi, I am very interested in visiting Lanzhou in the near future. Can u tell me how Best to get to Lanzhou from Shanghai. By train, Bus & Air.................Thanks
Answers (1)
Answered by Mr.Sandy | Jan. 25, 2010 19:44

19

0

Reply
Lanzhou is 2200km away from Shanghai, so I think train and airplane are better choice. The fastest train is T164 from Shanghai Railway Station and get to Lanzhou 20.5 hours later. So, airplane may be the best choice.
You can see more details about flights and trains between Shanghai and Lanzhou here:
www.travelchinaguide.com/china-trains/
www.travelchinaguide.com/china-flights/
Asked by Mrs.laura from ITALY | Aug. 26, 2009 10:47

Reply
I am planning to travel from LHASA to LANZHOU in oct. what is the cost? How can I book the train tickets?
Thanks
Answers (1)
Answered by Mrs.Sarah from SH,CHINA | Aug. 26, 2009 22:24

4

0

Reply
If you take train from Lhasa, you must ask a local travel agency to arrange your stay in Lhasa and apply for the Tibet Travel Permit for you, since foreigners are not allowed to travel in Tibet by themselves. Then you can ask your agency to buy the tickets for you. The hard sleeper is about CNY550 and the soft sleeper is about CNY860. But the handling charge may be very high as the tickets are very hard to get.