Guanlin Temple Pictures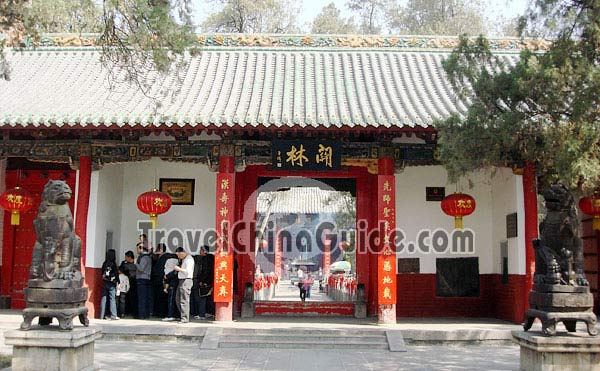 Yi Men (Second Gate), originally the front gate of Guanlin Temple in the Ming Dynasty. Renamed Yi Men in the Qing Dynasty.
Guanlin Temple is the only well-preserved group of ancient buildings in China, which functions both as a temple and a tomb. In 219 AD, the year before the collapse of the Eastern Han Dynasty, Guan Yu was killed and his head was buried here by Cao Cao. Ever since then, this place has undergone numerous construction and restoration projects, but the original tomb remained intact. Nowadays, it boasts more than 180 rooms, 50 classic paintings and 200 sculptures. Attraction Intro:
Guanlin Temple
- Last modified on Oct. 03, 2017 -
Questions & Answers on Guanlin Temple Pictures
Asked by Bijan | Dec. 16, 2013 11:34

Reply
What is the Luoyang's night life street? or night market?

Please advise for a good hotel in that street.
Answers (6)
Answered by Hinda from NEW ZEALAND | Dec. 21, 2013 04:01

1

0

Reply
I recommend the local snack street to you, where there are many Chinese and foreign visitors. It is located at the South Street of the old city. Besides, you can also go to the West Street to have a try!
Answered by Bijan | Dec. 21, 2013 12:20

0

0

Reply
And can you recommend any hotel at that street??
Answered by Cindy from CHINA | Dec. 22, 2013 23:52

2

0

Reply
The night street at West Street that Hinda mentioned should be the Bajiaolou Jinjie is the local well-known snack street at the crossing street of West Street and East Street of Old LY City. I know there is a Yuntian Hotel (云天宾馆) nearby at no. 310, East Zhongzhou Road and the other one is Yijia International Youth Hostel (易家国际青年旅舍), within 350m away.
Answered by Bijan | Dec. 23, 2013 09:48

0

0

Reply
Thank you for reply.I am not familiar with the Luoyang map.Is this hotel:
Hua Yang Plaza Hotel
No.88 Kaixuan West Road, Jianxi District,471003, China
near to that place,night market? Is there any one who had been in this hotel?
regards
Answered by Anna from AUSTRALIA | Dec. 25, 2013 19:19

2

0

Reply
Hi, Hua Yang Plaza Hotel is around 8km from the night market and it is a 5 star hotel.
Answered by Bijan | Dec. 26, 2013 04:08

0

0

Reply
Can you please suggest any 4*hotels near there?
Asked by Mr.Vicky | Mar. 23, 2011 21:38

Reply
can anyone tell me how long it takes to drive from Xi'an to Longman Caves and then on to Shaolin Temple? how many kilometers and how many hours? what kind of roads? thank you.
Answers (1)
Answered by Ms.Ruby | Mar. 24, 2011 22:08

7

0

Reply
About 6 to 7 hours, depended on the traffic. You can take the highway: Xi'an - Huashan - Huayin - Sanmenxia - Luoyang. Luoyang is about 387km to Xi'an.
Asked by Ms.Bhavana from INDIA | Oct. 09, 2009 08:02

Reply
i am planning a trip to xian and luoyang...could you please suggest me the transoport option from xian to luoyang and return? flight option will also do.
Answers (1)
Answered by Mr.John | Oct. 12, 2009 03:13

5

0

Reply
Xi'an is only 4.5-5 hours by train to Luoyang. So, no need to travel by air. There are more than 50 trains shuttling between these two cities. so, it is very easy to get tickets too, if not in public holidays.