White Horse Temple Pictures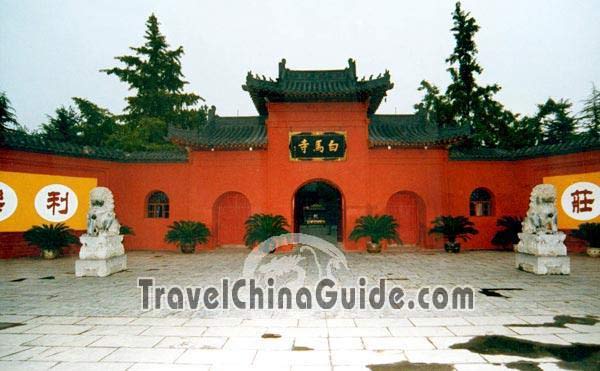 Baima Temple is the first temple built by the government after the Buddhism was introduced to China, Luoyang.
Known as the First Ancient Temple in China, the White Horse Temple (Baimasi) is located 10 kilometers east of Luoyang City, Henan Province. Built during the reign of Emperor Mingdi of the Eastern Han Dynasty, it has a history of more than 2,000 years, which used to be on a large scale. However, having gone through many wars, the complex suffered considerable damage. Now the its remaining ancient buildings are few in number. Attraction Intro:
White Horse Temple
- Last modified on Jul. 18, 2017 -
Questions & Answers on White Horse Temple Pictures
Asked by Sandya Hettige from SRILANKA | Jun. 23, 2014 02:58

Reply
I am from Srilanka. I am hoping to go on a Trip to China next month.
Could you please tell me what are the Interested places that I can see in two weeks time. Sandya Hettige.
Answers (1)
Answered by Sandy from MALAYSIA | Jun. 23, 2014 22:58

0

0

Reply
Sandya, I think you should have a draft plan first. For example, which cities are you going to visit? Then some people can tell you what the interested places are in these cities. If you come to China for the first time, you may visit Beijing, Shanghai and Xi'an. The Forbidden City and Great Wall in Beijing shouldn't be missed. When you go to Xi'an, you may visit Terra Cotta Warriors and Shaanxi Provincial Museum. Shanghai is a modern city. You may visit Pudong Area and some other places of cultural relics, Yuyuan Garden, for example. If you are in Chinese gardens and water towns, you may visit Suzhou and Hangzhou.
Asked by Ms.Bojidara from BULGARIA | Apr. 15, 2011 03:40

Reply
Hello, I will be going to Luoyang next month during Labour day holiday and will be there 4 day. Can you suggest to me what would be the best way to visit Longmen grottoes, White horse temple and the Kung fu academy in Dengfeng? Which one should be first, and is there train from Dengfeng to Beijing, because I didn't find any on internet.
Answers (1)
Answered by Mr.Frank | Apr. 15, 2011 21:06

1

0

Reply
There are direct buses between Longmen grottoes and Kung Fu Academy in Dengfeng. So You can visit Kung Fu Academy first, and then Longmen grottoes. After that, take bus np. 81 to Guanlin, transfer to bus no. 58 to white horse temple. No direct train from Dengfeng to Beijing, but there are trains from Luoyang to Beijing.
Asked by Mr.andy | Mar. 23, 2011 00:46

Reply
Can i get a bus direct from zhengzhou airport to either shaolin temple or kaifeng city ?
Answers (1)
Answered by Mr.John | Mar. 23, 2011 03:30

0

1

Reply
No direct buses. You should take airport bus to the city center and then take a taxi to Zhengzhou Railway Station. Find the long-distance bus station opposite the railway Station. There are direct buses to Shaolin Temple.
Asked by Ms.pei from THAILAND | Mar. 17, 2010 06:49

Reply
What is the best way to go Luoyang from Xi'an?
Could you please tell me is it possible to go from Xi'an to Luoyang in one day trip.What is the best way to go (train or bus? and how long?) Actually I want to leave Xi'an in the morning and go to see only Longmen Grottoes and come back to Xi'an at night. Is it possible . Please suggest. Thank you.
Answers (1)
Answered by Mr.Sam | Mar. 17, 2010 20:02

0

0

Reply
Of course, you could do an 1-day trip to Luoyang from Xi'an by the high-speed G-train. In the morning, you could take the train G2002 departing from Xi'an at 08:30 and arriving in Luoyang Longmen at 10:21. In the afternoon, there will be train G2009 at 17:45 G2011 at 19:52 and G2013 at 21:01 to take you back to Xi'an in 2 hours.

You could search the train schedule and fare in detail here: https://www.travelchinaguide.com/china-trains/