Luoyang Tours -

100% No Shopping Stops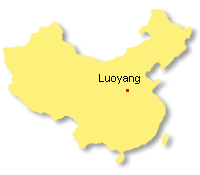 This city was the starting point of the famous Silk Road during the Eastern Han Dynasty (25-220). Luoyang is one of China's seven ancient capital cities. It is noted for its places of historical interest such as the Museum, White Horse Temple, the Shaolin Monastery and Longmen Caves, all of which are included in our specially devised private package. The Peony - the national flower of China, emphasizes the city's importance. The Shaolin Martial Arts have inspired people world-wide, and should not be missed during your trip.
Hot Spots:

Longmen Caves - one of three major cave systems in China. These grandiose caves filled with immense Buddhas are wealth created by the ancient Chinese. The grottoes were densely carved on the cliff of two mountains: Xiangshan and Longmenshan. Valuable relics, like niches, inscriptions, stupas, and sculptures are richly housed here. Longmen Caves was listed in the UNESCO World Heritage in November 2000.

Shaolin Temple - Situated in the Song Mountain, about 12 kilometers from the west of Dengfeng City, it is the most reputable and longest standing temple in China. The temple is the ancestor court of Zen and the birthplace of the Shaolin Kung Fu that has become the treasures of Chinese martial arts after perfecting from generation to generation. Now the Shaolin Temple has become the only tourist destination for Zen and Martial Arts training. The main scenic spots in the temple are the Hall of Heavenly Kings, the Grand Hall, the Sutra Depository, Hall of Thousands of Buddha and the Pagoda Forest.

White Horse Temple - Known as the first temple of Chinese Buddhism, its history can be dated back to 1900 years ago. In 64 AD, the Emperor Mingdi of the Eastern Han Dynasty dispatched envoys to the Western Regions to make a courtesy call for Buddhism. Three years later, the envoys and two great Indian monks returned with scriptures and Buddha statues which were carried back by white horses. In the next year, the emperor ordered to build a temple in Luoyang and named White Horse Temple to enshrine the services of the white horses.
Customer Reviews

Questions & Answers
Everything was good. Responsible tour guide, reasonable itinerary and excellent explanation... I thought highly of the Luoyang tour!

I booked this 3 days boutique trip to Luoyang for my parents, a perfect itinerary. My parents spoke highly of this tour. They had a great time in Luoyang and there was no forced shopping.

Special thanks to their guide who was so considerate to remind the attention matters!

The hotel was nice. Extremely satisfied!

Posted on November 28, 2020

A satisfying tour! The whole itinerary was well designed and we had much fun. The travel agency had knowledgeable local guides who spoke good English. They arranged meals at good restaurants and they tasted delicious!
We will certainly choose TravelChinaGuide travel agency the next time we go to China! The Luoyang essences day tour deserved your choice!