Luoyang Essences Day Tour
Shaolin Temple - Longmen Grottoes
In the morning, you will meet the guide and driver of this private 1-day Luoyang shaolin tour at the lobby of your hotel, or at the railway station. We kindly suggest you arrive before 10:00 in the morning for the tour.
We will then head towards the Shaolin Temple in Dengfeng City. Before entering the temple, our guide will give you a brief introduction about this magnificent Buddhist haven, after which you can explore and acquaint yourself with Buddhist culture. Afterwards we will accompany you to the Pagoda Forest - a place where countless eminent monks were laid after their death. Later, we will enjoy a wonderful Shaolin Kung Fu show.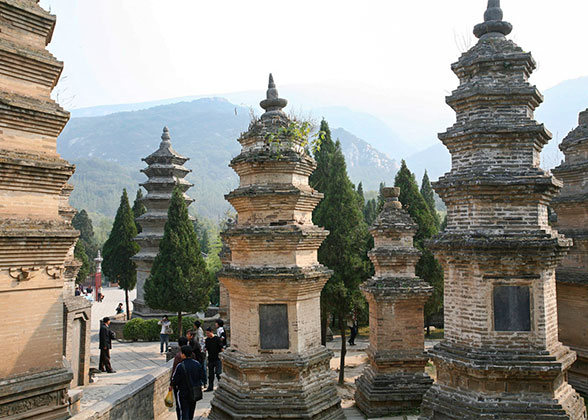 Shaolin Temple is a famous Buddhist temple and the cradle of Shaolin martial arts
After that, we will drive back to Luoyang and take you to a world cultural heritage site - the Longmen Grottoes. Nestled inside the limestone cliffs alongside the river Luo, the Longmen Grottoes showcases a collection of man's finest work with nature - vivid Buddha sculptures and inscriptions with masterful calligraphy.
This 1-day Luoyang tour package will finish here and we will escort you back to the hotel or railway station in Luoyang. We hope that you enjoy this wonderful trip.
Meals: Lunch
Shaolin Temple
Hidden inside the forest of green pines and verdant cypresses on Song Mountain, Shaolin Temple is not only a prestigious Buddhist shrine in China, but also the birthplace of the Shaolin Kung Fu. Aside from the beautifully decorated Buddhist buildings, such as the Mahavira Hall and the Hall of Heavenly Kings, the spectacular Shaolin Kung Fu show attracts many people each year. Upon further exploration, you will find ancient steles, and sunken footprints left by monks, a reminder of their devotion to martial arts. Covering an area of 140,000 square meters (167,440 square yards), the Pagoda Forest near the Shaolin Temple has more than 200 towers in various shapes, some of them dating back to the Tang Dynasty (618-907).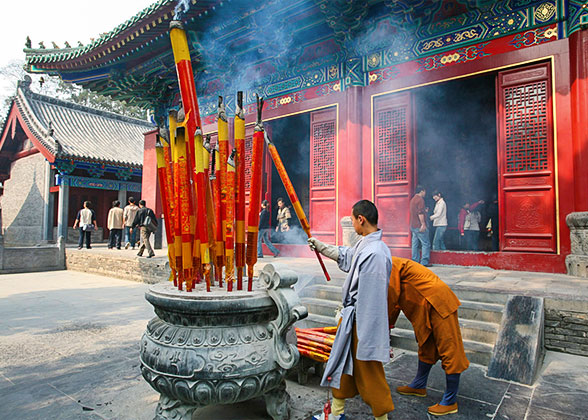 Pagoda Forest near the temple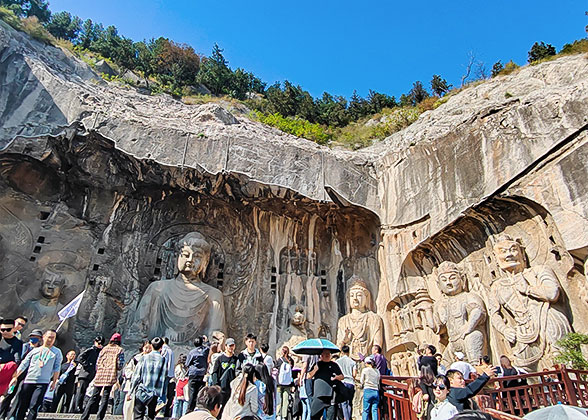 The marvelous Shaolin Kung Fu show
Longmen Grottoes
For visitors traveling to Luoyang, the grand Longmen Grottoes is highly recommended. A treasure house of Chinese stone-carving art, the construction of the grottoes has spanned over several dynasties. Today, you can see 2,345 niches, more than 100,000 Buddha sculptures and over 2,800 carved steles on display inside the grottoes. Set against a stunning backdrop of the cliffs and the river, the Longmen Grottoes is a visual delight for people interested in Buddhist culture and Chinese traditional carving arts.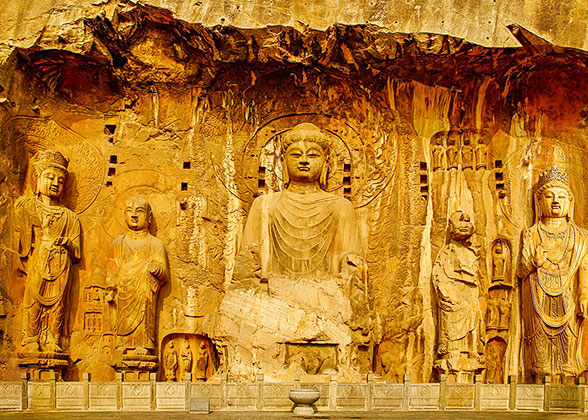 Our clients visiting the Longmen Grottoes

View the grottoes from a distance
Tour Prices
| 1 traveler | 2-3 travelers | 4-5 travelers |
| --- | --- | --- |
| USD339 | USD199 | USD149 |
Prices are per person in US Dollars.

Price Includes
Private English-speaking guide
Private driver & air-conditioned vehicle
Chinese lunch
Entrance fees to tourist sites
Price Excludes
Hotel accommodation with breakfasts
Tips or gratuities for guide and driver
Why Travel With Us
Itineraries you may also like: