Luoyang Transportation
Henan Province is the economic center of middle China. Luoyang, located in west Henan, serves as an important transportation junction. Beijiao Airport accepts guests from many other cities including Beijing, Shanghai, Xi'an, Guangzhou, Shenzhen, Chongqing and Urumqi. It also has charter flights directly to Hong Kong. Two trunk railway lines connect in the city, making it easy to get to the city from cities in the middle and west provinces of China. The city also has modern highways that connect other provincial cities and extend to other inland cities, including Beijing, Tianjin, Xi'an, Jinan, Hefei, Wenzhou, Shenzhen, etc.

As a tourist city, it offers various means of transportation. Public buses offer service at a very low price. Convenient tourist buses pass many famous sites in the city. Near the railway station regularly scheduled buses to scenic spots outside the city. In addition, taxis are readily available. You can bargain with drivers when you want to go to interesting sites in suburban areas.
Air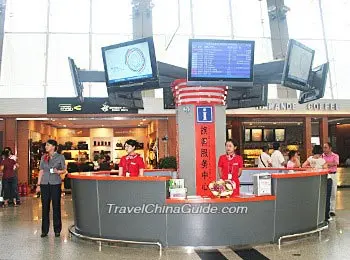 Beijiao Airport
Located about 6 miles (10 kilometers) north of downtown area, Luoyang Beijiao Airport (LYA) is one of the most important air transportation facilities of the Henan Province. It operates flights to some famous domestic cities like Beijing, Shanghai, Hangzhou and Kunming, and the international cities of Hong Kong and Bangkok.

The airport offers convenient services and facilities. VIPs lounges can be found at both International and Domestic Terminals. In addition, special services like free wheel chairs are provided here.

City bus no. 27, 83 and 98 is available near the airport to take passengers to downtown area. Two shuttle bus lines are also convenient heading for city center.
Train
The city is an important railway traffic hub. Both regular and high speed trains are available here.

See detailed Luoyang Train Schedule


Major Rail Lines from Luoyang to:

Luoyang Railway Station, as the junction of two national railways, the Longhai and the Jiaozhi, brings easy access to the city. The station mainly operates regular trains to/from Beijing, Shanghai, Guangzhou, Xi'an. Meanwhile, the station is an important stop of the Eurasia Land Bridge from Lianyungang, China to Rotterdam in the Netherlands, providing efficient transit of goods between central Asia, Europe and China.



Ticket Selling Offices:
Longquan Mansion, Railway Bureau, No.1, Long Hai Street
East of Luoyang Restaurant, West Zhong Zhou Road
Kou An Mansion, Dao Nan Road
Bus Routes: 2, 5, 6, 10, 11, 48, 50, 51, 66, 81, 83, 102, 103



Longmen Railway Station, constructed as a major stop along the Zhengzhou-Luoyang-Xi'an High Speed Route, making travel between the two ancient capitals - Luoyang and Xi'an both time-saving and convenient.
| | |
| --- | --- |
| Luoyang Railway Station Platform | Longmen Railway Station |
Regular trains from other stations including the East Railway Station and Guanlin Railway Station extend towards many other Chinese cities including Beijing, Shanghai, Xi'an, Zhengzhou, Yinchuan, Lanzhou and Urumqi.
Long-Distance Bus
The city is a junction point of many national and provincial highways. Two long-distance transit corporations operate luxury and standard buses to nearby cities in Henan Province as well as to cities in other inland provinces. Both corporations have affiliated bus stations. City Long-distance Bus Station is situated opposite its Railway Station on Jin Gu Yuan Road. It is operated by the First Bus Transit Corporation and plays an important role in the city's long distance transportation.
Schedule of Buses to Some Important Provincial Cities in the First Bus Transit Corporation
| City | Departure | Interval Time |
| --- | --- | --- |
| Zhengzhou | 05:50-19:30 | 30 minutes |
| Sanmen Xia | 06:00-20:00 | 30 minutes |
| Jiaozuo | 06:30-18:20 | 30 minutes |
| Kaifeng | 06:40-18:00 | 40 minutes |
| Nanyang | 06:00-21:15 | One hour |
| Anyang | 07:00-16:30 | One hour |
| Xinyang | 09:30, 16:00, 17:30 | One hour |
| Xuchang | 05:10-18:10 | One hour |
City-bus
The city has many public buses running across the city everyday. They usually start as early as 05:30 in the morning and stop at 21:00. Remember to check out the specific time of the bus you will take before you begin your travel. Tickets for most buses range from CNY1 to CNY1.5. Below is information about several routes.
| Bus Number | Earliest Bus | Last Bus | Stations |
| --- | --- | --- | --- |
| No.51 | 06:30 | 19:00 | City Railway Station, Peony Garden, National Peony Garden |
| No.59 | 06:00 | 19:00 | Wancheng Park, Xiyuan Park |
| No.60 | 05:55 | 18:50 | Shanghai Market, Xiyuan Park, Longmen, Baiyuan Garden |
| No.69 | 05:30 | 19:00 | Peony Park, Xiyuan Park, Guanlin Temple |
| No.81 | 06:00 | 19:00 | City Railway Station, Guanlin Temple, Longmen, Baiyuan Garden |
| No.83 | 06:20 | 19:00 | City Railway Station, Ancient Tombs Museum, Beijiao Airport |
Tourist Bus
In the Long-distance Bus Station opposite the Railway Station, there are regular buses carrying visitors to spots in the suburban areas. First go to the railway station by public city bus then take a bus listed below to your destination.

To White Clouds Mountain (Mt.Baiyun): Leave every 30 minutes from 06:00-09:00 and the ticket price costs CNY26.5.

To Zhongyue Temple: Leave every 20 minutes from 05:00 to 16:00 and the ticket costs CNY11.

To Heavenly Pond Mountain (Mt. Tianchu): Leave every an hour from 06:00 to 09:00 and the ticket costs CNY17.

To Xiaolangsi Scenic Area: Leave every 20 minutes from 06:00 to 18:00 and the ticket costs CNY8.

To Longyunwan National Forest: Leave every one hour from 06:00 to 09:00 and the ticket costs CNY27.

To Shaoling Temple: Leave every 30 minutes from 05:30 to 18:00 and the ticket costs CNY8.

To Flower and Fruit Mountain (Mt. Huaguo): Leave at 07:00 and the ticket cost CNY15

To Cockscomb Limestone Cave (Juguan Cave): Leave every one hour from 06:00 to 09:00 and the ticket costs CNY26.5.

To Mt. Qingyao: Leave every an hour from 06:00 to 09:00 and the ticket costs CNY15.
Tips: Bus departure time varies a little on different seasons.
| | |
| --- | --- |
| City Bus | Taxi |
Taxi
More than 4,000 taxies serve the public in the city. Due to the low charge and convenience, taxi is very popular both for downtown and suburb travels. Its starting fare is CNY5 for the initial 2km (1.2mi) in the daytime and CNY6.5 at night (22:00 – 06:00 the next day). It costs CNY1.5 per kilometer (0.6mi) afterwards within 10km (6.2mi). When running over 10km (6.2mi), 50% rate is charged additionally for empty return. In addition, extra CNY1 is charged for each ride as fuel fee.

Taxi Fare for your reference (all for single rides):
To
Longmen Grottoes
: CNY40-50;
To
Shaolin Temple
: CNY150-250;
To Zhengzhou: CNY400-500;
To Dengfeng: CNY150-250.
Transportation to Other Cities

Best Way to Travel between Xi'an and Luoyang
- Last updated on Apr. 15, 2021 -
Questions & Answers on Luoyang Transportation
Asked by Nikita from MALAYSIA | Jan. 06, 2020 19:21

Reply
From Longmen Railway Station To Shaolin Temple
Why some article say the bus ride will cost CNY20, and your website say CNY8. Which one is correct?
Answers (1)
Answered by Eva from UNITED KINGDOM | Jan. 07, 2020 18:39

0

0

Reply
You can take bus from Luoyang Bus Station (opposite to Luoyang Railway Station) to the temple. And it costs CNY20 with 2 hours on the way.
Asked by Maameaw from THAILAND | Oct. 08, 2019 20:40

Reply
How to get Laojunshan?
Hello. If I want travel to Laojunshan from Louyang, How are go to Laojunshan and how about for cost?
I will be Laojunshan in December, How about weather there? 麻烦你了。 非常感谢。
Answers (2)
Answered by Nathaniel from AUSTRALIA | Oct. 11, 2019 20:51

0

0

Reply
1. You can take a coach from Jinyuan Coach Station to Luanchuan. The duration is around 3.5 hours. After arriving, take a taxi to the entrance of scenic area.
2. According to the previous weather statistics, the temperature may range from 0C to 5C. You need to bring enough winter clothes to keep warm.

Have a nice trip!
Answered by Maameaw from THAILAND | Oct. 15, 2019 19:42

0

0

Reply
Thank you so much for your answer🙏
Asked by Henkel from GERMANY | Jul. 24, 2019 10:22

Reply
I will arrive at Luoyang Longmen station by train. I booked a room in Holiday Inn Express
No. 28, Jinchengzhai Street, Luo Long, 471000

I have two questions.

1. How is the recommended way (except taxi) from Longmen station to the hotel
2. How get I from hotel to the Longmen Grottoes and how long will it take?


Thanks in advance
Roland
Answers (1)
Answered by Acker from USA | Jul. 29, 2019 00:23

0

0

Reply
1. Take bus No.803 to Yongtai Street Kaiyuan Avenue Station, and walk north of 600m to your hotel. It takes around 40 minutes with CNY3.
2. You can take bus No.99 from Kaiyuan Avenue Jinchengzhai Street Station to Longmen Grottoes Station, and walk west of 1km to it. It takes around 1 hour with CNY1.5.
Asked by aminuddin from MALAYSIA | Jul. 05, 2019 00:41

Reply
Hi. i'm from malaysia and i was a muslim people .
My question, is there any halal food can i get in Luoyang?
Answers (1)
Answered by Hailey from USA | Jul. 07, 2019 19:36

0

0

Reply
Yes, of course. You can go to Chanhe Street where many halal food restaurants concentrate in there, such as Laoluoyang Restaurant, which is located at No.143, South Qiming Road. Hope you like.
Asked by Annette from GERMANY | Jun. 05, 2019 00:38

Reply
Will it be difficult travelling in Luoyang during National Holiday in October?
My travel itinerary brings me to the city on 2nd of October. Will it be difficult to get to Longmen and Shaolin? Will I have to prebook tickets?
Answers (1)
Answered by Sam from CANADA | Jun. 05, 2019 18:49

0

0

Reply
Yes, absolutely difficult. You will expect large crowds during China's National Holiday, especially in these popular tourism attractions. It is suggested to change your visit time. The online ticket booking page only has Chinese version. Thus you need to buy the tickets on the spot or join in a travel agency.