Luoyang Longmen Railway Station
Luoyang Longmen Railway Station is about 8 miles (13 km) from
Luoyang Railway Station
, 11.7 miles (22 km) from Beijiao Airport, 7.5 miles (12 km) from
Wangcheng Park
, and 3.7 miles (6 km) from
Longmen Grottoes
. It is one of the main stations on the
Zhengzhou-Luoyang-Xi'an High Speed Railway
. In addition, when the Xuzhou-Lanzhou High Speed Railway is completed and put into use, it will be one of the main transit hubs along this high speed rail line.
Address: Longmen Town, Luolong District

Schedule and Ticket Booking
Luoyang Longmen Train Station mainly handles high speed trains to/from Zhengzhou, Xi'an, Beijing, Guangzhou etc.

Major Rail Lines from this station to:

Schedule to Major Destinations:
(Last Update on Apr 25, 2023)
To
Trains
Duration
Ticket Fare (CNY)
First/ Second Class Seat

Beijing West

G806, G652, G672, G88...
15 departures from 08:20 to 19:05
2h59m - 4h20m
CNY 484/ 303
USD 71/ 45

Shanghai

G1812, G3154, G3298, G1918...
17 departures from 08:00 to 17:29
5h31m - 7h15m
CNY 799.5/ 502
USD 118/ 74

Guangzhou South

G1188, G1188, G816, G824...
11 departures from 07:28 to 15:26
6h6m - 8h6m
CNY 1,075.5/ 672.5
USD 158/ 99

Xi'an North

G2201, G2001, G2203, G2213...
72 departures from 07:49 to 21:40
1h15m - 1h51m
CNY 279.5/ 174.5
USD 41/ 26

Zhengzhou

G7912, G7912, G7954, G1188...
111 departures from 06:51 to 22:17
0h25m - 1h48m
CNY 74/ 46.5
USD 11/ 7

Wuhan

G1188, G870, G2298, G2390...
16 departures from 07:28 to 16:45
2h23m - 3h53m
CNY 441/ 276
USD 65/ 41

Huashan North

G2001, G2203, G2213, G2023...
43 departures from 08:35 to 21:13
0h52m - 1h11m
CNY 189.5/ 119.5
USD 28/ 18

The above schedule is for reference only. For real-time schedule and ticket booking, please click the arrival stations.
See detailed
Luoyang Train Schedule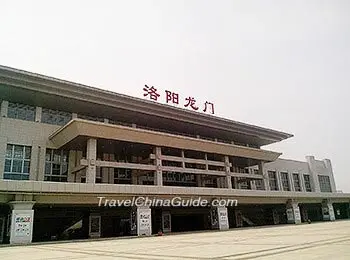 Luoyang Longmen Railway Station
Station Plan
This station covers an area of 38200 square yards (32,000 square meters). It mainly consists of the terminal building and the square in front of the terminal. Inside, there are 3 floors.

3F&2F: waiting hall

1F: ticket office and platforms
How to get to Longmen Railway Station from downtown Luoyang?

Arrival by bus 28, 33, 49, 67, 71, 75, 76
Arrival by sightseeing bus line 2: The bus is only available from 08:50 to 15:50 every 30 minutes. Ticket fare is CNY 30.
Passengers arriving by bus will be dropped off at the west side of the station. If you have a ticket, please enter the station directly. Afterwards, go to the waiting hall on 2F or 3F. If not, go to ticket office on 1F to obtain one first, and then go to the waiting hall.

Arrival by taxi
From Wangcheng Park: at least CNY22
From Longmen Grottoes: CNY12
From Luoyang Railway Station: CNY25
From Beijiao Airport: CNY54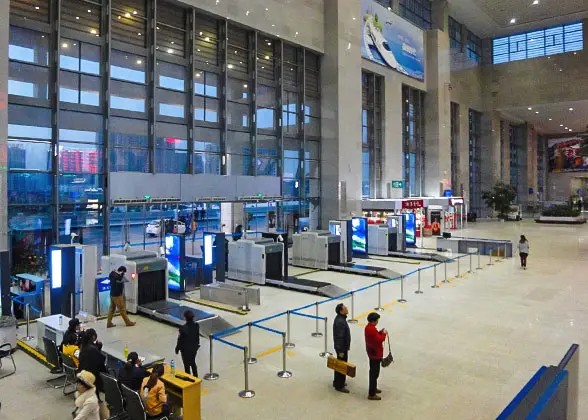 Security Check behind the Entrance
Passengers arriving by taxi will be dropped off in front of the entrance on 2F. For those having a ticket in hand, please enter the station directly. Afterwards, go to the waiting hall. For those without a ticket, go to ticket office on this floor to obtain one first, and then go to the waiting hall.
Ticket Check and Boarding
There are 7 automatic ticket check points on the 2F and 18 on 3F. Passengers should read their tickets carefully to find the right check point. Please note that the check points are usually opened 30 minutes before departure and closed 5 minutes before. Afterwards, get down to the platforms on 1F by escalators or stairs for boarding.
How to exit and leave Luoyang Longmen Railway Station?
Upon arrival, all passengers will be led to 1F transfer hall for exiting. There are 16 check points available in the Exit area. After passing through the exit, passengers can follow the signs to find buses or taxis to leave the station.

Leave by bus:
Passengers can go to the bus stop at the west side of the station square to find the bus they need to take.

Leave by taxi:
Passengers can go to find a taxi in the front square.

Transportation to other places from the station:

Luoyang Railway Station: Take bus line 28.

Longmen Grottoes: Take bus line 67 or 71.

Guanlin Temple
: Take bus line 66, 67 or 76.

White Horse Temple
: Take bus line 76 and get off at Zhaocun Station. Then change to bus line 58 to get there.

Shaolin Temple
: Take bus line 28 to Railway Station. Afterwards, find Luoyang Coach Station to the southeast of the station, and then take a long-distance bus to get to the temple directly. The long-distance bus departs from 05:00 to 12:30 every 15-30 minutes. Ticket fare is about CNY20 and duration is about 2 hours.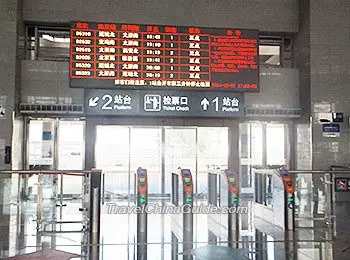 Boarding Gate
Facilities and Services of the Station

Ticket offices:
There are 2 ticket offices in this station. The first floor ticket office has windows numbered 1 to.15 and windows numbered 16 to 30 are on the second and third floor. The ticket office provides ticket purchase and other services such as ticket change, ticket refund or ticket loss. There are 7 automatic ticket machines here for those with a Chinese ID card to buy or collect online booking tickets.

Left Luggage Service:
The left luggage service is available on the west side of the station, close to the exit on 1F.

LED Screens:
LED Screens are available showing the train nos., the departure time, check points, and boarding platforms on the waiting hall and arrival time, platforms, exits on the exit area.

Information Desk:
An information desk is provided for passengers to search a real-time train schedule, point out the different functional areas of the station and help the old, weak, sick, disabled and pregnant to get onboard or leave the station, and broadcast announcements.
Besides, there is a KFC on 1F and several shops scattered inside the station, where passengers can buy gifts or local products for their friends.
Print

- Last updated on Apr. 25, 2023 -
Questions & Answers on Luoyang Longmen Railway Station
Asked by Lydia from MALDIVES | Jun. 01, 2020 18:54

Reply
How long does it take from Luoyang Longmen station to Longmen Grottoes?
Answers (1)
Answered by Angelia from FRANCE | Jun. 02, 2020 18:08

0

0

Reply
Longmen Grottoes is 4km away from Longmen station, there are tourist double-decker buses available to the sites, visitors can find them outside the station. Taxies are also available, it takes about 20 minutes.
Asked by Nikita from MALAYSIA | Jan. 06, 2020 19:54

Reply
From Luoyang Longmen Railway Station to Shaolin Temple
Hi, I am very confuse about the bus transit from one place to another.
Can you tell me how to go to Shaolin Temple from Luoyang Longmen Railway Station (bullet train station). What kind of bus I should take? Tourist bus? Long distance bus? Public bus? There are so many buses.
What bus number I must take?
Thank you.
Answers (1)
Answered by York from MALAYSIA | Jan. 07, 2020 19:18

0

0

Reply
You need to use public bus to reach Luoyang Long Distance Bus Station first (bus No. 1 or taxi). You can also go to Jinyuan Long Distance Bus Station by public bus No. 77. From both Long Distance Bus Station, there are buses to Shaoling Temple. For Long Distance Bus ticket, you can only buy it on spot at bus station. Not very sure about the bus schedule.
Asked by raj from INDIA | Dec. 18, 2019 22:25

Reply
what bus should I take to go to Luoyang Longmen Youth Hostel
Answers (1)
Answered by Pike | Dec. 19, 2019 01:38

0

0

Reply
You can take bus No. 76 or 33 from longmen station to Zhaocun. The hostel is right there.
Asked by Udom from THAILAND | Aug. 16, 2019 18:50

Reply
Bus to Once Artistic Inn
Which bus should I take from LY Longmen hi speed station to the hotel Once Artistic inn.
Answers (1)
Answered by Cesar from SINGAPORE | Aug. 18, 2019 20:51

0

0

Reply
You can take bus No. 49 frmo the station to Zhong Zhou Zhong Lu Ding Ding Lu Kou (should be the 26th stop). The hostel is around 200m away.
Asked by Ballard from GERMANY | Jul. 26, 2019 03:14

Reply
Is there any restaurant inside the station where we can have a simple lunch?
Answers (1)
Answered by Alice from USA | Jul. 28, 2019 17:25

0

0

Reply
Yes, a shop for noodles and some shops for snacks and souvenir. However, you may still want to buy some instant food in case they do not fit you well. If you are traveling a long distance trip, you can buy food on the train too.