Qufu Confucius Temple (Kong Miao)
Qufu Confucius Temple (Kong Miao in Chinese), at the hometown of
Confucius
, is the most famous and the largest temple of its kind in the memory of the sage. His ideology was developed to the influential
Confucianism
, which has had the most enduring and profound effect over Chinese culture.
Located inside the south gate of Qufu, Shandong, the Temple of Confucius is a group of grand buildings built in oriental style. Together with the
Summer Palace
in Beijing and the
Mountain Resort of Chengde
, it is one of the three largest ancient architectural complexes in China.
Qufu Confucius Temple started as three houses in the year of 478 BC, the second year after the death of the sage. Each year as Confucianism became the standard of Chinese culture, its scale was expanded accordingly. Sacrifices were often offered, either by Emperors themselves, or by emperor-appointed high officials. In the Qing Dynasty (1644-1911), Emperor Qianlong offered sacrifices here eight times. The Gate to the Temple was named Lingxing Gate. Lingxing was the legendary star of literacy, and emperors offered sacrifices first to Lingxing when they offered sacrifices to heaven. The scale of offering sacrifices was as grand as that given to the heavens. This gives us an idea of the importance of the sage in history.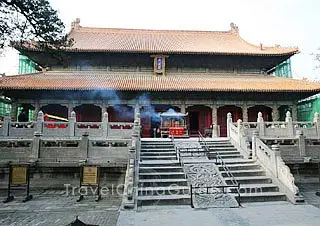 The existing temple was rebuilt and renovated during the Ming (1368-1644) and Qing (1644-1911) dynasties. Patterned after a royal palace, it is divided into nine courtyards. The main buildings run along a north to south axis, with the attached buildings symmetrically in line. The whole group includes three halls, one pavilion, one altar, and three ancestral temples. Altogether there are 466 rooms and 54 gateways covering an area of 218,000 square meters (2,346,609 square feet). The yellow tiles and red walls all covered with delicate decoration make the place extremely grand.
After Great Sage Gate (Dasheng Men), the buildings are divided into three parts. The central part is for offering sacrifices to Confucius and other scholars and sages. The eastern part is for sacrifices to his ancestors, while the west is for his parents.
However, Qufu Confucius Temple wins its fame not only for its grandness, but also for the rich cultural relics found there. The 2100 pieces of steles remaining from various dynasties make a fine exhibition of calligraphy and stone sculpture.
The following three exquisite areas are the richest and most representative of the Temple's beautiful architecture: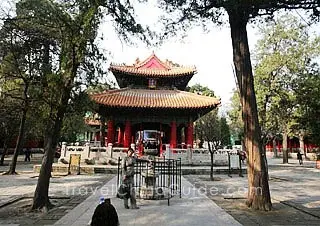 Dacheng Hall
is the main hall. This hall is 24.8 meters (81feet) high on a base of 21 meters (69 feet), and is the highest building in the Temple as well as being one of the three largest ancient halls in China. Dacheng means master with great achievement, which truly describes the sage himself.
Located in front of the Dacheng Hall,
Apricot Altar
is said to be where Confucius preached. The Altar is surrounded by red fences with hills behind them. One finely decorated pavilion has a painted dragon and a stele engraved with Emperor Qianlong's handwriting.
Kuiwen Pavilion
, a library, is in the middle of the Temple. Kuixing was the legendary star responsible for literacy in ancient China. A famous wooden pavilion, Kuiwen Pavilion was daintily designed with two stories. The upper story houses classic books and writings given by emperors and kings while the lower story houses items used by the emperors when offering sacrifices to Confucius.
At the Temple, when surrounded by the stately halls, elegant pavilions, dignified memorial archway, and classical courtyard, every visitor will gain an insight into the life of Confucius and his role in Chinese culture.
Admission Fee:
Feb. 16 - Nov. 14: CNY 90;
CNY 140 for through ticket of the Temple, Confucius Family Mansion & Cemetery;
Nov. 15 - the next Feb. 15: CNY 80;
CNY 140 for through ticket;
Free for children under 1.4m (4.6 feet).
Opening Hours:
07:30 to 16:30
Recommended Time for a Visit:
One and a half hours
Bus Route:
1, 3

Further Reading:
Temple of Confucius in Beijing
Shanghai Confucius Temple
Nanjing Confucius Temple
Pingyao Confucius Temple

Top 10 China Tourist Places for Culture Lovers
- Last updated on Apr. 07, 2021 -
Questions & Answers on Qufu Confucius Temple (Kong Miao)
Asked by Minh Phuong from VIETNAM | Aug. 20, 2019 22:03

Reply
How to get Confucius Temple from Sun Plaza International Hotel? Tks!
Answers (2)
Answered by Maria from UKRAINE | Aug. 21, 2019 20:23

0

0

Reply
The distance between these two places is around 26km. There is no direct public transportation. You need to transfer to buses for several times. Thus it is suggested to take a taxi directly. The cab fare is CNY50 to 60 in the day time.
Answered by Minh Phuong from VIETNAM | Aug. 22, 2019 01:27

0

0

Reply
Thank you so much
Asked by Susanty Gunawan from AUSTRALIA | Jan. 30, 2019 02:15

Reply
Is there any access for elderly with wheelchair to go around the Qufu temple area?
Thanks
Susan G
Sydney, Australia
Answers (2)
Answered by Shiloh from USA | Feb. 01, 2019 01:04

0

0

Reply
Yes, the scenic area provides wheelchairs at the service center nearby the entrance.
Hope helpful!
Answered by Susan G from AUSTRALIA | Feb. 23, 2019 20:25

0

0

Reply
Thanks Shiloh for the info.
Asked by Alexis from CHILE | Sep. 01, 2016 14:10

Reply
How can I get to the Confucius Temple from Qufu East Railway Station?
Answers (1)
Answered by Jegan from AUSTRALIA | Sep. 01, 2016 21:30

1

0

Reply
You can take bus no.Qufu K01 from East Railway Station and get off at South Gate of the temple. After arriving, walk north along Shendao Road around 300 yards.