Qufu Attractions - Things to Do
Qufu is a place, where Confucius lived, studied and was buried. So, most visitors go there in order to have a look at the historical attractions relating to him. Since some of the city buses take visitors directly to those attractions, you may take one of them to visit the site. Hereunder are the suggestions for the tour of Qufu.

By Bus No.1
Bus No.1 will take you to the
Confucius Temple
, the
Confucius Family Mansion
and then to the
Cemetery of Confucius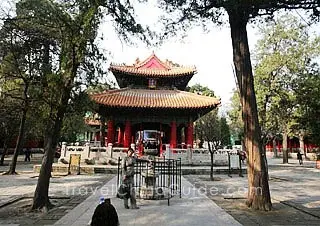 Apricot Altar
The Temple of Confucius (Kong Miao) lies in the middle of the city, covering 140,000 square meters (34.6 acres) and according to the historical data, it was built in 478 BC, the second year after Confucius' death. It is a place used to worship Confucius, and together with the Confucius Family Mansion (Kong Fu) and the Cemetery of Confucius (Kong Lin), is called "San Kong" ("san" means "three" in Chinese). The Confucius Family Mansion situated to the east side of the temple is the residence of Confucius' lineal descendants, and covers an area of more than 39.5 acres. Many historical relics and the records of the Confucius family were preserved in it. Also, the Cemetery of Confucius (Kong Lin) is one of top things to do in Qufu. Located in the north of the city, it is the largest clan cemetery in the world. When Confucius was buried, the area of the cemetery was not so large. But with the rising of Confucius' status, the cemetery was rebuilt and enlarged many times through grants from the emperors who followed. Up to the Qing Dynasty (1644-1911), it reached two square kilometers (494 acres) in area.

By Bus No.3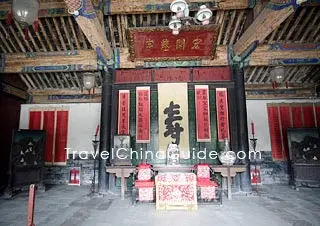 Confucius Family Mansion
Bus No.3 goes to the Cemetery of Confucius,
Yan Temple
, Confucius Family Mansion and the Temple of Confucius and the
Confucius Six Arts City
.
The Yan Temple is the place in which people worship Confucius' student Yan Hui, was built on the foundations of the old site of Yan Hui's residence. It covers an area of 36 mu (5.93 acres) and there are 25 buildings in the styles of the Ming (1368-1644) and Qing (1644-1911) dynasties.

By Bus No.5
Bus No.5 will take you to the Temple of Confucius, the Tablets Park of Analects of Confucius and Confucius' Six Classical Arts Hall.
The Tablets Park of Analects of Confucius is 300 meters (328 yards) due south of the Temple of Confucius. There you can observe and appreciate many calligraphers' writings of the "Analects of Confucius". Also the Confucius' Six Classical Arts Hall, located at No.15 Chunqiu Road, Qufu, shows visitors the six traditional branches of learning that Confucius advocated: rites, music, archery, riding, writing and arithmetic through the use of high technology.

By Bus No.6
Bus No.6 will take you to the Confucius' Six Classical Arts Hall and the Cemetery of Confucius.

The Nishan Mountain
Cemetery of Confucius
How to get there: You can take the coach from the Qufu Coach Bus Station to Nishan.
The Nishan Mountain is 30 kilometers (18.64 miles) southeast of Qufu. It's said that Confucius was born in the Fuzi Cave on this mountain. With its peaks rising one after another, the Nishan Mountain mainly includes eight scenic spots: the Nishan Confucius Temple, Wulao Peak, Zhiyuan Stream, Kunling Cave, Guanchuan Pavilion, Zhonghe Ravine and Baiyun Cave.
Additionally, there are many other historical attractions in Qufu which can't be clearly described in one or two pages because there is so much to talk about regarding these attractions. If you have a chance to visit this city, you will take away with you a good understanding of Confucianism and the Chinese feudal dynasties.
- Last modified on Jun. 05, 2019 -
Questions & Answers on Qufu Attractions
Asked by Kira from USA | Jul. 31, 2017 19:58

Reply
How long does it take to visit the Confucius Temple, Family Mansion and Cemetery? Half day?
Answers (1)
Answered by Mike from SINGAPORE | Jul. 31, 2017 20:34

1

0

Reply
Half a day is enough!
Asked by Aurelija from LITHUANIA | Feb. 28, 2016 21:10

Reply
Which coach should I take to get to Nishan?
Hello,

Do you know how often buses go there? How much is it?

Thanks!
Answers (1)
Answered by Oliver from CHINA | Feb. 29, 2016 02:40

3

0

Reply
So you are leaving from Qufu, right? Well, at the Long-distance Bus Station, direct buses to Nishan are available from 08:00 to 16:30 every half an hor. The fare is CNY7 per person and the travel time is around 45min. The last bus back to the city leaves at 17:00 by the way.
Asked by Michael from CHINA | Sep. 28, 2015 01:13

Reply
Jining to Confucius Temple in Qufu
I am working in Jining and would like to know how to get to Confucius Temple. I live close to Jusco Mall (AEON) in Jining and I am sure there is some type of bus route I can take. Any help would be greatly appreciated. Thank you.
Answers (1)
Answered by Sally from IRELAND | Sep. 28, 2015 03:07

0

1

Reply
From your location, you can walk about 800 yards to Jining North Bus Station, where you can take a direct bus to QF. Upon arrival, you can take a taxi to the Confucius Temple, and the fare is about CNY12.