Beijing Happy Valley
Being tired after making a long journey in Beijing, you may wonder where else you can have entertainment. The Happy Valley can fully satisfy your desire. Located in the southeast corner of Sifang Bridge, on the fourth ring road, in Chaoyang District, it is your happy theme park, another Disneyland in Mainland China. Covering an area of 560,000 square meters, it has been open to tourists since 2006 and attracted a lot of visitors from home and abroad.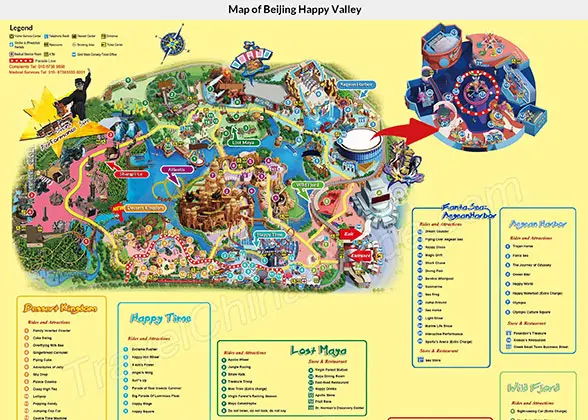 Map of Beijing Happy Valley
The Happy Valley is composed of seven theme parks, including Wild Fjord (Firth Forest), Atlantis, Aegean Harbor, Lost Maya, Shangri-La, Dessert Kingdom, and Happy Time. Each of them has its own feature, but all of them can fully satisfy your desire of seeking happiness. More than 50 scenic sights of culture and ecology are scattered in all direction, to offer you a rare opportunity to experience the charm of various civilizations regardless of the distance of space and time.

The full extent of the Happy Valley is compared to a beautiful artistic picture where you can see tree houses, docks, bridges, towns, ancient towers, lakes, forests and other amazing scenic spots beyond your imagination. After going through the famous 'ecological forest' in Firth Forest, the first sight you will see is the high-rising Crystal City. There you can have a close contact with those figures of ancient Greek myths in Aegean Sea. Recall the glorious Maya and their scattered huge stone pillars. Enjoy the happiness of simple life in dreamy Shangri-la. Wake up the child within you, and love for sweet cakes in Dessert Kingdom. It will fully satisfy your desire and curiosity.
Thematic Leisure Activities
Pop Music Festival: The super band is creating a grand music ceremony for you. Surrender to those deafening rhythms, marvelous sounds and hot dances that can easily arouse your excitement.
Maximal Exercise Festival: Your eyes will be feasted on all sorts of performance. It's a most exciting and healthy festival of praising youth. Don't hesitate to take part in the latest crazes from skateboards to bicycle riding. It's up to you!

Chinese New Year: You will be attracted by every splendid program in this riotous atmosphere. Performances with strong ethnic flavor will bring a fantastic visionary taste.

Water-Splashing Festival: Water symbolizes luck and wealth. On Water-Splashing Festival, people sprinkle water onto each other as a unique way to express their good wish. Come here and enjoy the cool and happy moment.

International Magic Day: Magicians of the first rank from all over the world present distinct magic tricks for you. Keep your eyes on this magical world full of suspension.
How to get to Beijing Happy Valley

By Bus
1. Take Bus 8, 31, 41, 674, 680 or Zhuan 166, and get off at Huaqiaocheng Station. Walk northwards for 5 minutes to the park.
2. Take Bus 31 or 41 to get off at Houfengqiao South Station.



By Subway
Take Subway Line 7 and get off at Happy Valley Scenic Area Station. Leave through exit B or C and walk there in minutes.
Beijing Bus / Subway Search



Transportation in the Park:
1. Battery car: CNY 300 as a deposit, CNY 30 for every half an hour; CNY 60/hour for a single ride and CNY 120/hour for a double-seat ride.
2. Sightseeing Train: CNY 30 per person; CNY 15 for children between 1.1m (3.6ft) and 1.4m (4.6ft) and free for children below 1.1m.
Ticket Fare
Mar. 16 - Nov. 15
Nov. 16 - Mar. 15
CNY 260 for adults and children above 1.4m;
CNY 195 for children between 1.1 to 1.4m;
free for children under 1.1m.

Night Ticket: CNY 195 for children above 1.1m and adults; free for children under 1.1m.
CNY 220 for adults and children above 1.4m;
CNY 165 for children between 1.1 to 1.4m;
free for children under 1.1m.

Night Ticket: CNY 165 for children above 1.1m and adults; free for children under 1.1m.
Note: The ticket fare includes the entrance ticket fee and almost all the entertainment activities and rides. There are still several entertainment items requiring extra pay.
Opening Hours (Nov. 19 - Dec. 21, 2018)
10:00 - 17:30 (does not open at night)

Next: Thematic Park & Performance Time
---
Related Reading:
Shanghai Happy Valley
Shenzhen Happy Valley
Chengdu Happy Valley
Wuhan Happy Valley
Tianjin Happy Valley
Print

- Last modified on Nov. 19, 2018 -
Questions & Answers on Beijing Happy Valley
Asked by Kathy from UNITED KINGDOM | Nov. 12, 2018 16:57

Reply
opening times and dates and prices of Beijing Happy Valley
When does the park open in 2019
we are visiting in the first week of April 2019 and plan to visit around the 7th
Thanks
Answers (1)
Answered by Oscar from UNITED KINGDOM | Nov. 12, 2018 19:44

0

0

Reply
The Happy Valley is generally opened all year round from about 08:30 to 22:00. But different themes or zones have different opening hours and you can check it out on its official website. There is no latest news about its prices for 2019. But the full admission price from November 18, 2018 is CNY 260 for adults and children above 1.4m; CNY 195 for children between 1.1 to 1.4m.
Asked by Asif from PAKISTAN | Oct. 03, 2018 08:09

Reply
What is the Golden Mask Show, what are the timings?
How much is the extra cost of ticket for this show? And in which theme park does it take place?
Answers (1)
Answered by Lecea from INDIA | Oct. 11, 2018 02:50

0

0

Reply
It is a performance that blends the music, dance, acrobatics, sounds and lights and tells the stories about a Queen sacrifices herself for her people. Usually, it is at 17:30 every day. The time is changeable you can pay more attention to the official news. The ticket is about CNY60/ 90 if you have got the happy valley ticket. In the Oct Theater of Xiawan Forest Area, the performance will be held.
Asked by Mike Ying from USA | Aug. 24, 2018 17:42

Reply
Is the Golden Mask Dynasty Show in Beijing similar to the Tang Dynasty Music and Dance Show in Xian?
Answers (1)
Answered by Charles from UNITED KINGDOM | Aug. 27, 2018 00:51

0

0

Reply
Not really, they tell different stories in different dynasties. The former one tells stories about a Queen sacrifices herself for her people and the other is about Tang Imperial dance & music.
Asked by Me from CANADA | Aug. 22, 2018 22:36

Reply
Hotel near Beijing Happy Valley
I'd like to stay in a hotel close to the park, I live in Beijing but with kids and no car it would be better to have the extra time. Any nuxe hotels in the area 4star+?
Answers (1)
Answered by John from DENMARK | Aug. 22, 2018 23:01

0

0

Reply
The Garden International Hotel is near the Happy Valley, which is about 10 minutes' walk. It is located in North 200 meters, Xiaowuji Bridge, Dongsihuan, Chaoyang District, Chaoyang, 100600 BJ, China