Shenzhen Weather in December
In December, winter is approaching Shenzhen, but the weather is still not cold. On one hand, it is warm, with the monthly average temperature of 22°C (72°F) in the day and 13°C (55°F) at night. On the other hand, December is the dry season of Shenzhen, the average total precipitation volume experiences a decline to 34mm; it seldom rains in this month.
The
Winter Solstice
, the last but important one of
24 Solar Terms
, falls in late December. Locals in Shenzhen attach great importance to this traditional festival, when they always eat ducks and cured foods. The custom and ways to celebrate the festival may vary from different districts in the city, but there is no doubt that Winter Solstice is considered as the most important solar term.
Averages for Shenzhen Weather in December
Temperature: 16°C / 61°F
High Temperature: 13°C / 55°F
Low Temperature: 22°C / 72°F
Humidity: 64%
Rainfall: 34 mm
Rainy Days: 5 days
Sunrise: 06:47 ~ 07:03
Sunset: 17:38 ~ 17:50
Air Quality in December
Average AQI:54

What to Wear in Shenzhen in December
The winter weather in Shenzhen is warm. When going out in the day, short suits, T-shirts, light jeans, and casual wears are recommended. If travelers want to get outside at night, they may need coats, jackets, suits, lined dresses, wind coats, or light sweaters, because the temperature significantly falls at night. Besides, travelers should wear a pair of comfortable shoes.

Things to Do in Shenzhen in December
Taking a hot spring bath in the December climate in Shenzhen is enjoyable. Famous local hot springs include Interlaken Hot Spring at OCT East Theme Park, the hot springs in Guanlan Shanshuitianyuan Tourist Garden, and Shiyan Lake Hot Spring Resort. They provide various pools for different uses as well as complete service and entertainment facilities.
Apart from taking a hot spring bath, it is impressive to participate in the bird watching activity at Shenzhen Bay Park. During the activity, visitors can observe the migrant birds from the north China to Shenzhen to admire the beauty of lives and nature.
Top 7 Things to Do in Shenzhen
Other Tips
Before taking a hot spring bath, please note:
Take off the metal accessories you are wearing, or they will be vulcanized;
Avoid taking a hot spring bath immediately after you eat or drink something or on an empty stomach;
Remember to drink plenty of water.
What is the temperature in Shenzhen in December?
High/Low Temperatures of Shenzhen in December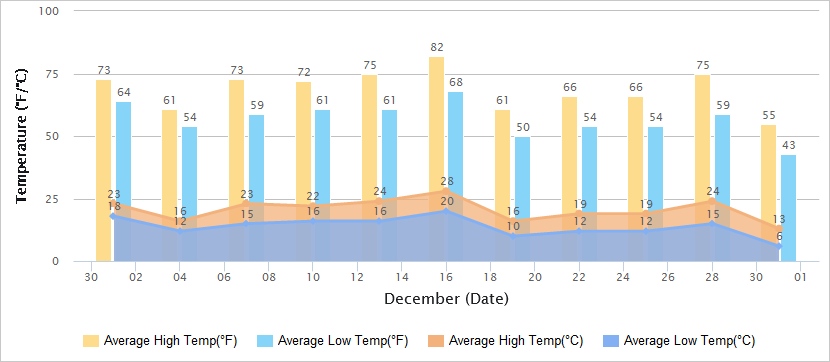 Air Quality of Shenzhen in December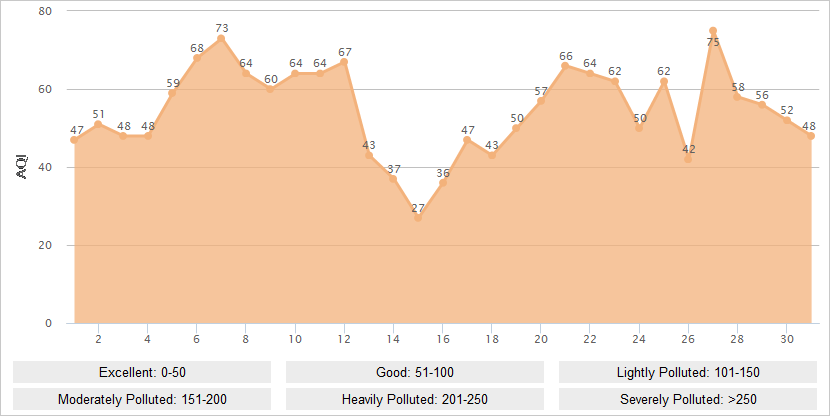 Shenzhen Weather in December Based on Historical Data
Dec
Temperature
Sunrise / Sunset
Humi-
dity
(%)
High
Low
1
23°C / 73°F
18°C / 64°F
06:47 / 17:38
91
2
18°C / 64°F
15°C / 59°F
06:48 / 17:38
90
3
16°C / 61°F
14°C / 57°F
06:48 / 17:39
85
4
16°C / 61°F
12°C / 54°F
06:49 / 17:39
83
5
16°C / 61°F
14°C / 57°F
06:50 / 17:39
84
6
19°C / 66°F
12°C / 54°F
06:50 / 17:39
62
7
23°C / 73°F
15°C / 59°F
06:51 / 17:39
62
8
23°C / 73°F
17°C / 63°F
06:52 / 17:39
64
9
22°C / 72°F
15°C / 59°F
06:52 / 17:40
66
10
22°C / 72°F
16°C / 61°F
06:53 / 17:40
68
11
20°C / 68°F
15°C / 59°F
06:54 / 17:40
69
12
20°C / 68°F
13°C / 55°F
06:54 / 17:41
66
13
24°C / 75°F
16°C / 61°F
06:55 / 17:41
66
14
24°C / 75°F
18°C / 64°F
06:55 / 17:41
80
15
25°C / 77°F
19°C / 66°F
06:56 / 17:42
90
16
28°C / 82°F
20°C / 68°F
06:56 / 17:42
89
17
26°C / 79°F
20°C / 68°F
06:57 / 17:43
83
18
21°C / 70°F
12°C / 54°F
06:58 / 17:43
79
19
16°C / 61°F
10°C / 50°F
06:58 / 17:43
71
20
22°C / 72°F
15°C / 59°F
06:59 / 17:44
80
21
25°C / 77°F
19°C / 66°F
06:59 / 17:44
84
22
19°C / 66°F
12°C / 54°F
07:00 / 17:45
75
23
15°C / 59°F
8°C / 46°F
07:00 / 17:45
52
24
16°C / 61°F
7°C / 45°F
07:01 / 17:46
56
25
19°C / 66°F
12°C / 54°F
07:01 / 17:46
61
26
22°C / 72°F
16°C / 61°F
07:01 / 17:47
68
27
18°C / 64°F
16°C / 61°F
07:02 / 17:48
75
28
24°C / 75°F
15°C / 59°F
07:02 / 17:48
73
29
22°C / 72°F
9°C / 48°F
07:03 / 17:49
81
30
13°C / 55°F
8°C / 46°F
07:03 / 17:49
50
31
13°C / 55°F
6°C / 43°F
07:03 / 17:50
32
- Last updated on May. 31, 2022 -