Shenzhen Weather in September
At the end of summer, Shenzhen weather in September is still hot, but the temperature falls off slightly, with the monthly average temperature of about 31°C (88°F) in the day and 24°C (75°F) at night. September is the late rain reason of Shenzhen, the average total precipitation volume drops off to about 238mm. Almost every day is breezy. It is cool in the morning and night.
The
Mid-Autumn Festival
usually falls in September according to Chinese Lunar Calendar, when there are many activities to be held. During the festival, many scenic spots will hold concerts, traditional culture exhibitions, Chinese culture theme activities, artistic performances, and so on. Travelers can be fully involved in the festival by participating in various traditional celebration events, including admiring the full moon, eating moon cakes, guessing lantern riddles, and enjoying the night view.
Averages for Shenzhen Weather in September
Temperature: 27°C / 81°F
High Temperature: 31°C / 88°F
Low Temperature: 24°C / 75°F
Humidity: 76%
Rainfall: 288 mm
Rainy Days: 15 days
Sunrise: 06:06 ~ 06:25
Sunset: 18:12 ~ 18:41
Air Quality in September
Average AQI:29

What to Wear in Shenzhen in September
Short-sleeve clothes made of light cotton fabric or chiffon, shorts, short skirts, flimsy pants and sport suits are suitable for the weather. It is cool at night, so travelers may need to wear a blouse, pants or long dress. And travelers may need a light coat if it rains. Sun-proof clothing is necessary when staying outdoors for long time. Flat sandals or sport sandals are recommended.


Where to Go in Shenzhen in September
At late summer, the climate of Shenzhen in September could be enjoyable to walk in city, visiting the characteristic and beautiful artistic sites. Apart from its hustle and bustle, Shenzhen also has a side of tranquility and art. Travelers can go to Shenzhen Overseas Chinese Town (OCT) Loft to discover featured shops and visit art exhibitions; go to Dafen Oil Painting Village to explore innovative and unique paintings and watching the painting creation process; or go to Guanlan Original Printmaking Innovative Base to taste and experience the simple and graceful China village.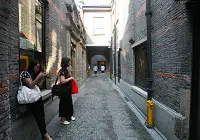 OCT Loft
Dafen Oil Painting Village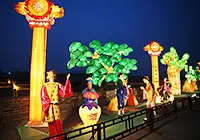 Mid-Autumn Festival Lantern Fair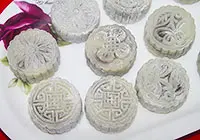 Eating Mooncakes
Top 7 Things to Do in Shenzhen
Other Tips
During the Mid-Autumn Festival, there will be a mass of visitors at scenic spots, beware that you may get separated with your companions in the crowd. Therefore, you had better take your cell phone with you at any time to stay connected with your companions.
What is the temperature in Shenzhen in September?
High/Low Temperatures of Shenzhen in September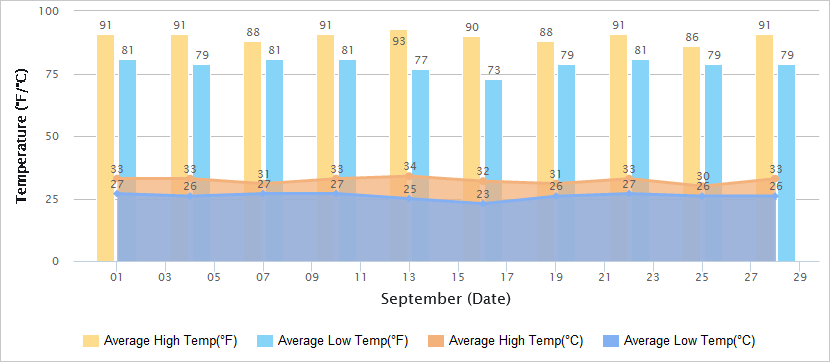 Air Quality of Shenzhen in September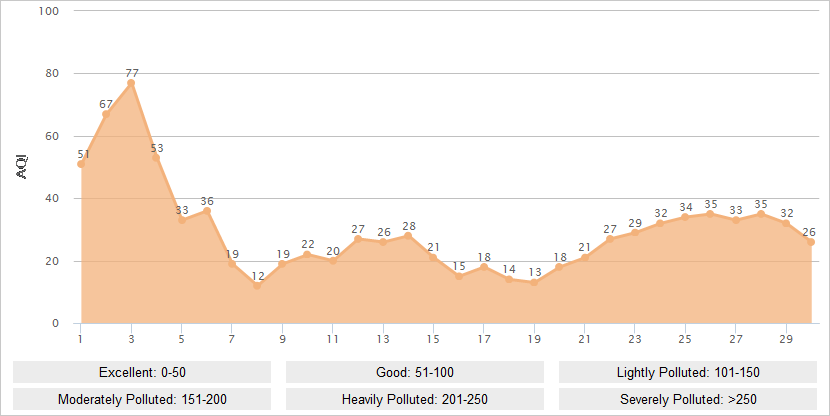 Shenzhen Weather in September Based on Historical Data
Sep
Temperature
Sunrise / Sunset
Humi-
dity
(%)
High
Low
1
33°C / 91°F
27°C / 81°F
06:06 / 18:41
68
2
34°C / 93°F
26°C / 79°F
06:07 / 18:40
66
3
32°C / 90°F
27°C / 81°F
06:07 / 18:39
67
4
33°C / 91°F
26°C / 79°F
06:07 / 18:38
70
5
34°C / 93°F
26°C / 79°F
06:07 / 18:37
67
6
34°C / 93°F
28°C / 82°F
06:08 / 18:36
64
7
31°C / 88°F
27°C / 81°F
06:08 / 18:35
73
8
34°C / 93°F
26°C / 79°F
06:08 / 18:34
73
9
33°C / 91°F
27°C / 81°F
06:09 / 18:33
71
10
33°C / 91°F
27°C / 81°F
06:09 / 18:32
71
11
33°C / 91°F
28°C / 82°F
06:09 / 18:31
64
12
33°C / 91°F
27°C / 81°F
06:09 / 18:30
70
13
34°C / 93°F
25°C / 77°F
06:10 / 18:29
70
14
30°C / 86°F
24°C / 75°F
06:10 / 18:28
56
15
30°C / 86°F
21°C / 70°F
06:10 / 18:27
54
16
32°C / 90°F
23°C / 73°F
06:11 / 18:26
49
17
31°C / 88°F
23°C / 73°F
06:11 / 18:25
40
18
32°C / 90°F
25°C / 77°F
06:11 / 18:24
44
19
31°C / 88°F
26°C / 79°F
06:11 / 18:23
57
20
31°C / 88°F
26°C / 79°F
06:12 / 18:22
65
21
32°C / 90°F
26°C / 79°F
06:12 / 18:21
63
22
33°C / 91°F
27°C / 81°F
06:12 / 18:20
70
23
32°C / 90°F
27°C / 81°F
06:13 / 18:19
74
24
31°C / 88°F
26°C / 79°F
06:13 / 18:18
81
25
30°C / 86°F
26°C / 79°F
06:13 / 18:17
74
26
32°C / 90°F
26°C / 79°F
06:14 / 18:16
69
27
33°C / 91°F
26°C / 79°F
06:14 / 18:15
51
28
33°C / 91°F
26°C / 79°F
06:14 / 18:14
44
29
31°C / 88°F
24°C / 75°F
06:14 / 18:13
45
30
31°C / 88°F
24°C / 75°F
06:15 / 18:12
39
- Last modified on Aug. 28, 2019 -