Shenzhen Weather in July
Shenzhen weather in July is the hottest throughout the year but not that hot compared with most cities in China. The monthly average temperature is about 32°C (90°F) in the day and 26°C (79°F) at night.
But there are more rainy days with the effect of subtropical high and typhoon, and the average total precipitation volume rises to about 339 mm. Heavy showers and intense fall occur at times, so travelers had better check the weather forecast before going out.
Averages for Shenzhen Weather in July
Temperature: 29°C / 84°F
High Temperature: 32°C / 90°F
Low Temperature: 26°C / 79°F
Humidity: 79%
Rainfall: 340 mm
Rainy Days: 17 days
Sunrise: 05:43 ~ 05:55
Sunset: 19:05 ~ 19:12
Air Quality in July
Average AQI:16

What to Wear in Shenzhen in July
For the climate in Shenzhen in July, it is suitable to wear short sleeve clothes made of light cotton fabric or chiffon, shorts, short skirt, light pants and sport suit. Travelers may need to wear a blouse, pants or long dress at night. Travelers may need a light coat if it rains. When staying outdoors for a long time, sun-proof clothing can prevent them from sunburn. Comfortable flat sandals are recommended.


Things to Do in Shenzhen in July
Shenzhen is a beautiful city with many rivers and forest parks. When the hot summer comes, many people choose to go rafting, riding the waves in gentle wind and bathing in the cool and refreshing water. What's more important, they can experience the thrill and excitement of rafting.
It is very convenient and enjoyable to go rafting at
Mission Hills Tourist Resort
in Longhua District. Driving a boat without power, travelers need to use the paddle to steer the direction, and drift downstream in the gentle flows alternate between rapid flows. Meanwhile, they can admire the natural scenery.
Dameisha Beach
,
Xiaomeisha Beach
, Wutong Mountain, and Yangmeikeng Valley are recommended attractions, where travelers can view the beauty of Shenzhen in summer.
Top 7 Things to Do in Shenzhen
Other Tips
The intense UV outdoors could hurt people's skin. Travelers need to make effort on UV protection, such as wearing sun-proof clothing and applying sun block cream.
If a typhoon attacks the city, travelers should try to avoid outdoor activities, and do not use electric appliances for safety's sake.
What is the temperature in Shenzhen in July?
High/Low Temperatures of Shenzhen in July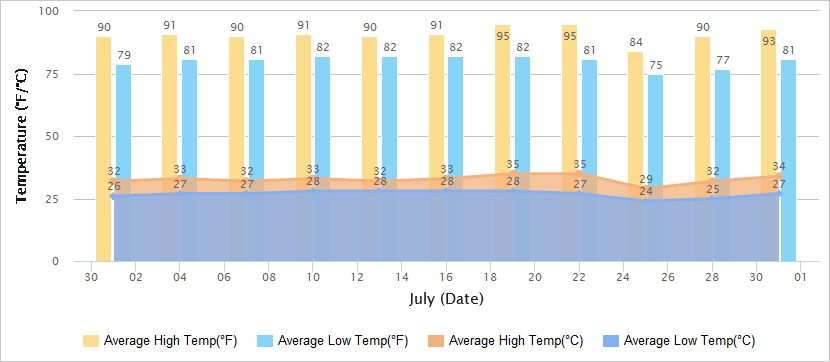 Air Quality of Shenzhen in July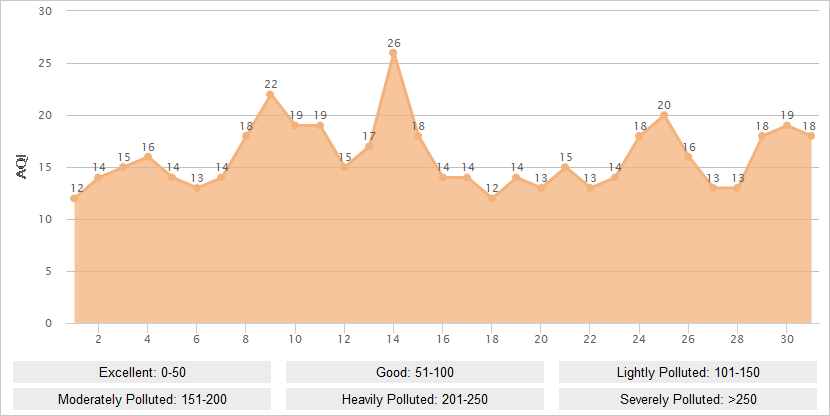 Shenzhen Weather in July Based on Historical Data
Jul
Temperature
Sunrise / Sunset
Humi-
dity
(%)
High
Low
1
32°C / 90°F
26°C / 79°F
05:43 / 19:12
69
2
33°C / 91°F
27°C / 81°F
05:43 / 19:12
66
3
32°C / 90°F
26°C / 79°F
05:43 / 19:12
70
4
33°C / 91°F
27°C / 81°F
05:44 / 19:12
65
5
33°C / 91°F
26°C / 79°F
05:44 / 19:12
76
6
33°C / 91°F
27°C / 81°F
05:44 / 19:12
71
7
32°C / 90°F
27°C / 81°F
05:45 / 19:12
70
8
32°C / 90°F
27°C / 81°F
05:45 / 19:12
73
9
33°C / 91°F
27°C / 81°F
05:46 / 19:12
71
10
33°C / 91°F
28°C / 82°F
05:46 / 19:12
70
11
33°C / 91°F
28°C / 82°F
05:46 / 19:12
71
12
33°C / 91°F
28°C / 82°F
05:47 / 19:12
68
13
32°C / 90°F
28°C / 82°F
05:47 / 19:11
70
14
33°C / 91°F
27°C / 81°F
05:48 / 19:11
73
15
34°C / 93°F
28°C / 82°F
05:48 / 19:11
72
16
33°C / 91°F
28°C / 82°F
05:48 / 19:11
73
17
33°C / 91°F
28°C / 82°F
05:49 / 19:11
70
18
33°C / 91°F
25°C / 77°F
05:49 / 19:10
73
19
35°C / 95°F
28°C / 82°F
05:50 / 19:10
69
20
35°C / 95°F
28°C / 82°F
05:50 / 19:10
68
21
37°C / 99°F
26°C / 79°F
05:51 / 19:09
62
22
35°C / 95°F
27°C / 81°F
05:51 / 19:09
72
23
30°C / 86°F
26°C / 79°F
05:51 / 19:09
78
24
30°C / 86°F
25°C / 77°F
05:52 / 19:08
81
25
29°C / 84°F
24°C / 75°F
05:52 / 19:08
88
26
28°C / 82°F
24°C / 75°F
05:53 / 19:07
86
27
28°C / 82°F
25°C / 77°F
05:53 / 19:07
86
28
32°C / 90°F
25°C / 77°F
05:54 / 19:07
78
29
33°C / 91°F
26°C / 79°F
05:54 / 19:06
72
30
34°C / 93°F
26°C / 79°F
05:54 / 19:06
71
31
34°C / 93°F
27°C / 81°F
05:55 / 19:05
72
- Last updated on May. 31, 2022 -