China's 6 Best Places to Travel in February
February is the last month of winter in China and temperature increases a little. But it is still cold in North China, where visitors can enjoy snow scenery like in Harbin. In south China like Guangzhou and Shenzhen, spring flowers start to blossom. Moreover, Chinese New Year, the grandest festival of China usually falls in February, when you can experience traditional Chinese customs and enjoy celebration activities. Below are listed China's 6 top places to visit in February: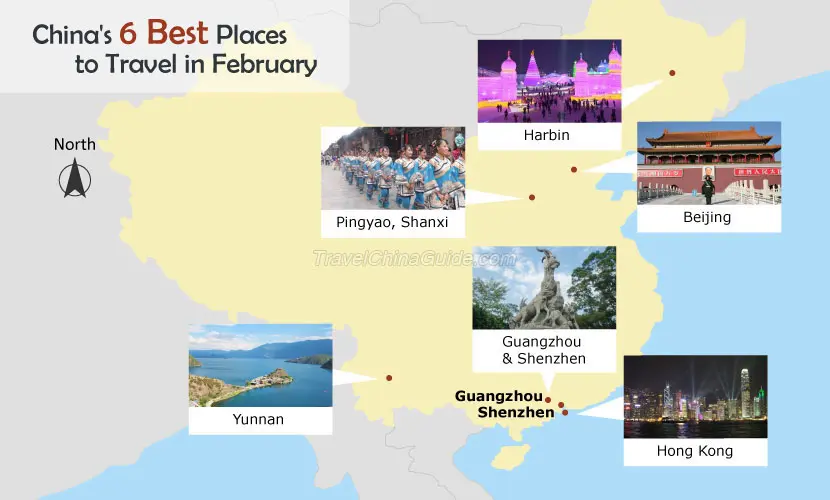 1
Beijing: Capital with Abundant Cultural Relics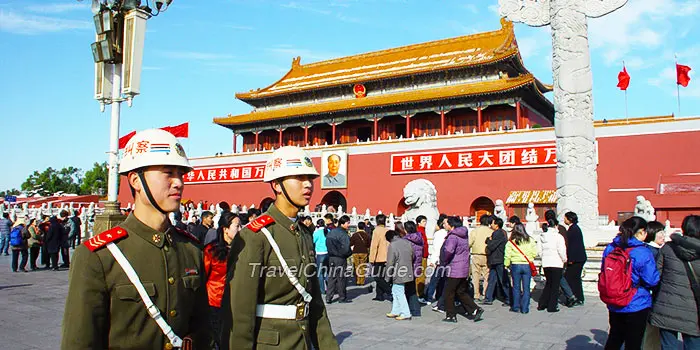 Location: North China
Beijing Temperature in February
: -6°C ~ 5°C (21°F ~ 41°F)
Weather: Chilly and dry with little rain; much colder in the morning and evening.
Highlights:
Temple Fair
, happy Spring Festival atmosphere
Things to Do:
If you travel to Beijing during the Spring Festival, you can wander through the temple fairs full of various snacks, goods and folk performances and experience thick Spring Festival atmosphere. The top 3 ones include Ditan Park Temple Fair, Longtan Park Temple Fair and Summer Palace Temple Fair. Get ready for the large crowd in the temple fairs and take good care of your belongings. As capital of China, there remianed quantities of historical sites, such as Forbidden City, Great Wall and Summer Palace...

Recommended Tour:

Beijing 2 Days Tour Package from

$168
2
Pingyao: Colorful Folk Activities during Chinese New Year
Location: Shanxi Province, North China
Pingyao Temperature in February
: -7°C ~ 6°C (19°F ~ 43°F)
Weather: Cold and dry
Highlights: Shehuo,
Pingyao Ancient City
,
Old City Wall
Things to Do:
One of the best places to visit in China in February is Pingyao Ancient City. During the Chinese New Year, Shehuo, a series of folk celebration activities will be held there. You can enjoy a feast of music, dance, acrobatics, kung fu, opera, and arts and crafts, all performed in traditional ways. Besides, you can walk on the city wall and overlook the old folk houses to feel the historical atmosphere in this ancient city.

Recommended Tour:

2 Days Pingyao Tour from

$289
3
Harbin: Best Winter Resort in China
Location: Heilongjiang Province, Northeast China
Harbin Temperature in February
: -20°C ~ -7°C (-4°F ~ 19°F)
Weather: Frozen and dry
Highlights: pure white snow scenery, ice and snow sculptures
Things to Do:
In Harbin in February, you can appreciate a colorful world of ice and snow sculptures and experience all kind of games on ice. You can also go to the nearby Snow Town to appreciate the white fairyland decorated in red during Chinese New Year. For skiing lovers, you should not miss Yabuli.

Recommended Tour:

2 Days Harbin Ice Festival Tour
4
Yunnan: Warm Sunshine & Exotic Customs of Ethnic Minorities
Location: Southwest China
Yunnan Temperature in February: 3°C ~ 26°C (37°F ~ 79°F)
Weather: warm and moderate at daytime, a little cold in the morning and evening
Highlights: pleasant climate, national minority customs
Things to Do:
Blessed with warm sunshine, Yunnan is one of China's top places to travel in February. You can take a leisurely walk in Lijiang Old Town, boat on Lugu Lake, or appreciate rape flowers blooming all over the mountains in
Luoping
. Yunnan is also the gathering place of various national minorities in China; there, you can experience different ways of celebrating Chinese New Year, like Asai dancing under the moon of Yi Nationality, launch rockets of Bai Nationality, elephant-foot drum dance of Dai Nationality, lantern show of Naxi Nationality, poetry competition of Lisu Nationality….

Recommended Tour:

8 Days Yunnan Tour to Kunming - Dali - Lijiang - Shangri-La from

$1269
5
Hong Kong: Traditional Celebrations in Modern Metropolis
Location: on the southeast coast of China
Hong Kong Temperature in February
: 14°C ~ 19°C (57°F ~ 66°F)
Weather: cool with little rainfall
Highlights: Chinese New Year celebrations including lion dance, dragon dance, fireworks show along
Victoria Harbor
; shopping
Things to Do:
Spend a happy New Year in Hong Kong, during which you can watch the Lion Dancing - two or more lions play with each other, jump up and down, and chase the balls. Fireworks show along Victoria Harbor is also breathtaking. Colorful fireworks together with the surrounding lights presents a splendid visual feast. During the Spring Festival, many goods are on sale in Hong Kong and you can enjoy a shopping frenzy.

Recommended Tour:

Hong Kong One Day Tour Itinerary from

$132
Location: South China
Guangzhou & Shenzhen Temperature in February: 12°C ~ 20°C (54°F ~ 68°F)
Weather: warm at daytime but a little cold at night and rainy days
Highlights: blooming flowers, lion and dragon dance for Chinese New Year celebration
Things to Do:
During the Spring Festival, there will be brilliant performance - Lion and Dragon Dancing. Actors wear the lion or dragon clothes and jump up and down, showing different expressions and movements. Some raise head to look up and down; some lie on the ground; some nod their head and wag their tail. In February, Flower Fair will also be held to welcome to the spring. You can appreciate different kinds of flowers, including kumquat, peach blossom, narcissus, kapok, camellia, eranthemum pulchellum, pyrostegiaignea, Chinese rose, bauhinia blakeana, Spathodea campanulata…

Recommended Tour:

3 Days Guangzhou City Tour from

$289
- Last modified on Mar. 10, 2021 -