China's Top 6 Places to Visit in March
March is the early spring in China: the weather is gradually warming up; the plants start to turn green; and the flowers start to decorate the world colorfully. There are vibrant scenes everywhere, making it a good time to travel. Among all, the best places to visit in China in March include: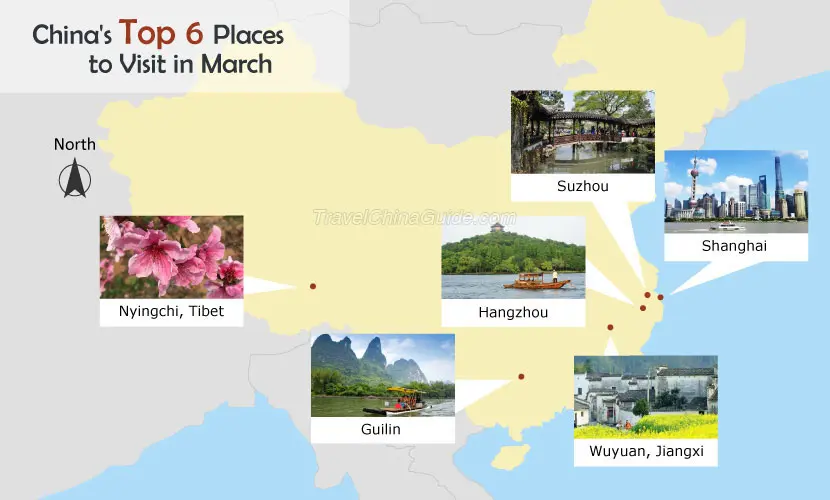 1
Wuyuan: A Sea of Rape Flowers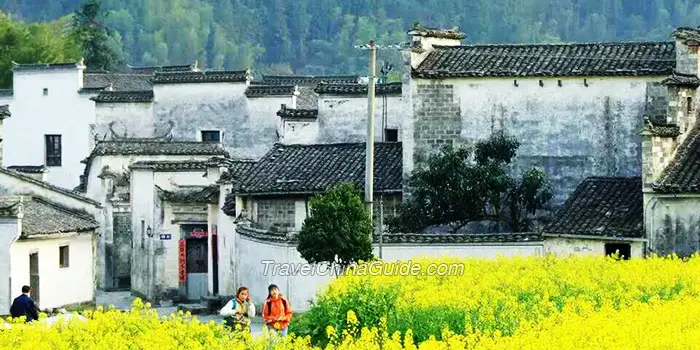 Location: Jiangxi Province, East China
Wuyuan Temperature in March: 5°C ~ 10°C (41°F ~ 50°F)
Weather: Rising temperature, frequent but light rain; taking an umbrella is necessary.
Highlights: Rape flowers, hui-style architecture of white walls and black tiles, photography
What to See:
March is the peak tourist season in Wuyuan. In this month, rape flowers race to blossom one after another, forming a sea of yellow flowers. This vast yellow "sea", is dotted with many Hui-style residences of white walls and black roofs. Looking from afar, it is like an oil painting. The picturesque scenery also attracts many shutterbugs.

Recommended Tour:

15 Days Tour to Shanghai - Huangshan - Wuyuan - Hangzhou - Beijing
2
Guilin: Most Beautiful Mountains and Waters all over the World
Location: Guangxi Zhuang Autonomous Region, South China
Guilin Temperature in March
: 10°C ~ 16°C (50°F ~ 61°F)
Weather: Warm and pleasant on sunny days with increasing humidity, occasional showers
Must-see Places:
Li River
,
Elephant Trunk Hill
,
Reed Flute Cave
,
Seven-Star Park
,
Yangshuo countryside
Things to Do:
Guilin is one of China' best places to go in March. You can cruise along the Li River, which is decorated by karst mountains on both sides, from Guilin all the way to Yangshuo. Upon arrival, you can take a bamboo raft to drift on the Yulong River or you can cycle along the countryside road to appreciate the tens of acres of rape flowers and discover the idyllic beauty. The unique mountain-and-water landscape is also the perfect theme of photography.

Recommended Tour:

3 Days Guilin Tour from

$379
Location: Southeastern Tibet, West China

Nyingchi Temperature in March: 0°C ~ 13°C (32°F ~ 55°F)

Weather: It is warm during the day and a little cold at night.

Highlights: Peach blossoms all over the valleys

Things to Do:
Nyingchi, one of China's top places to travel in March, is already an ocean of peach blossoms in March. The peaks in the distance are capped with white snow, while the peach blossoms already paint the mountain foot pink. From mid-March to early April each year, it is the season with the most flourishing peach blossoms. The annual Nyingchi Peach Blossom Festival is held at this time. In spite of enjoying the beauty of nature, visitors can also learn the rich folk customs of Tibet, and attend entertainment activities like horse riding, archery, singing and dancing.
Location: East China
Shanghai Temperature in March
: 5°C ~ 13°C (41°F ~ 55°F)
Weather: Rising temperature with a little rainfall
Must-see Places:
The Bund
&
Huangpu River
,
Nanjing Road
,
Yu Garden
,
Jade Buddha Temple
,
Xintiandi
…
Things to Do:
Shanghai is a modern metropolis with many skyscrapers and the Bund is the best place to appreciate them. The night view is even more amazing and the best way to sightsee is by cruise over Huangpu River. On the other hand, it boasts many historical relics like traditional Chinese style Yu Garden and Jade Buddha. What's more, the colonial history has left the city many examples of western style architecture from the 1920s and 1930s, like Shikumen in Xintiandi. The combination of these multiple cultures has also made Shanghai a magic city.

Recommended Tour:

Shanghai Day Trip to Zhujiajiao and the Bund
Location: East China
Hangzhou Temperature in March
: 6°C ~ 14°C (43°F ~ 57°F)
Weather: It is warming up; rains occasionally
Highlights:
West Lake
,
Leifeng Pagoda
,
Wuzhen Water Town
Things to Do:
The beautiful West Lake, the wonderful Sudi, the unique Xixi National Wetland Park, and the Leifeng Pagoda are all great sights that must not be missed when visiting Hangzhou in March. Strolling along the West Lake, you will not only appreciate this beautiful lake and mountains, but also occasionally see a variety of birds passing by. In the evening, the sun slowly goes down, the mountains stack in the distance, the ripples of the lake and the Juxian Pavilion in the lake outline a perfect landscape painting, which makes people relaxed.

Recommended Tour:

1 Day Hangzhou Group Tour from

$59
6
Suzhou: Vibrant Classic Gardens
Location: East China
Suzhou Temperature in March
: 5°C ~ 13°C (41°F ~ 55°F)
Weather: Neither too cold nor hot; rain sometimes; cold in the morning and evening.
Must-see Places:
Humble Administrator's Garden
,
Lingering Garden
,
Hanshan Temple
,
Tiger Hill
,
Lion Grove Garden
Things to Do:
In March, Suzhou is full of beautiful flowers and green trees everywhere. You can go to the traditional style gardens to appreciate the perfect combination of garden construction art and natural scenery. The clear ponds, the exquisite rockery, with cherry and peach blossoms, is the most fantastic scenery of Suzhou's Spring, which you can immerse yourself in.

Recommended Tour:

Suzhou Day Trip to Classical Gardens from

$108
- Last modified on Mar. 10, 2021 -