Guilin Weather in March
Guilin comes into its spring in March. The weather often changes unpredictably, with most rainy and cloudy days. Sometimes, it may drizzle continuously for a whole month. Thus, it still feels a little bit cold especially in early March and the air humidity is very high. There may be several sunny days when the highest temperature may reach up to 20

C (68

F) or even higher. However, there is still a big temperature difference between day and night.
At this time, the water level of the
Li River
begins to rise, and it is available for a Li River cruise again. If it happens to be a rainy day, you will be lucky to enjoy the most splendid Li River in rain and mist, which is indeed a wonderful painting by nature. Besides, few visitors come to Guilin during this time, so you can avoid the crowd and spend less money.
Data of Guilin Weather in March
Average Temperature: 13

C / 55

F
Average High Temperature: 16

C / 61

F
Average Low Temperature: 10

C / 50

F
Average Humidity: 79%
Average Rainfall: 137 mm
Average Rainy Days: 19 days
Time of Sunrise: 06:31 ~ 07:02
Time of Sunset: 18:41 ~ 18:55
Air Quality in March
Average AQI:54


Clothing Advice: The cold winter has passed completely, but a thin sweater and overcoat are still necessary for a trip in Guilin at this time. Take more spare clothes, since it's very hard to dry them once damp, in the high humidity in the air. Bring a long-sleeved T-shirt or shirt as well in case you meet a warm sunny day. It's advised to prepare a pair of waterproof shoes with projections on the soles, for the paths may be muddy and slippery because of the rain.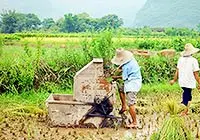 March of Guilin

Travel Advice: Li River should be your first choice now, although the water is still not deep enough. It is also a good time for a drift on the
Yulong River
. In addition, peach blossoms are usually blooming in and around Gongcheng County every March, and the rape flowers on the Longji Terraces are also scrambling to come out. You can also make a spring outing to the
Elephant Trunk Hill
,
Seven Star Park
or
Two Rivers and Four Lakes Scenic Spot
.

Other Tips: An umbrella or rain coat is of course necessary for you to travel to Guilin at this time. It's also easy to get cold due to the unpleasant weather, so prepare some essential medicine in advance. Prepare sunscreens with low SPF for a sunny afternoon. If you plan to take a Li River Cruise, take some medicine for seasickness, too.

Historical Guilin Weather in March
Mar
Temperature
Sunrise / Sunset
Humi-
dity
(%)
High
Low
1
9.1°C / 48.4°F
6.9°C / 44.4°F
07:02 / 18:41
89
2
9.4°C / 48.9°F
7.2°C / 45°F
07:01 / 18:41
82
3
7.9°C / 46.2°F
6.2°C / 43.2°F
07:00 / 18:42
81
4
7.6°C / 45.7°F
6.4°C / 43.5°F
06:59 / 18:42
90
5
13.8°C / 56.8°F
6.6°C / 43.9°F
06:58 / 18:43
80
6
10.6°C / 51.1°F
7.8°C / 46°F
06:57 / 18:43
81
7
11.3°C / 52.3°F
7.3°C / 45.1°F
06:56 / 18:44
75
8
9.4°C / 48.9°F
8.2°C / 46.8°F
06:55 / 18:44
75
9
8.5°C / 47.3°F
6.4°C / 43.5°F
06:54 / 18:45
72
10
11.3°C / 52.3°F
6.2°C / 43.2°F
06:53 / 18:45
66
11
14.9°C / 58.8°F
8.7°C / 47.7°F
06:52 / 18:46
56
12
16.7°C / 62.1°F
10.8°C / 51.4°F
06:51 / 18:46
50
13
17.9°C / 64.2°F
10.8°C / 51.4°F
06:50 / 18:47
57
14
14.3°C / 57.7°F
10.8°C / 51.4°F
06:49 / 18:47
87
15
14.2°C / 57.6°F
11.2°C / 52.2°F
06:48 / 18:48
93
16
15.3°C / 59.5°F
14°C / 57.2°F
06:47 / 18:48
92
17
15.2°C / 59.4°F
13.5°C / 56.3°F
06:46 / 18:49
90
18
18.1°C / 64.6°F
15.1°C / 59.2°F
06:45 / 18:49
89
19
25.6°C / 78.1°F
16.1°C / 61°F
06:44 / 18:50
82
20
21.4°C / 70.5°F
14.2°C / 57.6°F
06:43 / 18:50
79
21
14.3°C / 57.7°F
10°C / 50°F
06:42 / 18:50
80
22
16.9°C / 62.4°F
11.3°C / 52.3°F
06:41 / 18:51
89
23
15.3°C / 59.5°F
8.8°C / 47.8°F
06:40 / 18:51
75
24
21.4°C / 70.5°F
10.1°C / 50.2°F
06:39 / 18:52
45
25
24°C / 75.2°F
11.4°C / 52.5°F
06:37 / 18:52
42
26
25.2°C / 77.4°F
11.1°C / 52°F
06:36 / 18:53
48
27
25.6°C / 78.1°F
13.1°C / 55.6°F
06:35 / 18:53
54
28
21.5°C / 70.7°F
16.1°C / 61°F
06:34 / 18:54
76
29
18.6°C / 65.5°F
15.8°C / 60.4°F
06:33 / 18:54
90
30
19.9°C / 67.8°F
17.3°C / 63.1°F
06:32 / 18:55
87
31
23.4°C / 74.1°F
15.7°C / 60.3°F
06:31 / 18:55
46
AQI(Air Quality Index) Graph for Guilin, China (March 2017)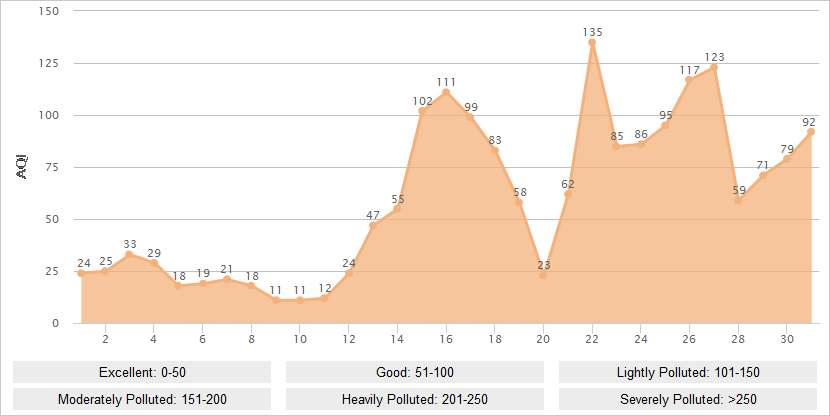 Weather by Month: