Guilin Weather in June
Guilin weather in June still features the rainy season. Downpours take place often, but won't last long. Adding to the high rainfall of April and May, rivers begin to come to their flood, so the water may become not so clear. The temperature may rise above 30

C (86

F) during a sunny afternoon and the weather becomes sultry due to the high humidity. The mornings and evenings are cool as Guilin is near the mountains and is in an area of much water.
The
Dragon Boat Festival
usually falls in this month, so the abundant water provides good conditions for dragon boat races which can be enjoyed on most rivers and lakes in Guilin. The high temperature allows other water activities like rafting, swimming, and waterfall climbing.
Averages for Guilin Weather in June
Temperature: 26°C / 79°F
High Temperature: 30°C / 86°F
Low Temperature: 23°C / 73°F
Humidity: 82%
Rainfall: 347 mm
Rainy Days:18 days
Sunrise: 05:49 ~ 05:52
Sunset: 19:25 ~ 19:34
Air Quality in June
Average AQI:27

What to Wear in Guilin in June
Cool summer clothes, such as shorts, are generally suitable at this time in Guilin. Bring enough changes, since it is always hard to dry clothes in the humid summer days. Prepare a pair of thin slacks and a long-sleeved thin overcoat for a hot sunny day if you are afraid of being tanned by the sun. Comfortable sports shoes that are waterproof and with projections on the soles are highly recommended during the rainy season.


Things to Do in Guilin in June
Li River cruise is always a highlight of a trip to Guilin. Although the water is not that clear in this month, the natural landscapes on both banks are still as beautiful as paintings. It is a good time for rafting on the
Yulong River
, but do remember to wear a life jacket during the flood season. Longji Terraces usually will be planted with seedlings, so a distinctive scene may be presented. In addition, Gudong Waterfall,
Xingping Old Town
, and the Land of Peach Blossom can also be seen. At night, you may either watch the
Impression Sanjie Liu
or roam around the Two Rivers and Four Lakes Scenic Spot.
Top 10 Things to Do in Guilin
Other Tips
The climate in Guilin in June contributes plenty of rain most time of the year, so rain gear is always necessary. The sunlight in June is strong, so take suntan lotion with you. Guilin is mountainous and rich in water, grass and trees, so mosquitoes are common. Thus, bring mosquito repellent as well as other essential medicines.
What is the temperature in Guilin in June?
High/Low Temperatures of Guilin in June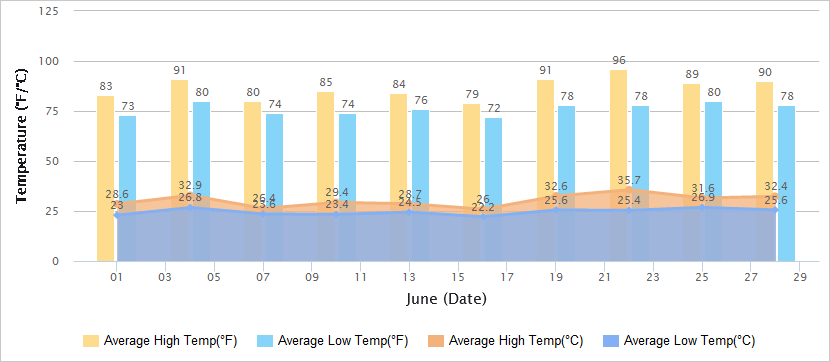 Air Quality of Guilin in June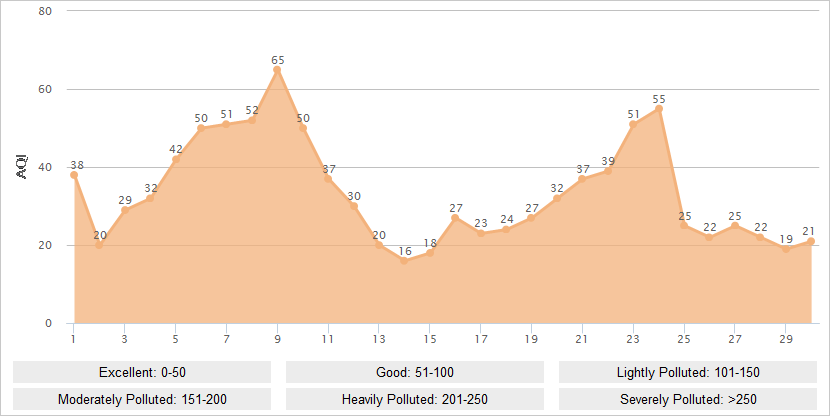 Historical Guilin Weather in June
Jun
Temperature
Sunrise / Sunset
Humi-
dity
(%)
High
Low
1
28.6°C / 83.5°F
23°C / 73.4°F
05:49 / 19:25
60
2
30.8°C / 87.4°F
21.7°C / 71.1°F
05:49 / 19:25
64
3
30.6°C / 87.1°F
22.7°C / 72.9°F
05:48 / 19:26
67
4
32.9°C / 91.2°F
26.8°C / 80.2°F
05:48 / 19:27
68
5
31.4°C / 88.5°F
28.1°C / 82.6°F
05:48 / 19:27
67
6
31.4°C / 88.5°F
25.2°C / 77.4°F
05:48 / 19:28
84
7
26.4°C / 79.5°F
23.6°C / 74.5°F
05:48 / 19:28
93
8
30.3°C / 86.5°F
24.6°C / 76.3°F
05:48 / 19:28
84
9
32.4°C / 90.3°F
25.6°C / 78.1°F
05:48 / 19:29
79
10
29.4°C / 84.9°F
23.4°C / 74.1°F
05:48 / 19:29
81
11
32.9°C / 91.2°F
23.7°C / 74.7°F
05:48 / 19:30
78
12
31.5°C / 88.7°F
24.1°C / 75.4°F
05:48 / 19:30
82
13
28.7°C / 83.7°F
24.5°C / 76.1°F
05:48 / 19:30
87
14
32.6°C / 90.7°F
24.6°C / 76.3°F
05:48 / 19:31
77
15
30.1°C / 86.2°F
23.4°C / 74.1°F
05:48 / 19:31
87
16
26°C / 78.8°F
22.2°C / 72°F
05:49 / 19:31
92
17
31.3°C / 88.3°F
23.3°C / 73.9°F
05:49 / 19:31
85
18
31.7°C / 89.1°F
24.8°C / 76.6°F
05:49 / 19:32
80
19
32.6°C / 90.7°F
25.6°C / 78.1°F
05:49 / 19:32
75
20
33.6°C / 92.5°F
25.5°C / 77.9°F
05:49 / 19:32
70
21
34.4°C / 93.9°F
25.7°C / 78.3°F
05:49 / 19:32
70
22
35.7°C / 96.3°F
25.4°C / 77.7°F
05:50 / 19:33
68
23
34.6°C / 94.3°F
27°C / 80.6°F
05:50 / 19:33
65
24
34.1°C / 93.4°F
27.9°C / 82.2°F
05:50 / 19:33
64
25
31.6°C / 88.9°F
26.9°C / 80.4°F
05:50 / 19:33
75
26
32.2°C / 90°F
25.2°C / 77.4°F
05:51 / 19:33
62
27
31°C / 87.8°F
24.1°C / 75.4°F
05:51 / 19:33
78
28
32.4°C / 90.3°F
25.6°C / 78.1°F
05:51 / 19:33
76
29
28.8°C / 83.8°F
25.1°C / 77.2°F
05:52 / 19:34
87
30
31.5°C / 88.7°F
24.7°C / 76.5°F
05:52 / 19:34
82
- Last modified on Aug. 29, 2019 -