Guilin Weather in July
As summer advances in July, Guilin's temperature may soar up to 38°C (82°F) or even higher during an afternoon with sunny weather. However, the torrid summer climate won't affect the sightseeing very much since Guilin has many caves, trees, hills, and water. It still rains a lot although less than the previous months and is mostly thundershower which goes almost as quickly as it comes.
The summer vacation of most students in China begins in early July, so Guilin may encounter another bout of tourist crowd in this month. As a result, hotels, trains and flights maybe overbooked, so tourists are advised to make bookings well in advance.
Averages for Guilin Weather in July
Temperature: 28°C / 82°F
High Temperature: 33°C / 91°F
Low Temperature: 25°C / 77°F
Humidity: 79%
Rainfall: 231 mm
Rainy Days:16 days
Sunrise: 05:52 ~ 06:05
Sunset: 19:25 ~ 19:34
Air Quality in July
Average AQI:30

What to Wear in Guilin in July
It's advisable to wear highly breathable short-sleeved silk T-shirts with shorts or thin slacks to cope with the July weather in Guilin. Prepare a pair of light and comfortable flat-bottomed sandals, considering the extreme heat and the attraction of water.


Things to Do in Guilin in July
Li River should be in your itinerary whenever you go to Guilin. Numerous caves, including Reed Flute Cave,
Seven Star Cave
and
Crown Cave
, provide good shelters against the hot climate in Guilin in July. Water activities are good choices at this time such as climbing the Gudong Waterfall, or drafting on the Yulong River or Longjing River. You may also hire a bicycle to bike around the countryside of Yangshuo to learn more about the local conditions and customs.
Top 10 Things to Do in Guilin
Other Tips
Bring along sun screen with high SPF, sun hat or sun glasses with you. Some sunstroke or heatstroke preventive medications may help, too. Detoxifying drugs and mosquito-repellent spray are highly recommended. And finally, a umbrella should always be on your list when preparing for a trip to Guilin in July.
What is the temperature in Guilin in July?
High/Low Temperatures of Guilin in July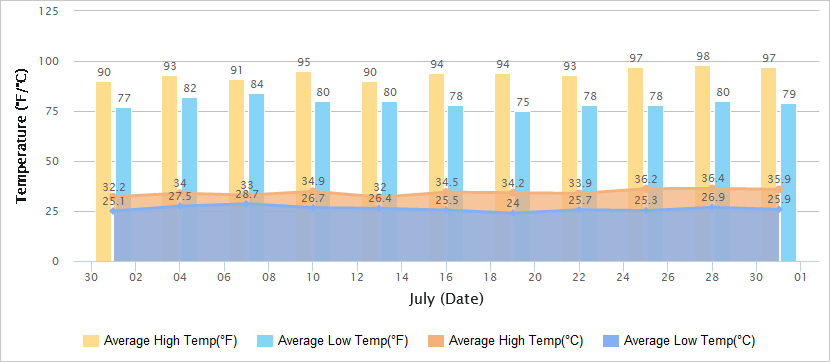 Air Quality of Guilin in July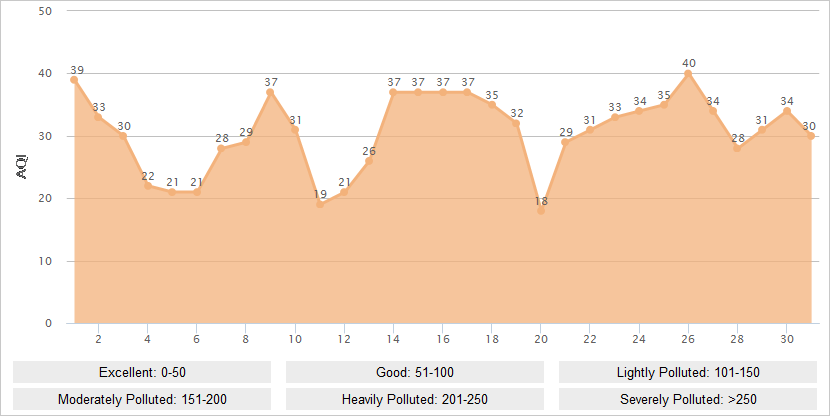 Historical Guilin Weather in July
Jul
Temperature
Sunrise / Sunset
Humi-
dity
(%)
High
Low
1
32.2°C / 90°F

25.1°C / 77.2°F

05:52 / 19:34
73
2
32.4°C / 90.3°F
25.9°C / 78.6°F
05:53 / 19:34
71
3
32.5°C / 90.5°F
27.2°C / 81°F
05:53 / 19:34
65
4
34°C / 93.2°F
27.5°C / 81.5°F
05:53 / 19:34
62
5
34.4°C / 93.9°F
26.2°C / 79.2°F
05:54 / 19:34
66
6
33.4°C / 92.1°F
27.2°C / 81°F
05:54 / 19:33
66
7
33°C / 91.4°F
28.7°C / 83.7°F
05:55 / 19:33
69
8
30.5°C / 86.9°F
24.6°C / 76.3°F
05:55 / 19:33
88
9
33.9°C / 93°F
25.1°C / 77.2°F
05:55 / 19:33
75
10
34.9°C / 94.8°F
26.7°C / 80.1°F
05:56 / 19:33
61
11
35.1°C / 95.2°F
25.9°C / 78.6°F
05:56 / 19:33
63
12
35°C / 95°F
27.1°C / 80.8°F
05:57 / 19:33
63
13
32°C / 89.6°F
26.4°C / 79.5°F
05:57 / 19:32
68
14
31.3°C / 88.3°F
26.4°C / 79.5°F
05:58 / 19:32
68
15
31.5°C / 88.7°F
26.3°C / 79.3°F
05:58 / 19:32
64
16
34.5°C / 94.1°F
25.5°C / 77.9°F
05:58 / 19:32
66
17
35.1°C / 95.2°F
25.5°C / 77.9°F
05:59 / 19:31
67
18
32.8°C / 91°F
26.1°C / 79°F
05:59 / 19:31
67
19
34.2°C / 93.6°F
24°C / 75.2°F
06:00 / 19:31
72
20
35.6°C / 96.1°F
24.4°C / 75.9°F
06:00 / 19:30
64
21
34.7°C / 94.5°F
26.1°C / 79°F
06:01 / 19:30
65
22
33.9°C / 93°F
25.7°C / 78.3°F
06:01 / 19:30
71
23
33.2°C / 91.8°F
25°C / 77°F
06:02 / 19:29
77
24
35.7°C / 96.3°F
25.6°C / 78.1°F
06:02 / 19:29
68
25
36.2°C / 97.2°F
25.3°C / 77.5°F
06:03 / 19:28
64
26
36.6°C / 97.9°F
26.4°C / 79.5°F
06:03 / 19:28
59
27
35.7°C / 96.3°F
27.4°C / 81.3°F
06:04 / 19:27
59
28
36.4°C / 97.5°F
26.9°C / 80.4°F
06:04 / 19:27
62
29
36.6°C / 97.9°F
26.3°C / 79.3°F
06:05 / 19:26
64
30
34.5°C / 94.1°F
26.5°C / 79.7°F
06:05 / 19:26
58
31
35.9°C / 96.6°F
25.9°C / 78.6°F
06:05 / 19:25
56
- Last updated on Aug. 29, 2019 -