Guilin Weather in September
Autumn comes to Guilin in September when the weather is usually cool and sunny with occasional breezes. The hot rainy climate of summer has completely gone. It may still feel a little bit hot during a sunny afternoon in early September, but it is very cool and pleasant in the morning and evening. In late September, the temperature may drop down to around 20°C (68 °F), and the temperature difference between day and night also increases.
This month is considered the golden season to visit Guilin, because the mountains get luxuriantly green and the water is very abundant after the rainy season. In the sun, the water of the Li River is clear and smooth as a mirror reflecting the surrounding mountains. At the same time, the sweet-scented osmanthus flower, the city flower of Guilin, usually begins to bloom in September, so the whole city is awash with the scent of flowers.
Averages for Guilin Weather in September
Temperature: 25°C / 77°F
High Temperature: 30°C / 86°F
Low Temperature: 22°C / 72°F
Humidity: 73%
Rainfall: 82 mm
Rainy Days:8 days
Sunrise: 06:19 ~ 06:30
Sunset: 18:26 ~ 18:58
Air Quality in September
Average AQI:51

What to Wear in Guilin in September
Summer clothes with a thin overcoat will be alright for early September. If you plan to visit the caves, bring warmer clothes to avoid getting cold. If you go there in middle or late September, long-sleeved shirts and long jeans or sweat pants will be necessary. A pair of comfortable sports shoes would be proper at this time.


Where to Go in Guilin in September
It's a good season to visit the tourist attractions, considering the pleasant weather condition. The Li River appears as clear as crystal, and the terraces in Longsheng have turned golden. Other sites that are worth a visit include Crown Cave, Gudong Waterfall, as well as the West Street and Ten-Mile Gallery in Yangshuo.
Other Tips
Necessary items for a trip to that place in September include medicine for cold and diarrhea, mosquito-repellent and Band-Aids. Bring sun screen, sun glasses and a sun hat for hot sunny days. An umbrella is also advised for protection from sunshine or rain, although it hardly rains during this month. Book hotels and air & train tickets in advance, for it is the peak tourist season for the city. Try to avoid travel to Guilin at the end of September when it will be very crowded on the planes, buses and trains because of the coming National Day Holiday.
What is the temperature in Guilin in September?
High/Low Temperatures of Guilin in September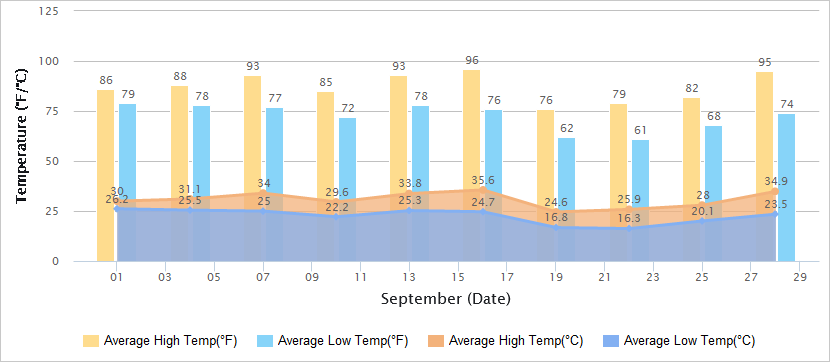 Air Quality of Guilin in September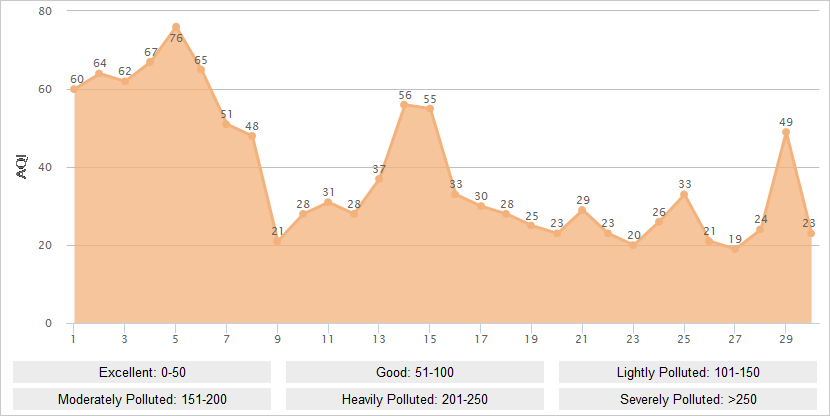 Historical Guilin Weather in September
Sep
Temperature
Sunrise / Sunset
Humi-
dity
(%)
High
Low
1
30°C / 86°F
26.2°C / 79.2°F
06:19 / 18:58
66
2
28.5°C / 83.3°F
24.4°C / 75.9°F
06:20 / 18:57
82
3
32.1°C / 89.8°F
25.2°C / 77.4°F
06:20 / 18:56
85
4
31.1°C / 88°F
25.5°C / 77.9°F
06:20 / 18:55
85
5
34.8°C / 94.7°F
25°C / 77°F
06:21 / 18:54
75
6
33°C / 91.4°F
26.1°C / 79°F
06:21 / 18:53
81
7
34°C / 93.2°F
25°C / 77°F
06:22 / 18:51
75
8
34.5°C / 94.1°F
25.7°C / 78.3°F
06:22 / 18:50
73
9
30.7°C / 97.3°F
22.4°C / 72.3°F
06:22 / 18:49
74
10
29.6°C / 85.3°F
22.2°C / 72°F
06:23 / 18:48
69
11
31.6°C / 88.9°F
23°C / 73.4°F
06:23 / 18:47
72
12
33.7°C / 92.7°F
24°C / 75.2°F
06:23 / 18:46
69
13
33.8°C / 92.8°F
25.3°C / 77.5°F
06:24 / 18:45
68
14
33.7°C / 92.7°F
25.1°C / 77.2°F
06:24 / 18:44
73
15
34.6°C / 94.3°F
24.6°C / 76.3°F
06:25 / 18:43
67
16
35.6°C / 96.1°F
24.7°C / 76.5°F
06:25 / 18:42
64
17
34.6°C / 94.3°F
25.8°C / 78.4°F
06:25 / 18:41
66
18
31.4°C / 88.5°F
24.6°C / 76.3°F
06:26 / 18:39
74
19
24.6°C / 76.3°F
16.8°C / 62.2°F
06:26 / 18:38
71
20
20.6°C / 69.1°F
15.5°C / 59.9°F
06:26 / 18:37
68
21
21.1°C / 70°F
15.8°C / 60.4°F
06:27 / 18:36
65
22
25.9°C / 78.6°F
16.3°C / 61.3°F
06:27 / 18:35
56
23
26.5°C / 79.7°F
19.1°C / 66.4°F
06:28 / 18:34
54
24
25.4°C / 77.7°F
19.1°C / 66.4°F
06:28 / 18:33
51
25
28°C / 82.4°F
20.1°C / 68.2°F
06:28 / 18:32
45
26
24.9°C / 76.8°F
22.2°C / 72°F
06:29 / 18:31
52
27
32.9°C / 91.2°F
22.7°C / 72.9°F
06:29 / 18:30
53
28
34.9°C / 94.8°F
23.5°C / 74.3°F
06:30 / 18:29
53
29
29.8°C / 85.6°F
22.3°C / 72.1°F
06:30 / 18:28
69
30
22.6°C / 72.7°F
19.9°C / 67.8°F
06:30 / 18:26
77
- Last modified on Jun. 27, 2019 -