Guilin Weather in August
August weather in Guilin, featuring a transitional period from summer to autumn, is still hot but not sultry. It may rain frequently, but only showers that help cool down the city, and will not affect your sightseeing. After a downpour in the afternoon, the air becomes fresher and the water and mountains appear more enchanting. If you are lucky enough, you may also have the chance to enjoy a pretty rainbow.
August is a good time to visit Guilin, because there is less rainfall and comfortable weather for outdoor activities. The annual River Lamp Festival of Ziyuan County is usually held then. If you happen to travel during the festival, you may enjoy the folk songs by the ethnic minorities during the day and take part in the lantern floating activities in the evening.
Averages for Guilin Weather in August
Temperature: 28°C / 82°F
High Temperature: 33°C / 91°F
Low Temperature: 25°C / 77°F
Humidity: 78%
Rainfall: 173 mm
Rainy Days:15 days
Sunrise: 06:19 ~ 07:36
Sunset: 18:59 ~ 19:24
Air Quality in August
Average AQI:30

What to Wear in Guilin in August
Summer clothes such as shorts that are thin and breathable are proper, since there is only a small temperature difference between day and night in Guilin in August. Wear a pair of comfortable walking, for example tennis shoes or flat-bottomed sandals.


Where to Go in Guilin in August
Sailing on the Yulong River is very popular among visitors to Guilin at this time. The Li River cruise should also be in your itinerary, considering it is well-known and the pleasant climate of August in Guilin. A bicycle trip on the country road which winds between fields is also interesting. On a sunny day, you can climb the Xianggong Mountain near Yangshuo to watch the spectacular sunrise or sunset in a panoramic view of the Li River. In a hot afternoon, the karst caves are wise choices, where it is much cooler than an air-conditioned room. In the evening, you can watch the outdoor performance Impression Sanjie Liu.
Other Tips
Rain gear is a must for a trip to Guilin for most of the year. Due to the strong sunlight, you should also bring sun screen, sun hat and sun glasses. Drink enough water and take mosquito-repellent as well.
What is the temperature in Guilin in August?
High/Low Temperatures of Guilin in August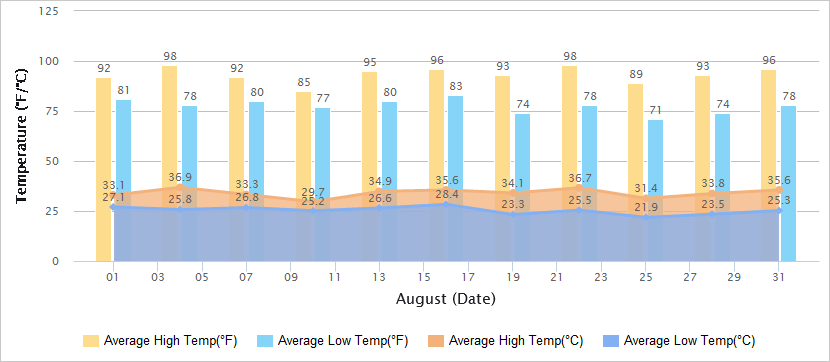 Air Quality of Guilin in August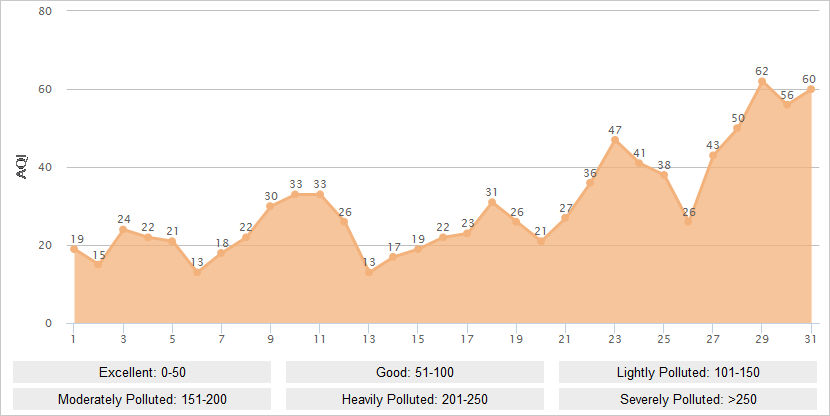 Historical Guilin Weather in August
Aug
Temperature
Sunrise / Sunset
Humi-
dity
(%)
High
Low
1
33.1°C / 91.6°F
27.1°C / 80.8°F
06:06 / 19:24
67
2
36.7°C / 98.1°F
25.9°C / 78.6°F
06:06 / 19:24
64
3
36.7°C / 98.1°F
26.6°C / 80°F
06:07 / 19:23
59
4
36.9°C / 98.4°F
25.8°C / 78.4°F
06:07 / 19:22
58
5
37°C / 98.6°F
26.4°C / 79.5°F
06:08 / 19:22
57
6
35.3°C / 95.5°F
27.4°C / 81.3°F
06:08 / 19:21
63
7
33.3°C / 91.9°F
26.8°C / 80.2°F
06:09 / 19:20
74
8
31.7°C / 89.1°F
25.8°C / 78.4°F
06:09 / 19:20
75
9
32.4°C / 90.3°F
26°C / 78.8°F
06:10 / 19:19
76
10
29.7°C / 85.5°F
25.2°C / 77.4°F
06:10 / 19:18
87
11
31.3°C / 88.3°F
24.6°C / 76.3°F
06:11 / 19:17
86
12
33.3°C / 91.9°F
25.5°C / 77.9°F
06:11 / 19:17
79
13
34.9°C / 94.8°F
26.6°C / 80°F
06:11 / 19:16
68
14
34.7°C / 94.5°F
28.7°C / 83.7°F
06:12 / 19:15
60
15
35.8°C / 96.4°F
28.6°C / 83.5°F
06:12 / 19:14
56
16
35.6°C / 96.1°F
28.4°C / 83.1°F
06:13 / 19:13
57
17
35.8°C / 96.4°F
26.5°C / 79.7°F
06:13 / 19:12
63
18
32.1°C / 89.8°F
24.3°C / 75.7°F
06:14 / 19:11
62
19
34.1°C / 93.4°F
23.3°C / 73.9°F
06:14 / 19:11
60
20
35.2°C / 95.4°F
24.4°C / 75.9°F
06:14 / 19:10
59
21
35.9°C / 96.6°F
24.8°C / 76.6°F
06:15 / 19:09
60
22
36.7°C / 98.1°F
25.5°C / 77.9°F
06:15 / 19:08
59
23
35.8°C / 96.4°F
25.8°C / 78.4°F
06:16 / 19:07
58
24
32.9°C / 91.2°F
21.5°C / 70.7°F
06:16 / 19:06
83
25
31.4°C / 88.5°F
21.9°C / 71.4°F
06:17 / 19:05
64
26
32.2°C / 90°F
22.6°C / 72.7°F
06:17 / 19:04
60
27
32.9°C / 91.2°F
22.6°C / 72.7°F
06:17 / 19:03
61
28
33.8°C / 92.8°F
23.5°C / 74.3°F
06:18 / 19:02
58
29
34.8°C / 94.6°F
24.5°C / 76.1°F
06:18 / 19:01
57
30
35.3°C / 95.5°F
24.6°C / 76.3°F
06:19 / 19:00
58
31
35.6°C / 96.1°F
25.3°C / 77.5°F
06:19 / 18:59
55
- Last modified on Aug. 29, 2019 -