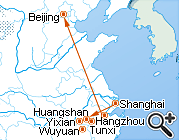 Photogenic Huangshan & Wuyuan
PT02: 15 Days China Tours from Luxemburg to Shanghai

Huangshan - Yixian - Tunxi

Wuyuan

Hangzhou

Beijing
Day 1
Luxemburg - Shanghai
Apart from the capital Beijing, Shanghai is also regarded as one of the top three tourist destinations of China and has been chosen to be the entry city by part of the overseas travelers. Although the direct flight has not been opened between Luxemburg and China, people who plan a China tour from Luxemburg can choose to transit at a third city like Paris, Amsterdam, London, Munich, Frankfort, Madrid, Zurich, Rome, Vienna or Istanbul to Shanghai. Here we would like to provide you with several transit options via Paris, Amsterdam and Istanbul for your reference.

To those who will transit at Paris, you can take Luxair flight LG8019 1635/1735, stay at Paris Airport for 3 hours & 45 minutes and then transfer to flight MU570 2120/1440+1 of China Eastern Airlines to Shanghai. Or you may consider taking flight LG8011 0755/0855, wait for 4.5 hours and change to flight MU554 1325/0700+1 to Shanghai. The first flight takes around 16 hours for the whole trip while the latter one takes about 17 hours.

If you choose to connect the flight at Amsterdam, you are suggested to take KLM Royal Dutch Airlines flight KL1740 1030/1135, have a nearly 6 hours' layover and leave for Shanghai by flight KL895 1730/1005+1. The flying time is 17 hours & 35 minutes.

People who intend to make transfer at Istanbul can take Turkish Airlines flight TK1356 1640/2055 first and then connect to flight TK026 0120/1630+1 to Shanghai. The entire air travel takes 17 hours & 50 minutes including 4.5 hours' stopover in Istanbul.
Our most obliging guide and driver will be patiently waiting for you at the airport. As soon as you come out from the restricted area, you will be greeted with a friendly smile. In a short while you will find yourself at the designated hotel and register for a two-night stay. Spend the rest of the day as you will.
Meals: No meals, advice freely available
Accommodation:
Ocean Hotel Shanghai





Shanghai Bund
After breakfast, we head to
Shanghai Urban Planning Exhibition Hall
for an orientation. It is the first destination of your Shanghai tours from Luxemburg. Next stop is the
Yuyuan Garden
, a stunning piece of landscaping art. The garden is much photographed. First take an
a la carte lunch
at a superb restaurant, before joining a short
cruise
on the Huangpu River. Contrast and compare groups of towering skyscrapers on the Pudong side with old European style architectures in the Puxi area. Take pictures, lots of them! Continue to explore the renowned
Bund
and
Tianzifang
, a renovated residential area. Tianzifang lures visitors with its multi facet specialty stores and services. Enjoy the slow paced atmosphere and capture it with your camera lens.
Meals: Western buffet breakfast, A la carte lunch
Day 4
Shanghai - Huangshan

Huangshan at sunrise
Today, you will take a high-speed train to Huangshan - the shutterbugs paradise. You will be met at the railway station and taken to the hotel in downtown Huangshan. After a short rest, you will go to visit the
Tunxi Old Street
, which is the best preserved commercial street with a history of more than hundred years.
Tips: Wide-angle lens, telephoto lens, polarizing and color-enhancing filters, and tripod will assist you in getting professional quality pictures.
Meals: Western buffet breakfast
Accommodation:
International Hotel




An exciting day awaits you! It takes about one hour to get to
Huangshan Scenic Area
. We will ascend the mountain, and arrive at the hotel. After a short break, we will shoot the grotesque rock formations. Next we do the Xihai Grand Canyon, yet more spectacular scenery. We follow up with the Bright Summit and the Flying Stone. Should the conditions be right, you may even get to shoot the Sea of Clouds. On our way back to the hotel, we will stop at Cloud Dispersing Pavilion to photograph the stunning sunset.
Tips: Don't get distracted, look where you walk! Come to a complete halt before reaching for your camera.
Meals: Western buffet breakfast, Lunch
Accommodation:
Xihai Hotel




- North Building
Day 6
Huangshan - Yixian County

Snow pines in Mt. Huangshan
Today we focus on the mountainous view from the North Sea. If it is clear, we will capture the sunrise at the Lion Peak. The Lion Peak has foothold for only 10 persons, first come first served. Next set is the Beginning-to-Believe Peak with a fairy tale like collection of strange pines and absurd stones. We will catch the last cable car down the mountain and proceed to Yixian County. Stay overnight at local guest house.

Meals: Western buffet breakfast, Lunch
Accommodation: Local Guesthouse
Day 7
Yixian County - Tunxi

Photographers finding the best shooting
We will set out early to visit
Hongcun Village
. The 900+ years-old Hongcun Village is the idealized village in a landscape painting. The Yuezhao Pond is a starting point for creative picture taking. Also, use wide-angle lens for scenic views. Jinxiu Hall offers good reference material for photographing buildings. The Nanhu Academy adds a cultural touch to the photographs. Don't miss the tranquil Nanhu Lake, which looks like a replica of an ancient Chinese scroll painting.
Afterward, we head to Nanping Village, where there are some 300 Ming and Qing era houses in interlaced alleys. The most outstanding feature would be the ancestral temples. It is most oft filmed, so take special note. We will get to the hotel in Tunxi by late afternoon.
Meals: Breakfast, Lunch
Accommodation: International Hotel





Hongcun Village
We drive one hour to
Wuyuan
after breakfast. Wuyuan is reputed the "most beautiful countryside in China" for its classic rural landscape, villages and folkways as if placed in a time capsule. We will start by visiting Sixi village and Yan village. The pastoral scenery will inspire creative shooting. Next we visit the photogenic Qinghua Rainbow Bridge where prize winning gallery pictures are made. Our guide and driver are indulging to all your photographic whims. The last stop today is the Moon Bay. The Moon Bay presents "Hui" style buildings arranged on a crescent shore, along quiet river water.
Seasonal supplemental spot for photography:
In March or April tours, we may include a visit to Jiangling for you to view flora. At that time, the terraced fields from valley to hill top are literary yellow blooming rape flowers. Bring extra memory cards and spare batteries for your cameras.
The Shicheng village is especially camera ready in autumn. Towering trees, mainly maples, are then cloaked in autumn's amazing colors. We will guide you to a favourable shooting location.
Meals: Western buffet breakfast, Lunch
Accommodation: Wuyuan International Hotel





Beautiful rural landscape in Wuyuan
This morning we will continue to explore and shoot pictures in more villages: Likeng, Wangkou and Xiaoqi. Rise early to enjoy the rustic airs. After lunch, we will drive to Hangzhou, which can brag as being 'Heaven on Earth' because of its rich cultural endowment. The trip can take up to four hours.
Meals: Western buffet breakfast, Lunch
Accommodation: Zhongwei Sunny Hotel




Visit the
West Lake
! Next to the Baochu Pagoda in morning light, you may capture a memorable West Lake in splendour. A scene from the lake: "Three-Pools-Mirroring-the-Moon", has come to adorn a side of the 1 RMB banknotes. After that, we will move on to the Museum of Traditional Chinese Medicine and the
Lingyin Temple
. When conditions warrant, you can be at the Twist Bridge in the West Lake for the CNN cited sunset scene with Leifeng Pagoda.
Meals: Western buffet breakfast
Day 11
Hangzhou - Beijing

West Lake, Hangzhou
Morning excursion to the
Six Harmonies Pagoda
for more picture-taking by Qiantang River Bridge, before embarking at the railway station on a high-speed train to Beijing. You will be met at Beijing South Railway Station in the evening, and guided from there to the hotel.
Meals: Western buffet breakfast
Accommodation: Pentahotel Beijing




An Orientation Day: On a sunny day we will get up early and shoot near the northwest Corner Tower of the
Forbidden City
. Stroll around the
Tiananmen Square
, which is surrounded by groups of striking structures in three directions. Afterward, we will gain entrance to the Forbidden City. Built with awesome grandeur to impress visitors, the Forbidden City sets the avid photographers wild. An
a la carte lunch
is served at a local quality restaurant.
Next to
Jingshan Park
: The Wanchun Pavilion at a vantage point on the hill in this park gives you a good idea on the layout of the Forbidden City. Then onward to the
Hutongs
. The visit will take hours, allowing you to get intimate with the "real life" of the Beijing residents. Don't forget to get to the Yinding Bridget to catch a view of the Houhai area at sunset.
Meals: Western buffet breakfast, A la carte lunch

Temple of Heaven, Beijing
Finally, alas we can see, smell, and touch the
Great Wall at Mutianyu
section, which keeps camera shutters busy clicking in all seasons. We will take cable car to the No. 14 watchtower, turn left over a north-westerly direction and you will be rewarded with the awesome views for unobstructed photography. You can video record the experience.
We shift gear to something different this afternoon: A visit to
798 Art Zone
to feel out the scene of contemporary art in Beijing. Art galleries, funky shops, designed studios, lovely restaurants and great cafes are located in and about a former electronics factory built by Germans in the 1950s. You will have an experience nothing short of being profound.
Meals: Western buffet breakfast

Great Wall at Mutianyu
Today's private journey starts with the
Temple of Heaven
(Tiantan Park), the imperial altar built for the purpose of sacrifice and worship in the Ming and Qing dynasties. You will find this park filled with morning activities. As the most beautiful architecture in the park, the Hall of Prayer for Good Harvest (Qiniandian) with a clear blue sky in the background makes an excellent photo.
Then, we will guide you to the
Summer Palace
, where the Tower of Buddhist Incense (Foxiangge) and the Seventeen-Arch Bridge (Shiqikong Qiao) are most popular shooting subjects. Follow this by visiting the Old Summer Palace. While reminiscing over its former splendours, you can capture images of the ruins. If you are interested in floral photography, you may spend some time in Changchunyuan (the Garden of Eternal Spring) where blossoming flowers vie your attention from March to August.
Meals: Western buffet breakfast
Day 15
Beijing - Luxemburg
Your private Beijing tour from Luxemburg ends today. The guide and driver will see you off at the Capital Airport. As there is no direct flight between Beijing and Luxemburg, you can take flight LH721 1030/1440 of Deutsche Lufthansa to Frankfurt first, wait for 2 hours & 20 minutes and then transfer to flight LH396 1700/1750 to Luxemburg. Alternatively, you may fly to Amsterdam by flight KL898 1055/1510 and board another flight KL1749 2125/2225 bound for Luxemburg in 6 hours & 15 minutes. Or you can take Air France flight AF129 0905/1400 to Paris, have a stopover of 4 hours & 15 minutes and then head to Luxemburg by flight LG8020 18:15/19:10. The flying times for above options are ranging from 13.5 hours to 17.5 hours and you will arrive home the same day due to the time difference. We bid you adieu!

Meals: Western buffet breakfast