6 Best Destinations in June in China
China Weather in June heats up. But in some northern areas or plateau areas, it is still mild enough for a nice trip, to places like the Great Wall, Xi'an and Xinjiang in the north, and majestic Mount Everest, Yunnan and Jiuzhai Valley on the plateau.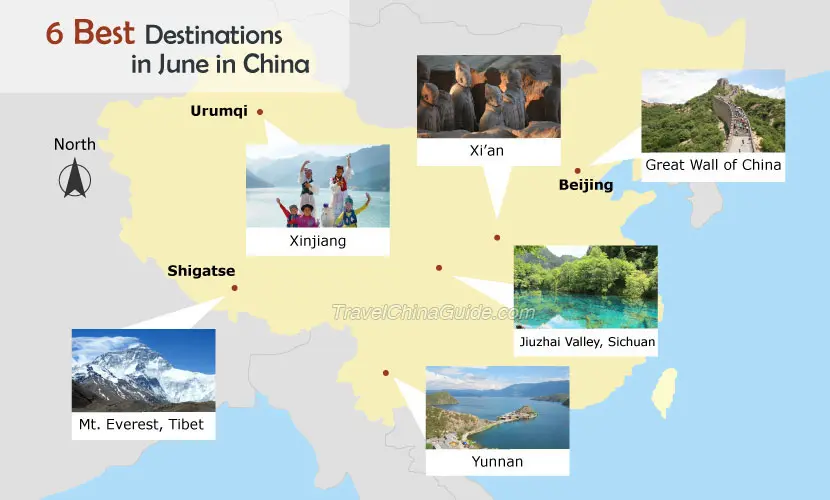 1
Great Wall: An Epic Dragon Snakes across Northern China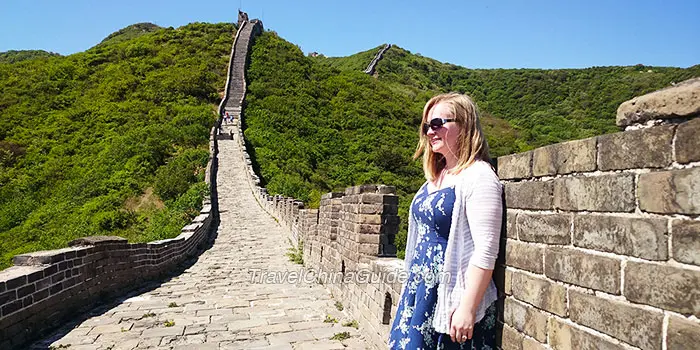 Location: traverse the northern China from west to east
Great Wall Temperature in June
: 19°C ~ 30°C (66°F ~ 86°F)
Weather: A little bit hot, dry, intensive sunshine
Must-see sections:
Badaling
,
Mutianyu
,
Simatai
,
Juyongguan Pass
Hiking Tips:
A pilgrimage to the Great Wall is a must for tourists in China. The Great Wall is a dragon that weaves and snakes along the northern borders, crossing deserts, grasslands, mountains. The Wall sections within a day's trip: Badaling and Mutianyu are complete with dense beacon towers; Simatai also opens at night; Jiayuguan is the western most point built with rammed earth… When hiking along in June, get enough water, wear breathable sneakers and protect yourself from the sun.

Recommended Tour:

Beijing Mini Group Day Tour from

$89
2
Xi'an: A City that Gives Meaning to History
Location: Shaanxi Province, Central China
Xi'an Temperature in June
: 19°C ~ 30°C (66°F ~ 86°F)
Weather: Get hotter, dry, occasional rainy days
Tourists places:
Terracotta Army
,
City Wall
,
Giant Wild Goose Pagoda
,
Shaanxi History Museum
,
Tang Paradise
,
Qujiang Pool Park
Things to Do:
Xi'an is one of the best places to visit in China in June. Hundreds of soldiers and horses unearthed in Terracotta Army are each uniquely made. Cycling on the City Wall is a lot of fun. Visiting Muslim Quarter to taste local snacks, such as Vegetable Stew with Beef Balls, Honey Cold Glutinous Rice and Crumbled Flatbread in Mutton Stew. Watching a splendid music fountain show in Giant Wild Goose Pagoda's North Square or paying a visit to Tang Paradise will round off your Xi'an nightlife colorful and memorable.

Recommended Tour:

Xi'an 2-Day Tour Itinerary
3
Xinjiang: Grand Scenery & Colorful Culture
Location: West China
Xinjiang Temperature in June: 18°C ~ 28°C(65°F ~ 82°F)
Weather: Huge temperature variation between day and night, high-intensity UV
Top places to visit:
Heavenly Lake
, Lavender Flower Sea,
Kanas Reserve
,
Kashgar Bazzar
,
Ancient City of Jiaohe
,
Bayanbulak Grassland
,
Takla Makan Desert
Things to Do:
June is one of the most attractive time in Xinjiang when a vast sea of purple-blue lavender flowers blooms at the foot of Tianshan Mountains in Huocheng of Ili. Explore the enchanting Heavenly Lake or visit the Ancient City of Jiaohe. Kanas features lakes, rivers, glaciers, forests and grasslands. Xinjiang food tasting consists of Baked Mutton Kebabs, Nang and Grilled Whole Lamb.

Recommended Tour:

4 Days Xinjiang Tour of Urumqi & Turpan from

$719
Location: Shigatse, Tibet, West China
Shigatse Temperature in June: 5°C ~ 27°C (41°F ~ 80°F)
Weather: Huge day and night variation, strong UV rays
Features: Mount Everest, located in the Himalayas Mountains between Nepal and China, is the highest peak all over the world with the height of 8,848 metres (29,029 ft). June is preferable for visiting as it is getting warmer but glaciers are intact.
Tips for Visiting Mount Everest:
Mount Everest means high altitudes and easy altitude sickness, so move slowly and decline strenuous exercises. Moreover, because of strong ultraviolet rays and huge temperature difference between day and night, it is essential for tourists to stay warm and apply lots of sunscreen. Before climbing, consult a professional climbing guide first.

Recommended Tour:

8 Days Tibet Adventure to Lhasa - Shigatse - Everest Base Camp from

$850
5
Yunnan: Mild & Pleasant Spring-like Weather
Location: Southwest China
Yunnan Temperature in June: 15°C ~ 23°C (59°F ~ 73°F)
Weather: Pleasant, humid
Highlights:
Lugu Lake
,
Dali Ancient City
,
Lijiang Old Town
,
Jade Dragon Snow Mountain
,
Erhai Lake
,
Tiger Leaping Gorge
Things to Do:
Yunnan is one of China's top places to travel in June. Lugu Lake and Erhai Lake are vantage point for the invincible lake sceneries. Also, tourists may also contact with local traditions and customs at the nearby villages. By strolling along in Lijiang Old Town or Dali Ancient City, you can distance yourself from modern city living. Tiger Leaping Gorge famous for its ruggedness and majesty are popular among avid hikers.

Recommended Tour:

8 Days Yunnan Tour of Kunming - Dali - Lijiang - Shangri-La from

$1269
Location: Sichuan Province, Central China
Jiuzhaigou Temperature in June: 15°C ~ 26°C (59°F ~ 79°F)
Weather: cool, high-intensity ultraviolet, huge difference between day and night
Hightlights:
Jiuzhaigou Valley National Park
,
Huanglong National Scenic Reserve
Things to Do:
Visiting Jiuzhai Valley National Park which features blue lakes, waterfalls, verdant forests, snow mountains, and opportunities to make contact with the Tibetan and Qiang nationalities can be amazing and pleasant. Noted for its colorful waters, hot springs and snow-capped mountains, Huanglong National Scenic Reserve is also worth exploring.

Recommended Tour:

5 Days Tour of Chengdu - Huanglong - Jiuzhaigou from

$1189
- Last modified on Nov. 03, 2021 -