Erhai Lake
Erhai Lake is the largest highland lake next to Dianchi and one of the seven biggest fresh water lakes in China. It means, 'sea shaped like an ear', in Chinese. Implying that the lake is ear shaped and as large as a sea, hence it was so named.
| | |
| --- | --- |
| | Erhai, the second largest lake in Yunnan |
The Erhai Lake covers an area of 250 square kilometers (96 square miles) and is located about two kilometers (1.2 miles) east of Dali. It is like a crescent lying between Cangshan and Dali city as seen from Cangshan Mountain. In a sunny day, the crystal waters of Erhai Lake and the snow mantled Cangshan Mount radiate with each other. Thus the scene was commonly described as 'Silver Cangshan and Jade Erhai'.The surrounding islands, temples and villages are worth visiting too.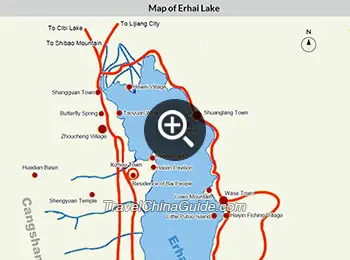 Erhai Lake Map
Golden Shuttle Island (Jinsuo Dao), and the nearby fishing community of Bai Minority do really deserve a visit with its attractive Bai culture and lifestyle, and because of the rare beauty of Erhai Lake and its surrounding scenery.

The most unforgettable Xiaoputuo Dao, originally devoted to Bodhisattva Kwan-yin, can be traced back to the 15th century. Though tiny and called xiao (which means small in Chinese), one can still experience and see the typical ancient Chinese Buddhist temple's unique architectural styles of its buildings' pointed eaves and decorations on this peninsular.
To give the people and tourists alike the convenience of watching the lake, Erhai Lake Park was built. In spring, the place is transformed into a wonderland of flowers like camellias, azaleas and primrose, and abundant exotic trees.
It's quite popular to take an Erhai Lake Cruise to enjoy the scenery, and there are three wharfs around the lake to embark.
| | |
| --- | --- |
| One of many island on the Lake | Fishing in the lake |
Erhai Lake Cruise
| | | |
| --- | --- | --- |
| Wharf | Ticket Fare | Time |
| Daligang Wharf | CNY 143 | 9:00 |
| Longkan Wharf | CNY 142 | 10:00 |
| Taoyuan Wharf | CNY 142 | 13:30 |
1. Take a taxi and the fare is around CNY 10.
2. Rent a bike or electric bike to the lake area.
Entrance Fee
for free (Erhai Park)
CNY 30 (Resource Protection Fare)
Recommended
Time for a Visit
40 minutes
Opening Hours
All day

Top 10 Things to Do in Yunnan
- Last modified on Sep. 21, 2018 -