Cangshan Mountain
Cangshan Mountain lies west of
Dali Ancient City
and
Erhai Lake
and includes 19 peaks and 18 streams. The highest peak is Malong Peak with the height of 4,122 meters (13,524 feet). May and June are the perfect months to visit Cangshan Mountain since at that time it's carpeted with many kinds of flowers. The azaleas are the most eye-catching.
Cangshan Mountain Snow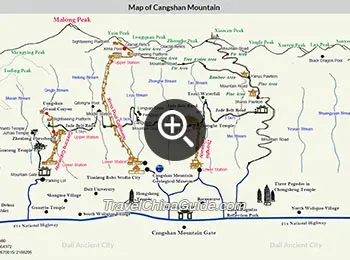 Map of Cangshan Mountain
The snow on the mountain is the best of the Four Famous Scenes (wind, flowers, snow and moon) in Dali. The snow is dazzling and resplendent when the sun rises, especially in March. On a moonlit night, the snow reflecting off the mountain makes one feel as if they are in a crystal world.
Gantong Temple
About 5km (3 miles) from Dali ancient city, at the southern foot of Shengying Peak, lies Gantong Temple. Gantong Tea is a must-try if you are visiting the temple. It's also one of the most famous teas of Dali city.
Zhonghe Temple
Zhonghe Temple on Zhonghe Peak, built during the Nanzhao Kingdom period (738-902), is one of the most famous Taoist temples in the city. The Songhuo Temple Fair held on the 9th day of the first lunar month is the biggest fair of the temple and can last many days. During this period, pilgrims from all over visit the temple.
Water Scenery of Cangshan Mountain
Eighteen Streams
The eighteen streams flowing down and around the nineteen peaks here are also famous. Qingbi Stream between Malong Peak and Shengying Peak is the most enjoyable of them all.
Besides the eighteen streams, there are many lakes over the altitude of 3,800 meters (12,467 feet). The shores of the lakes are densely covered with forests, which contain valuable medical herbs, rare species of trees and many kinds of flowers. Two of the most famous lakes are Xima Pool and Qilongnv Pool.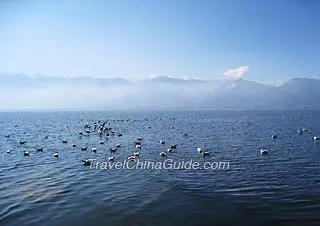 Cangshan Mountain and Erhai Lake
in the Morning Sunshine
Xima Pool
Located at the junction of Yuju Peak and Longquan Peak, Xima Pool is about 3,920m (12,860 feet) above sea level, only around 20m (66ft) from the top of Cangshan Mountain. It's actually an artificial lake built in the Nanzhao Kingdom period. Xima means "cleaning horse" in Chinese, and the name of the pool derives from a story that troops once cleaned their horses here while climbing Cangshan Mountain.
Qilongnv Pool
As an important scenic spot along Jade Belt Road, Qilongnv Pool is made up of seven ponds. The pool is in the middle section of Heilong Stream, about 4.5km (2.8 miles) from Qingbi Stream.
Hiking Cangshan Mountain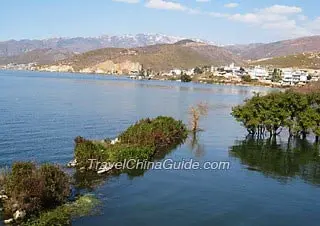 Mt. Cangshan
on the West Bank of Erhai Lake
Hiking is a popular way to enjoy the mountain scenery. Near Tianlong Babu Studio City at the foot of Cangshan Mountain is a hiking route, and many locals take their morning exercise along this route. Visitors can hike this route, too. It takes about one hour to reach Yudai Rd (Jade Belt Rd), a 18km (11 miles) walking trail on the mountainside. Walking along Jade Belt Rd, you can not only get a bird's eye view of Erhai Lake but also enjoy many attractions like Longyan Cave, Zhonghe Temple and Qilongnv Pool. Nearly all the attractions along Jade Belt Rd have stores selling water and food, so there is no need to take much along with you. Also, the vegetarian food offered by Zhonghe Temple is worth a try.
Cangshan Mountain Cable Car
Instead of hiking, visitors can take a cable car to enjoy Cangshan Mountain. There are three cableways in the Cangshan Mountain Scenic Area: Xima Pool Cableway, Gantong Cableway, and Zhonghe Cableway.
Xima Pool Cableway takes visitors from Tianlong Babu Studio City to Xima Pool on Cangshan Mountain. The route is about 5,580 meters (6,100 yards) long. From the cable car you can see Dali Ancient City and enjoy the natural scenery on Cangshan Mountain. The whole journey takes about 40 minutes.
Gantong Cableway is about 2,630m (2,876 yards) long and takes you to Gantong Temple.
Zhonghe Cableway is about 1,668m (1,824 yards) long, and ends at Zhonghe Temple near Jade Belt Rd.
Cangshan Mountain Cable Car Fare
Apr. - Oct.
Nov. - Mar.
Gantong Cableway
CNY 80 round-trip; CNY 50 one way.
Zhonghe Cableway
CNY 60 round-trip; CNY 30 one way.
Xima Pool Cableway (round-trip)
Upper - Lower Station
CNY 300
CNY 240
Middle - Lower Station
CNY 160
CNY 128
Upper - Middle Station
CNY 140
Note: Half-price ticket for children between 1.2 and 1.4m (3.9 - 4.6 feet);
Free for children under 1.2m.
How to get to Cangshan Mountain
1. Take a local car from the West Gate or South Gate of Dali Ancient City. Many visitors like to share the fare, which is about CNY 10 for each.
2. Take a taxi and the fare is around CNY 15.
Entrance Fee
CNY 40;
Free for children under 1.2m.
Opening Hours
Apr. - Oct.: 8:30 - 16:10
Nov. - Mar.:8:30 - 15:40
Recommended Time for a Visit
2h