Dali Ancient City
Dali Ancient City is 13 kilometers (8.1 miles) away from Xiaguan in Dali City, Yunnan Province and is one of the 'Three Ancients' (Ancient Cities, Ancient Pagodas and Ancient Steles) of the Dali Scenic Spot. It can be dated back to the year 1382 during the Ming Dynasty (1368-1644) and has been among the top listed historical cities of China since 1982. With
Erhai Lake
to the east, and
Cangshan Mountain
to the west, its grand city wall, traditional Bai ethnic minority folk houses and marvelous scenery have been attracting many visitors.
According to literature, this Dali Ancient City was a gateway to the Silk Road in Southwest China, and also served as a seat of government and a major military barracks for Yunnan Province in ancient times. It enjoyed magnificent scale, with a wall length of 6 kilometers (3.73 miles), a height of 7.5 meters (24.6 feet) and a thickness of 6 meters (19.7 feet). There were four city gates facing west, east, north and south, upon which sat a gate tower. Four further towers were also placed at the four corners of the city wall. As it underwent many phases of prosperity as well as decline, only the city base remains till today. We can explore the mystery belonging to that period of history, especially through witnessing some parts of the city wall, the North City Wall Tower and the South City Wall Tower which were restored in 1982. The layout of Dali Ancient City was uniform, with five main streets from south to north and eight main streets from east to west, while marketplaces were neatly arranged within the city, which has remained unchanged to this date.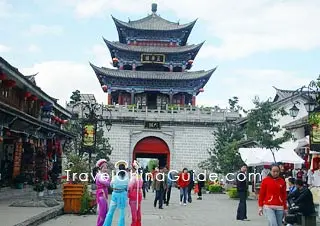 Wuhua Tower,
central landmark of the old city
The traditional Bai ethnic minority folk houses give the Dali Ancient City distinctive feel, unlike any other Chinese city. A typical house is characterized by '3 rooms and a wall screening' and '4 joints and 5 courtyards'. '3 rooms and a wall screening' means that every house has a principle room and two wing-rooms and facing the principle room stands the wall screening. When the sun shines on the wall screening in the afternoon, the sunlight is reflected back to the courtyard, thus illuminating the whole area. '4 joints and 5 courtyards' means houses are built with four sides; and four courtyards in the joining parts of the houses' corners and one big courtyard in the center makes five courtyards. The decoration is another construction feature of the folk residences, paying great attention to the gate tower, the eaves and corners. The windows, doors and the wall screening are adorned with Jianchuan woodcarvings, colored patterns, marbles and wash drawings. The delicacy, freshness and elegance of their construction may be called first-class among folk residences in Southwest China.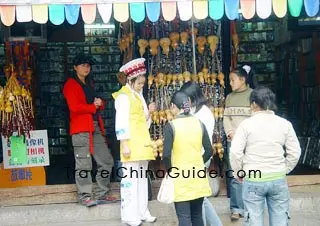 Musical instrument souvenir store
When people walk along the cobble-paved streets in the Dali Ancient City, a sense of primitive simplicity and elegance will be invoked. Besides the Bai ethnic minority traditional folk houses, the houses all with grey-green roof tiles, peculiar workshops, temples, schools and churches with an antique flavor are scattered. Traditional artworks made of marble, such as pencil vases, striped screens, and a variety of woven handicrafts made of fine straw are laid chockablock on both sides of the street to be appreciated and purchased. The newly–opened Foreigner Street is also a must-see, providing snacks with the traditional flavors of the Bai ethnic community, as well as the famous 'Three-course Tea' ceremony for receiving guests that includes 'bitter tea', 'sweet tea' and 'final tea'.
How to get to Dali Ancient City
Take flights to Dali Airport where has the airport shuttle bus can take you to Dali Ancient City.



From September 1st, 2015, every tourist of any tour group has to pay CNY30 protection fee. Independent tourists needn't pay the fare if not entering these tourist attractions that require tourists to buy the entrance tickets, such as Former Residence of Marshal Du Wenxiu and the Memorial Hall of Jiang Zonghan.



Further Reading:
Top 10 Things to Do in Dali
Top 10 Ancient Cities in China
- Last updated on Jul. 18, 2022 -
Questions & Answers on Dali Ancient City
Asked by Lia from INDONESIA | Dec. 03, 2019 03:41

Reply
Hi..which is more recommended way to go from Dali to Lijiang? By bus or by train?
Which bus terminal should I head to if I want to go to Lijiang? Thanks.
Answers (1)
Answered by Layla from POLAND | Dec. 04, 2019 00:09

0

0

Reply
You can take direct coach from Dali North Coach Station to Lijiang Coach Station. The ticket fare is CNY67 to CNY87 per person.
Asked by ALAN LIM from SINGAPORE | Nov. 12, 2019 21:44

Reply
On our way back to Kunming from Shangrila county
we plan to stop at Lijiang and than Dali however we are wondering which is more relaxing .By staying 1 night at Lijiang and 2 nights at Dali or vice versa before we head back to Kunming taking into consideration that we would have visited shuhe ancient town on our way to Shangrila ...thank you
Answers (1)
Answered by Stella from FINLAND | Nov. 15, 2019 00:09

0

0

Reply
I prefer to stay two nights in Lijiang and one night in Dali. Because as I know, there are more scenic areas in Lijiang. Have a nice trip!
Asked by beer from THAILAND | Jun. 07, 2019 07:33

Reply
I will visit and stay in Lijiang Ancient City for two nights.
How is different between Lijiang and Dali Ancient City? Should I visit both? However, I would like to visit the Three Pagodas.
Answers (1)
Answered by Iris from USA | Jun. 11, 2019 18:21

0

0

Reply
According to people who visit both of them, Dali's cultural atmosphere is a little deeper and there are more cultural attractions. Dali ancient city is relatively quiet with lower consumption, more suitable for killing time; Lijiang ancient city is more crowded and expensive, suitable for a short stay.
Asked by Ian Hudson from AUSTRALIA | Feb. 13, 2019 00:55

Reply
As I've only got 2 full days in Kunming, I wouldn't mind spending one day at the Dali Ancient Town,
I guess a train to Dali, then a bus, but would like some up to date information, which bus, cost, if I'm not going to see it all, what should be high on the see/to do list
Cheers
Answers (3)
Answered by Benjamin from DENMARK | Feb. 15, 2019 01:06

0

0

Reply
You can take a coach from Kunming West Coach Station to DL Ancient Town directly. The bus schedules are 11:10, 11:50, 12:30, 13:10, 13:50 and 14:40. The ticket fare is CNY100/person.

You are suggested to tour around Erhai Lake and Cangshan Mountain. Hope helpful!

Have a nice trip!
Answered by Budh from THAILAND | May. 06, 2019 19:29

0

0

Reply
May I know how much time from Kunming West Coach Station to DL Ancient Town directly? Is it will faster than high speed train form Kunming to DL Ancient Town?

Best Regards,
Budh
Answered by Emma from CANADA | May. 07, 2019 19:19

0

0

Reply
It takes about 4-5 hours by coach. If you take a bullet train, it takes about 2 hours. So the high speed train is more recommended.
Asked by Pia from MALAYSIA | Jan. 19, 2019 23:06

Reply
Three Pagodas to Dali Ancient City
Which bus

bus number should we take to go to Ancient City from the Three Pagodas?
Answers (1)
Answered by John from DENMARK | Jan. 21, 2019 01:51

0

0

Reply
You can take public bus no. Santa Special Line and get off at Yita Crossing Bus Stop. Then walk east along Yita Road around 550 meters to arrive at the ancient city.