Dali Transportation
Nowadays, Dali has been linked with many nearby and major cities in China by flight, train and long-distance bus. Even though, the most popular way to get there is from Kunming by direct train or bus. If time permits, one may tour Kunming before going on the trip to Dali. The transportation inside Dali also brings a lot of convenience to tourists, including frequent city buses, ships, taxis and bicycles.

Currently, there is only one airport in Dali city, which is located in the junction of Fengyi Town and Haidong Town. As a vital tourist airport, Dali Airport is about 13 kilometers (about 8 miles) from Dali City, 5 kilometers (about 3 miles) from Erhai and 30 kilometers (about 18.5 miles) from Dali Ancient City. At present, flights connect the airport with many cities in China such as Beijing, Shanghai, Kunming, Xishuang Banna, Tianjin, Chengdu, Chongqing, Guiyang and Guangzhou. Airport check-in services will close 30 minutes before the flight departure. Convenient airport shuttle bus and taxis connect airport and Dali City. We recommend leaving for the airport from downtown two hours ahead of departure time.

Train
Green ordinary trains
Located at No.261 on Weishan Road, Dali Railway Station is about 19 kilometers (12 miles) from Dali Ancient City. City bus no.8 connects the station with Dali ancient town. Other buses stopping here include 1, 5, 8, 17 and 21.

Generally speaking, trains run from Kunming, Lijiang and some other nearby places to this station. High speed trains from Kunming take about 2-2.5 hours; ticket fare for a Second Class Seat is CNY 155.5 and for a First Class Seat is CNY 247.5. Those normal speed trains from Lijiang take 2.5 hours; ticket fare for a soft seat is CNY 49 and for a hard seat is CNY 34.


See detailed Kunming - Dali Train, Dali - Kunming Train, Dali - Lijiang Train

Located at No.372, Weishan Road, the Dali Bus Station is the largest bus station in the city. It operates bus lines to Kunming and Lijiang, as well as cities in other provinces, such as Panzhihua in Sichuan and Puer in Fujian. Most comfortable express buses depart from this station. Buses No.1, 2, 4, 8, 10, 16, 17, 21 stop in this station.
| | |
| --- | --- |
| Comfortable tourism coach | Dali Coach Station |
In addition, there are several other bus stations inclding Dali North Bus Station, Dali Ancient City Passenger Coach Station, Dali Express Coach Station and Dali Xingsheng Bus Station.

City-bus
There are more than 270 city bus routes running to every corner of the city. Most of them do not have ticket sellers.

Visitors can take city bus to some of the scenic spots, like Dali Ancient City, Erhai Lake, Three Pagodas... For example, visitors can take bus No. 6 to Erhai Park or No. 8 to the Ancient City. The ticket price from Xiaguan to the Ancient City is CNY 1.5 per person.

In addition, autobuses shuttle between various scenic spots. For instance, it costs about CNY4 from Butterfly Spring to the Ancient City by autobus. Visitors can also appreciate the beautiful scenery of Cangshan Mountain by cable car or on horseback.

Generally speaking, getting to the scenic spots by city-bus is very convenient and enjoyable.

Water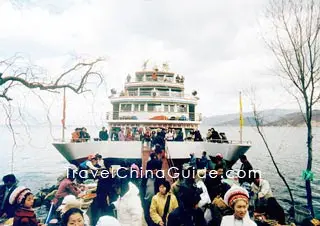 Cruise to the lake
Cruise ships are indispensable to an agreeable journey on the Erhai Lake. Currently, there are 3 docks operating cruise ships on Erhai Lake. The cruise from Xiaguan Dock, also called Dali Dock begins at around 09:00 every morning. It's a good idea to make your reservation one day ahead of time. The cruise from Longkan Dock starts at around 10:00 and from Taoyuan Dock of Butterfly Spring at 13:30 and 14:30. Cruise ticket is CNY 142/ person.
Taxi
For people who want to travel within Dali as fast as possible, taxi is a wise choice. Taxis in Dali are of different brands and the charging standard varies a little: most taxis charge CNY8 for the first 3 kilometers (1.8 miles) in the day time and CNY10 in the night time from 22:00 to 06:00 next morning. CNY2 is charged for every succeeding kilometer (0.6 mile).

However, local taxi drivers usually don't charge by meter, especially when you take a cab at the airport, railway station, long-distance bus station or scenic spots. Therefore, you'd better inquire the rate and negotiate a reasonable price before boarding.

Taxi Fare for Reference:
| | | |
| --- | --- | --- |
| Destination | Distance from Airport | Fare from Airport |
| Dali Railway Station | 13 kilometers | CNY 30 - 40 |
| Dali Ancient City | 29 kilometers | CNY 60 - 70 |
| Xiaguan Area | 18 kilometers | CNY 50 - 60 |
| Shuanglang | 42 kilometers | CNY 150 - 200 |
| Erhai Lake | 14 kilometers | CNY 25 - 35 |
| Cangshan Mountain | 31 kilometers | CNY 60 - 70 |
| Shaxi Ancient Town | 145 kilometers | CNY 280 - 300 |
Bicycle
Cycling is a perfect way to visit the Ancient City of Dali at a leisurely pace. Bicycles can be rented quite easily at the Ancient City, such as at Yangren Street, Honglongjing Area and Bo'ai Road. In addition, many hotels also provide bicycle rental service. Usually, the rental fee is about CNY 20-30 per day, and a deposit of CNY200-300 is needed.

Travel to Other Cities
How to Travel between Kunming and Dali
How to Travel between Lijiang and Dali
- Last updated on May. 04, 2023 -
Questions & Answers on Dali Transportation
Asked by Lina from INDONESIA | Nov. 02, 2023 20:44

Reply
Pls provide a route map of Airport City Bus Shuttle to Dali downtown, so I can book a nearby Hotel.
Answers (1)
Answered by James | Nov. 02, 2023 23:17

0

0

Reply
The airport shuttle bus only has two stops: Dali Railway Station and Dali Old Town. It is suggested to stay in the Dali Old Town.
Asked by Silvi from INDONESIA | May. 01, 2023 20:45

Reply
How to take Bus in Da Li / Lijiang
Hello, may I Know how to pay the bus fare ? using card / can use the cash payment ?
and how about Kunming too ?
is there any tap card for paying transportation in Yunnan ?

Thank you in advance !
Answers (1)
Answered by Andy | May. 04, 2023 22:51

0

0

Reply
It is suggested to use cash to take a bus. Prepare some change. There are bus cards in these cities but it is a little troublesome for foreigners to apply and they can not be used in different cities.
Asked by Catherine from SINGAPORE | May. 07, 2019 23:59

Reply
How to get taxi from Shaxi to Dali? How much the cost?
Answers (2)
Answered by Leo from CANADA | May. 08, 2019 23:36

0

0

Reply
The taxi fare is around CNY350 and it is hard to find an available taxi. However, you can take a shuttle bus from Shaxi Landscape Hotel to Dali. The bus departs at 9:00 and 15:00 everday. It takes about CNY60 and the duration is 2.5 hours.
Answered by Catherine Tay from SINGAPORE | May. 09, 2019 18:28

0

0

Reply
Noted with thanks:)
Asked by JANE from INDONESIA | Apr. 01, 2019 07:47

Reply
Are you able to provide a driver and car that can take us from Dali-Lijiang?
And we would probably want to stop at Shaxi before continuing to Lijiang. Then from Lijiang-Shangrila? How much would it cost?
Thank you.

Answers (1)
Answered by Tony from NEW ZEALAND | Apr. 09, 2019 22:35

0

0

Reply
Maybe you can hire a private car in Dali. It costs around CNY500-800 per day.
Asked by Susan Stewart from UNITED STATES | Mar. 05, 2019 10:02

Reply
Are there flights from Dali to Hong Kong? Price?
Answers (1)
Answered by Emilie from FRANCE | Mar. 05, 2019 19:48

0

0

Reply
There are no direct flights and you need to transfer, the prices are different according to different time and air companies. Generally, it takes more than CNY2,000.