Dali Railway Station
Dali Railway Station is about 8 miles (12.8 kilometers) from
Dali Airport
, 12 miles (19 kilometers) from
Dali Ancient City
, 1.2 miles (2 kilometers) from
Erhai Lake
, 12.5 miles (20 kilometers) from
Mt. Cangshan
(Cangshan Mountain), and 12 miles (19 kilometers) from
Three Pagodas
.
Address: No.261 on Weishan Road, Xincheng District

Schedule and Ticket Booking
As the terminal stop of Kunming-Dali Rail Line and the starting point of Dali-Lijiang Rail Line, the station mainly operates trains to Kunming, Lijiang and Guangtong.


See Dali - Kunming Train, Dali - Lijiang Train

High Speed Train Schedule
(Last Update on Jan 10, 2020)
To
Trains
Duration
Ticket Fare (CNY)
First/ Second Class Seat

Kunming

D8654, D8658, D3934, D3844...
28 departures from 07:15 to 21:01
1h55m - 2h21m
CNY 219/ 138
USD 32/ 20

Guangtong North

D3844, D3946, D3856, D8678...
10 departures from 10:18 to 19:35
1h6m - 1h25m
CNY 140/ 88
USD 20/ 13
Normal Speed Train Timetable
(Last Update on Jan 10, 2020)
To
Trains
Duration
Ticket Fare (CNY)
Soft/ Hard Sleeper

Lijiang

K9621, K9623, K9625, K9627 from 10:08 to 16:48
2h13m - 2h47m
CNY 150.5/ 114.5
USD 22/ 17

The above schedule is for reference only. For real-time schedule and ticket booking, please click the arrival stations.
| | |
| --- | --- |
| Dali Railway Station | Platform |
Station Plan
The station consists of a six-storey terminal building and the front square. However, only the first, second and third floors of the terminal building are for passenger use; the fourth to sixth floor are used as staff offices.

3F: waiting room, toilets, hot drinking water, cell phone charging station

2F: waiting room, toilets, hot drinking water, cell phone charging station

1F: ticket office, platforms, left luggage, shops

Front Square: bus stops, taxi stands
How to get to the station from downtown area?

Arrival by bus:
At Railway Station Bus Stop: 1, 5, 8, 21, City Sightseeing Line, Santa Special Line
At Dianyuan Xiaoqu: 2 (branch line)
At Municipal Court: 7, 10, 13, 16
Passengers arriving by bus will get off at the Weishan Road in front of the station. Passengers with a ticket in hand should go to the correct waiting room on the second or third floor. Passengers without tickets should go to the ticket office on the first floor to purchase one first and then go to the waiting room and wait for the departure.

Arrival by taxi:
If getting to the station by taxi, passengers will be dropped off at elevated drop-off area on the second floor.
| From | Duration (Minutes) | Cost (CNY) |
| --- | --- | --- |
| Dali Ancient City | 25 | 40 |
| Three Pagodas | 50 | 55 |
| Dali Airport | 25 | 20 |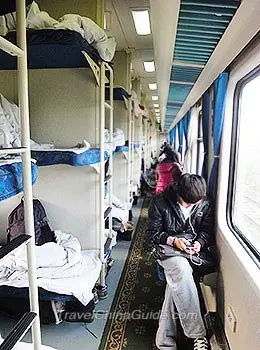 A Hard Sleeper Carriage
Ticket Check and Boarding
Before checking in, please read your tickets carefully to know where to have the tickets checked. After checking-in, follow the direction boards to the platforms to board.
How to leave the station?
Upon arrival, all passengers will be led to the exit hall to get out. To the east side of the exit hall, one can find the toilet. After exiting, one can go to the front square to take bus or taxi to leave the station.

Leave by city bus to famous sites:

Dali Ancient City:
Take bus no. 8 to the destination.
Or take Santa Special Line to Honglongjing, and then walk 800 yards northeastward to get there.

Erhai Park:
Take city sightseeing line to get there.
Or take bus no. 1 to Intersection of Yunlong Road and then walk 870 yards to the destination.

Yan's Compound of Bai Minority in Xizhou
:
Walk 700 yards to the northeast of the Railway Station, one can see Dali Coach Station (the new one) and then take a coach to Xizhou County. The coach departs between 08:00 and 19:40 every 20 minutes. The coach ride takes about 40 minutes and ticket fare is CNY6 or so.

Leave by long-distance bus:
About 700 yards to the northeast of the Railway Station, one can find Dali Coach Station (the new one). Passengers can go there and take a coach to Lijiang Old Town, Kunming, Tengchong, Jinghong, and Xizhou, etc.
| Destinations | Departure | Duration | Ticket Fare (CNY) |
| --- | --- | --- | --- |
| Lijiang | 2 departures between 07:00 and 19:00 | 3h | 66/80 |
| Kunming | 7 departures between 07:00 and 21:00 | 4h30m/5h | 98 - 160 |
The coaches depart based on passenger flow. For exact time, please consult the coach station.
Facilities and services:

Ticket office:
Ticket office is located on the first floor. Passengers can collect, purchase, refund or change tickets in the tickets office.

Waiting room:
Passengers can find a seat inside the waiting rooms either on the second floor or on the third floor. Cell Phone Charging Station, toilets and hot drinking water are provided in the waiting room.

Left luggage:
There is luggage storage office on the first floor. It usually charges CNY5 for a small bag per day and CNY10 for a large bag per day.
Print

- Last modified on Nov. 04, 2019 -
Questions & Answers on Dali Railway Station
Asked by Helen from AUSTRALIA | Oct. 24, 2019 19:16

Reply
Which waiting room?
Hello,
I am catching a train from Dali to Kunming tomorrow. I have to collect my ticket first, from Level 1.
How do I know which waiting room (level 2 or 3) to go to?
Thank you
Answers (1)
Answered by TravelChinaGuide | Oct. 25, 2019 03:07

0

0

Reply
Thank you for your inquiry.

This information need to be checked at station according to your train number. The waiting room/checkin gate information will shows on the information screen at station. It will also be printed on your paper ticket, at the top-right side. You can check that after you exchanged ticket at station.
Asked by GOMATHY ALAGESWARA from MALAYSIA | Oct. 20, 2019 06:35

Reply
if i want to visit dali for a day stating from the railway station which bus line is the best option
like to visit lake erhai, Ancient Town and 3 pagodas or The Butterfly Spring
Answers (1)
Answered by Gabriella | Oct. 22, 2019 01:31

0

0

Reply
It depends on where will go firstly, there is a 3 pagodas bus line which can take you there, or bus 8 to the old town.
Asked by Haylie from ICELAND | Jul. 09, 2019 02:55

Reply
Kunming metro/bus card in Dali
Can I still use the transportation card in Kunming for bus in Dali, for bus No. 8 or the Santa Special Line? Or it is only in Kunming?
Answers (1)
Answered by Nova from USA | Jul. 09, 2019 20:42

0

0

Reply
The card in Kunming only works in Kunming. You can buy bus ticket in cash in Dali. Or I heard from my Chinese friend that you can use WeChat to pay as well.
Asked by jaja from MALAYSIA | Mar. 11, 2019 05:10

Reply
From Dali Ancient Town to Dali Railway Station
Can i wait at any bus stop and take bus no 1 5 8 21 or city sightseeing line or santa special line? or i have to wait at specific bus stop to go to dali railway station?
Answers (1)
Answered by Alice from MALAYSIA | Mar. 11, 2019 19:31

0

0

Reply
Not sure where is your location. I was near the South Gate of Ancient Town and there is a tourist center right at the opposite side. They offer buses to Dali Railway Station directly. The bus seems around every 1 hour and cost CNY10 (or CNY15, I forget about it) per person. You can also ask your hotel for this service also. Normal price would be CNY40 per time.
Asked by Siti Farah Ashraf Khan from MALAYSIA | Mar. 10, 2019 06:19

Reply
Normal Train to Kunming
Hi,

is normal train availble to go to Kunming ? or only High Speed train ?
Answers (2)
Answered by Matt | Mar. 11, 2019 20:09

0

0

Reply
Only high speed type now.
Answered by NADIA from MALAYSIA | Mar. 12, 2019 06:32

0

0

Reply
thank you for the info.